The Edmonton Oilers fought the Avalanche, the officials, the thin air of Denver and several fallen defensemen last night, losing the final game of the marathon road trip. The team was badly outplayed during the final 40, my guess is much of the energy of the collective was used up during a five-minute PK, two of which saw the team two men down. The group saved the day on that PK but seemed wounded afterward, unable to gain traction. Adam Larsson's getting a game misconduct combined with Kris Russell missing the heart of the game with an injury made it rather messy middle and late.
I don't bitch much about officials, but that was a HUA game by the zebras and it ruined a damned good hockey game between two quality teams. The Oilers play Vancouver Saturday. What's left of them.
THE ATHLETIC!
The Athletic Edmonton features a fabulous cluster of stories (some linked below, some on the site). Great perspective from a ridiculous group of writers and analysts. Proud to be part of The Athletic, less than two coffees a month offer here.
OILERS AFTER 27 GAMES
Oilers in 2015: 10-15-2, 22 points; goal differential -13
Oilers in 2016: 14-11-2, 30 points; goal differential +7
Oilers in 2017: 11-14-2, 24 points; goal differential -12
Oilers in 2018: 13-12-2, 28 points; goal differential -6
Oilers in 2019: 16-8-3, 35 points; goal differential +10
Still miles ahead of the 2016 team, the Oilers have delivered relatively few truly poor games this season. There were two on this road trip (last night and Los Angeles) but for me last night's game is one I'm going give them a little leeway (more than their coach) due to the officials.
OILERS IN NOVEMBER
Oilers in November 2015: 4-7-2, 10 points; goal differential -9
Oilers in November 2016: 5-6-2, 12 points; goal differential 0
Oilers in November 2017: 5-7-1, 11 points; goal differential -3
Oilers in November 2018: 5-7-1, 11 points; goal differential -9
Oilers in November 2019: 7-4-2, 16 points, goal differential +5
One game left in the month and this year's model is the clear champion. I had these Oilers pegged pretty well (per below) but have to say that watching them through this month I'm more impressed than the record might imply. The Oilers are good.
WHAT TO EXPECT IN NOVEMBER
On the road to: PIT (Expected 0-1-0) (Actual 1-0-0)
At home to: ARI, STL, NJD (Expected 2-1-0) (Actual 1-1-1)
On the road to: ANA, SJS (Expected 1-0-1) (Actual 1-1-0)
At home to: COL, DAL (Expected 1-1-0) (Actual 1-0-1)
On the road to: SJS, LAK, VEG, ARI, COL (Expected 2-3-0) (Actual 3-1-0)
At home to: VAN (Expected 1-0-0)
Overall expected result: 7-6-1, 15 points in 14 games
Current results: 7-4-2, 16 points in 13 games
Oilers have the month covered but that last game offers a chance to ensure some Clearance Clarence entering December. Canucks have some real quality on that roster, it won't be an easy game. All numbers NST, folks with the lines and pairings a jumble I'm going to resort to bullets and points if you don't mind.
Jujhar Khaira's power move on the first goal was a thing of beauty. He also drew a penalty with a strong sortie up the middle. Now at five goals on the season. So happy the Oilers didn't trade him.
Adam Larsson's suicide pass ended Alex Chiasson's night. Then an unnecessary penalty (it wasn't five minutes but it was an elbow) was a costly moment in the game. Edmonton defended it, but never did find the script afterward. There's no way to blame Larsson for getting thrown out of the game, the call was farce. Still, whoever told him he could make stretch passes has to undo his mess. He doesn't have that gear.
Gaetan Haas to Patrick Russell created a great chance in the first period.
Mikko Koskinen was brilliant in the first two periods, especially during the five on three. He was somewhat abandoned after the game got out of reach. Stopped 46 of 50, .920 and was the star of the game.
Oscar Klefbom's pinch that led to the winning goal was ill advised. He was dash 3. Absolutely a poor effort, important to also remember he's Edmonton's best defender and he is mentoring a rookie. These things matter. I saw some silly comments online about him last night, but you can't light your best defenseman on fire because of a poor game. Oscar has been dreamy all season. Stuff happens.
Connor McDavid had three HDSC but the top line came out second best against the MacKinnon trio. 97's line had five HDSC's and gave up the same number. Didn't cash. As I mentioned with Klefbom, hammering your best players for not wandering through the holy land performing miracles on command is kind of silly. Teams don't go 82-0. Don't make me bring out that Casey Stengel line about 50-50-62 because you know I will!
Kris Russell blocked two shots, one might have been while using his face to do it. Missed a portion of the game. When he was on the ice, he defended well.
Ethan Bear and Caleb Jones both had rookie moments and those crisp outlet passes were replaced by icing and turnovers. A lot was asked and the two men lost a little bit of their composure but that's part of the process. When Kevin Lowe was struggling as a rookie in fall 1979, Glen Sather said "if a guy is making the same mistakes over and over again, you've got to be concerned. But if he's learning then you've got to be patient." Both men had two giveaways at five on five to lead the team.
Leon Draisaitl had a takeaway, a giveaway and struggled in the dot. It was a rare off night for him, and if I hear one negative word about him we're having liver and cod liver oil for supper. No exceptions!
Darnell Nurse picked up an assist, had a HDSC and was very physical. About the only criticism I have is his pass back to Bear when the youngster had been on the ice for approaching a minute thirty. Any option, including an icing, would have been better.
Sam Gagner, coming off his best game of the season, struggled to have an impact in the game.
James Neal, Riley Sheahan and Zack Kassian all had HDSC's, none cashed but in Sheahan's case he is getting closer to that first goal of the season.
Josh Archibald has the heart of a lion. He never score a goal as an Oiler but the man is a game rooster.
OILERS 2019-20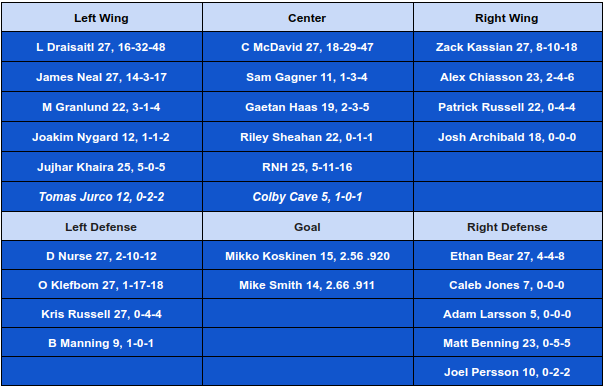 Alex Chiasson, Kris Russell and Josh Archibald all have reason to miss a game based on last night's visual. As each day passes without any word on Ryan Nugent-Hopkins my concern grows. Matt Benning is also out, no word recently on him.
CONDORS 2019-20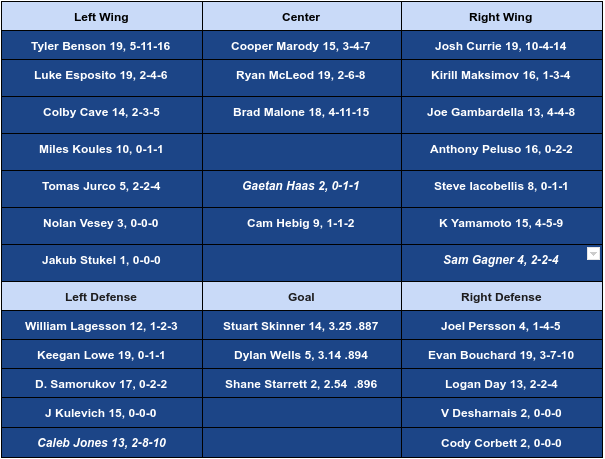 Condors got caved last night, they aren't good defensively and the goaltending lacks experience and is having a tough time. It's a walking advertisement for Ethan Bear, Caleb Jones and Shane Starrett, who were pillars of last year's playoff team. This year's Condors are well off the pace now, badly need Starrett to return. Bear and Jones took the Lido Shuffle to Edmonton and they're not coming back.
LOWDOWN WITH LOWETIDE
At 10 this morning, TSN1260. We'll be joined by Chris Meaney of The Athletic to talk NFL on Thanksgiving Thursday, and Frank Seravalli of TSN to talk about a massive week in news that shocked the hockey world.