My reasonable projection for the Oilers during the first two months of the season was 14-12-2, 30 points in 28 games. With two games remaining in November, the team is 16-7-3, 35 points in 26 games. Connor McDavid's Oilers moved to a better neighbourhood this season. Now the hard part: To keep it going.
THE ATHLETIC!
The Athletic Edmonton features a fabulous cluster of stories (some linked below, some on the site). Great perspective from a ridiculous group of writers and analysts. Proud to be part of The Athletic, less than two coffees a month offer here.
OILERS AFTER 27 GAMES
Oilers in 2015: 10-15-2, 22 points; goal differential -13
Oilers in 2016: 14-11-2, 30 points; goal differential +7
Oilers in 2017: 11-14-2, 24 points; goal differential -12
Oilers in 2018: 13-12-2, 28 points; goal differential -6
Oilers in 2019: 16-7-3, 35 points; goal differential +13
This year's model has just one comparable, and it took the 2016-17 campaign 27 games to reach 30 points. If Edmonton wins tonight, a tall order, the club will begin the approach to 40 points. That plateau could be reached next week, first week of December. A year ago New Year's Eve, Edmonton had 39 standings points, Calgary 52.
OILERS IN NOVEMBER
Oilers in November 2015: 4-7-2, 10 points; goal differential -9
Oilers in November 2016: 5-6-2, 12 points; goal differential 0
Oilers in November 2017: 5-7-1, 11 points; goal differential -3
Oilers in November 2018: 5-7-1, 11 points; goal differential -9
Oilers in November 2019: 7-3-2, 16 points, goal differential +8
There's an outside chance Edmonton could win nine games and bring 20 points in November, and I do think that would be call for celebration. There was an old wrestling event called 'November to Remember' maybe the Oilers could bring back former players for a big wrestling event. I'd pay to see Kirill Tulupov versus Ben Eager and Mathieu Roy versus himself.
WHAT TO EXPECT IN NOVEMBER
On the road to: PIT (Expected 0-1-0) (Actual 1-0-0)
At home to: ARI, STL, NJD (Expected 2-1-0) (Actual 1-1-1)
On the road to: ANA, SJS (Expected 1-0-1) (Actual 1-1-0)
At home to: COL, DAL (Expected 1-1-0) (Actual 1-0-1)
On the road to: SJS, LAK, VEG, ARI, COL (Expected 2-3-0) (Actual 3-1-0)
At home to: VAN (Expected 1-0-0)
Overall expected result: 7-6-1, 15 points in 14 games
Current results: 7-3-2, 16 points in 12 games
Edmonton could lose the last two games and I'd still call this a successful month, but now they're here, why not drive home the nail so it sticks. Both opponents are solid teams, although Colorado's five-on-five possession number (49 percent) and their goal differential in the discipline (59 percent) are probably due for a market correction.
OILERS 2019-20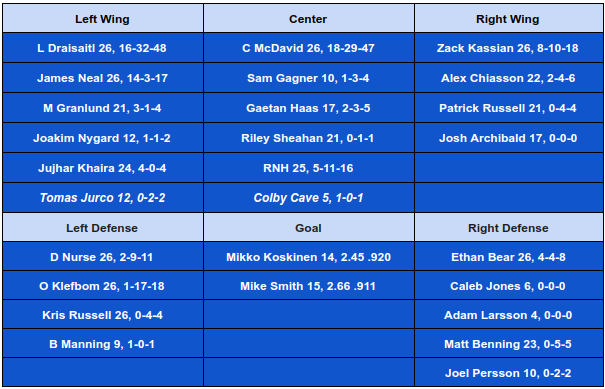 We are waiting on some injury news. Sounds like Jujhar Khaira will draw in (I expect on the left side with Sheahan's trio), Nuge is out for sure (with an update on status likely) and the Matt Benning return date is out among the stars.
BAKERSFIELD CONDORS 2019-20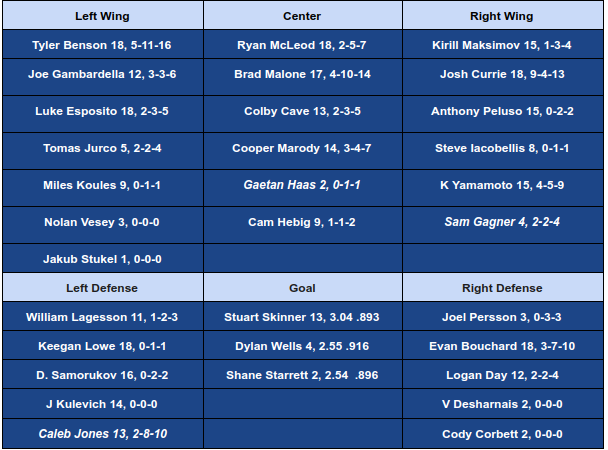 The Condors play tonight at home against the very strong Tucson Roadrunners. I think Tyler Benson has some daylight now over Kailer Yamamoto and Cooper Marody, who seems to be leaking oil and taking on water at the same time. Among blue, William Lagesson, Joel Persson, Evan Bouchard and Logan Day have been prominent of late. Goalie Dylan Wells stopped many shots in a recent start and his save percentage is pretty. Maybe he gets another start.
NEWS ON NUGE SOON
I didn't have a bad feeling about Nuge's injury until people started saying they had a bad feeling about Nuge's injury and now I'm worried. If Nuge is injured, suspect Holland will need to go out and get a reasonable replacement of which there are none available. I don't see any of the Condors centers replacing Nuge. McLeod is too young for the role, I suspect the organization doesn't like Marody's speed at center. That means Sam Gagner unless a trade goes down.
JESSE
I don't think we'll see a trade, but if the Nuge news is bad maybe Holland uses Mr. Puljujarvi in a package to get Jean-Gabriel Pageau or other. It would be a rushed trade and both sides are running out of days.
LOWDOWN WITH LOWETIDE
A busy Wednesday on TSN1260, we begin at 10 this morning. Bruce McCurdy from the Cult of Hockey at the Edmonton Journal will riff on a winning streak, the game tonight, Nuge's injury and what may come. Matthew Trueblood from Baseball Prospectus will join us to discuss the Hall of Fame resume of Larry Walker. 10-1260 text, @Lowetide on twitter. See you on the radio!