Starting in 2015, I began ranking 120 players per draft based on math and a few other things I believed. Beginning that year, I started back drafting my list against the Oilers selections.
I wondered if my 'math' rankings would outshine Edmonton's scouts, or at least hold its own. I decided to wait five years to give the prospects time to develop. We're five years past the 2015 draft. How did the Lowetide list do against the Oilers scouts?
THE ATHLETIC!
The Athletic Edmonton features a fabulous cluster of stories (some linked below, some on the site). Great perspective from a ridiculous group of writers and analysts. Proud to be part of The Athletic, check it out here.
THE 2015 DRAFT
Oilers scouts must have been beside themselves watching all those draft picks being dealt, but five years later there's a lot to be proud of for the organization. McDavid is the franchise cornerstone but the lottery took care of that pick.
The scouts get credit for the Jones, Bear and Marino picks and that's a lot of quality. The 2015 draft already has four NHL players, matching 2010 as the only year in the decade to manage it. The 2015 foursome will fly higher than 2010.
My selections included Bear and little else of note. He's the only player my list picked who is on track for an NHL career (McDavid aside).
Decision: Major edge to the Oilers scouts.
THE 2016 DRAFT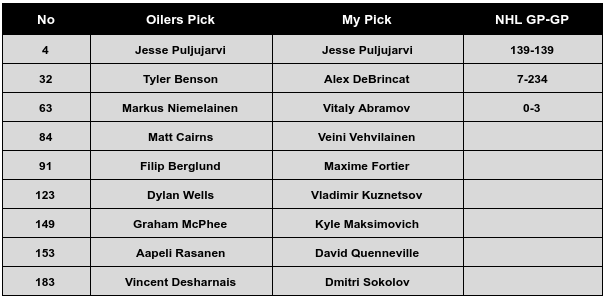 Four years after and this draft went sideways in a hurry. Puljujarvi was the right pick but his handling by the organization was a comedy of errors. Benson looks like he might be able to help and the organization could be on the verge of signing Niemelainen and Berglund this summer. Wells turned pro with an NHL contract but this draft will cross the five-year finish line in trail position.
The Lowetide list also took Puljujarvi, but followed up with DeBrincat who was a second-round home run. I also like the fact Abramov got a cup of coffee and hope for a late 'Marino' spike from him in 2020-21.
Decision: Major edge for the Lowetide list, and unlikely to improve for the Oilers with one season left in the five-year window.
THE 2017 DRAFT

The Oilers have what looks like a solid draft developing. Yamamoto overcame injuries and some pedestrian AHL numbers with a fantastic run with the big club beginning January 2020. Samorukov is tracking like a future NHLer and Maksimov has promise. Skinner hasn't emerged but has had some good months in a tough situation.
Tolvanen trails Yamamoto but both men have talent and could become productive players for the next several years. Reedy is tracking well enough to be considered a prospect, and Chmelveski has a chance too.
Decision: Edge Edmonton, Yamamoto looks more dynamic than Tolvanen and Samorukov is a quality prospect.
THE 2018 DRAFT

The Oilers have Bouchard, who has the resume of a successful offensive defenseman and appears ready. McLeod and Rodrigue had good seasons and Kesselring has a lot of fans who work in the hockey industry.
My list features several men who are pushing up depth charts. Smith had a terrific year, he's going to be a fine defenseman. Fagemo and Hillis posted strong seasons and Olofsson is on track as a prospect. Nyman had a solid year in Finland.
Decision: Too soon to know, both lists are performing well.
THE 2019 DRAFT

One year in the Oilers have several prospects performing well. Broberg and Lavoie played at the WJ's and did some good things in league games. Konovalov had an uneven year but remains the best goalie prospect in the system. Blumel, Mazura and Denezhkin are progression.
My list has Kaliyev, who is a quality scorer whose numbers improved only slightly in draft plus one. Matthew Robertson improved across the board and is emerging as a nice two-way defenseman. Blake Murray didn't score 50 goals this season but did improve his points per game. Billy Constantinou had a solid year.
Decision: Much too soon to know, no player on either list spiked in a way that suggests an impact player is about to emerge.
CONCLUSION
Edmonton's 2015 draft was exceptional, full value for procuring four NHL players without a second or a third-round selection. The team's 2017 draft appears to have two handsome returns (Yamamoto, Samorukov) although those eggs aren't fully hatched yet. The 2018 and 2019 drafts continue to matriculate.
Edmonton's sore spot is the 2016 draft, there is time and Puljujarvi, Benson and possibly others have NHL talent. Important to salvage something from that draft summer.
The Lowetide list hit a big fly in 2016, DeBrincat is the kind of selection math uncovers annually. The difference is DeBrincat cashed big, so as opposed to being an astute selection the young man had a fairly immediate impact on the franchise (Chicago) smart enough to pick him. The 2018 draft is also tracking well for the Lowetide list.
On the downside, the LT 2015 list got very little compared to the Oilers. As much as I can trumpet the DeBrincat selection, Edmonton's scouts grabbed four useful pieces to only two from my list.
The 2017 list is reliant on Tolvanen turning out, there's no one who looks like Samorukov. The 2019 list doesn't look inspiring one year later.
Bottom line: Despite the DeBrincat selection, the Oilers scouts did a better job in these five drafts based on what we know today.