What do the Edmonton Oilers need in the offseason, or more to the point, what do the Oilers need most? Is it more important for the team to add winger Jesse Puljujarvi to a group that includes Ryan Nugent-Hopkins, Kailer Yamamoto, Zack Kassian, Andreas Athanasiou, Alex Chiasson, James Neal, Josh Archibald, Joakim Nygard, Tyler Benson and Jujhar Khaira? Or is it better to trade Puljujarvi for a draft pick?
THE ATHLETIC!
The Athletic Edmonton features a fabulous cluster of stories (some linked below, some on the site). Great perspective from a ridiculous group of writers and analysts. Proud to be part of The Athletic, check it out here.
MCKENZIE VS. LOWETIDE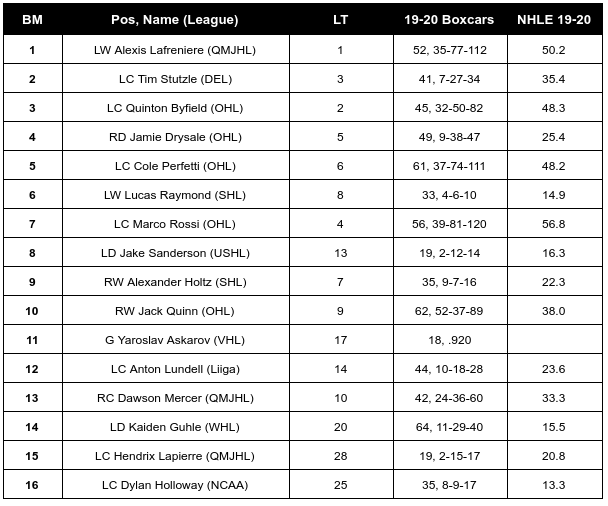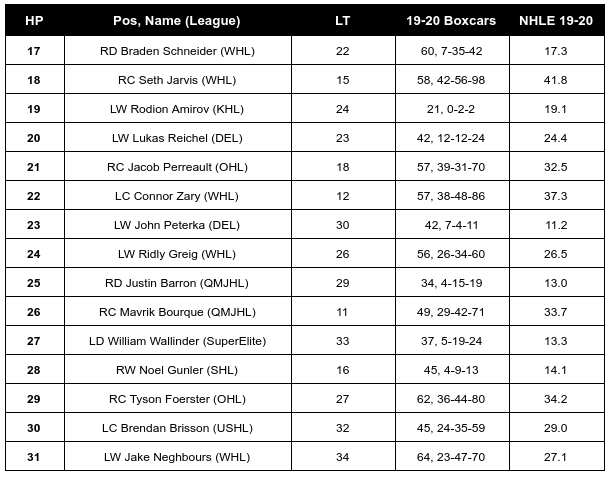 Mostly agreement between Mr. McKenzie and my list, the three players in his first round not in mine rank 32, 33 and 34. He excluded Jan Mysak (I had him at No. 20, McKenzie has him No. 34); Jérémie Poirier (21 from me, 33 on BM) and Martin Chromiak (31 versus 75) in the first round. Lots of agreement early in this draft.
Jesse Puljujarvi
The day Ken Holland traded for Andreas Athanasiou, I thought it might be a swap for Jesse Puljujarvi. AA is acquired for two two's, JP gets traded for a second and something else. That's how I see it. I'd endorse it but Puljujarvi might be useful next season if he signs. I would try to sign him up to draft day, and then deal him.
For our purposes here, I'm going to assume the Hurricanes acquire Puljujarvi for the NYR second (No. 47). I understand many of you believe he's worth more, but for our purposes we'll proceed since this exercise is for giggles. I'm going to assume the Oilers retain the third rounder from the Neal trade. Here's the mock, running McKenzie's list against mine for as far as we can.
No. 20 overall. RC Mavrik Bourque. Red Line compares him to Travis Konecny, creative center with a great deal of energy and effort. Undersized, good skater. If he's available when the Oilers pick, strong chance he's best player available.
No. 47 overall. LW Martin Chromiak. Skilled winger with good wheels, he's creative and finds ways to create chances. He came out of nowhere and closed strong at the end of the season. He's an August 2020.
No. 82 overall. RW Connor McClennon. Numbers are solid to excellent. Undersized, range of skills. June 2002, scouting reports have him as a perimeter player. He is mid-second on my list.
No. 144 overall. LW Veeti Miettinen. Undersized winger, fills the net with pucks. I had him No. 48.
No. 175 overall. RW Pavel Novak, WHL. Speedster with skill, he's a scorer. I have him No. 49.
You might think it's unusual to have my list grab five of the top 50, but that's the nature of a math list. You're looking for skill only. I'd draft this way every year. Here's the 2015 list versus McKenzie's list:
No. 1 overall. C Connor McDavid, Erie Otters (OHL) All our trials, lord, soon be over.  
No. 117 overall. C Andrew Mangiapane, Barrie (OHL) Brilliant offensive player.
No. 124 overall. D Ethan Bear, Seattle Thunderbirds (WHL) Mobile defender, very good shot.
No. 154 overall. C Nathan Noel, Saint John Sea Dogs (QMJHL) Wide range of skills, undersized.
No. 208 overall. L Dmytro Timashov, Quebec Remparts (QMJHL) Explosive winger with crazy numbers.
No. 209 overall. L Erik Foley, Cedar Rapids (USHL) Tough winger has offensive ability. I had him No. 55 overall on my list.
The Oilers did a very nice job on their own in 2015, wonder what the scouts would have managed with the complete set of picks. Here are the NHLE's: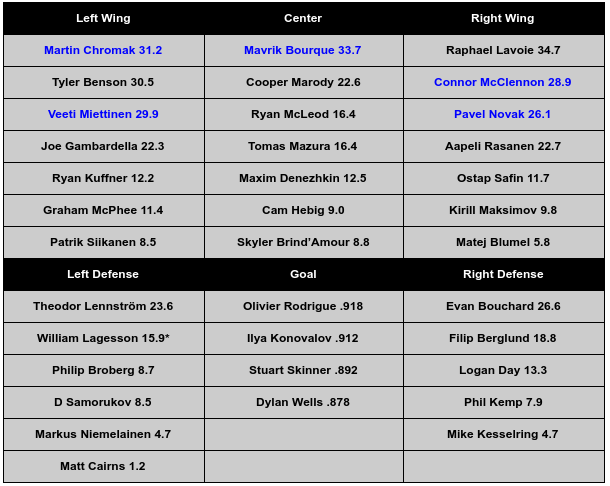 This represents a fantastic series of bets in one draft. I do think Craig MacTavish figured out the draft. His 2013 draft involved a spectacular moneypuck trade flurry and he won Leon Draisaitl the following year. Interesting to contemplate how he would have handled 2015. MacT: "We can acquire role players by other means. If you draft somebody who's inadequate in maybe speed or size but has some skill, maybe he can improve in those areas and offer significant skill that can move the dial of your team."
I cheat for offense and speed on my list now, but that quote is from several years ago.
LOWDOWN WITH LOWETIDE
At 10 this morning, a fine show with great guests. Scott Wheeler from The Athletic will talk about the draft lottery and possible cost to Detroit and Ottawa if another team wins the lottery. Ryan Rishaug from TSN will update on the hub city race and discuss the state of negotiations between the NHL and PA. We are also reaching out to John Horn to talk tennis, stay tuned for an update. 10-1260 text, @Lowetide on twitter. Talk soon!