One thing is certain: There's work to do. Ken Holland and Dave Tippett enter the offseason with a great deal more certainty about what works and what is needed before the 2020-21 season begins and will refine the roster with that in mind. I will have a piece up at The Athletic about my thoughts on the series later today but much of the future as I see it is here and I do have some overall thoughts at the bottom of today's discussion.
First, let's talk about something that is mere hours away and could impact Edmonton in a big way. The draft lottery goes Monday at 4 Edmonton time, and it is possible, amazing as it may be, that this team could win another lottery. Edmonton has chosen first overall four times: 2010, 2011, 2012 and 2015. Is there another one to come?
THE ATHLETIC!
Great perspective from a ridiculous group of writers and analysts. I am proud to be part of The Athletic. Here are the most recent Oilers stories.
OILERS MOCK
If my math is right (a rare thing) the Oilers will pick either No. 1 or No. 14 overall in the first round. If that is the case, and assuming Edmonton chooses to keep its own third-round selection in 2020, the picks will be Nos 14, 82, 144, 175 and 206. I think there's a chance Ken Holland trades down in the first round. For the mock draft below, I'll project Holland trading No. 14 to the Ottawa Senators for No. 20 and No. 64 overall. Here's the mock.
No. 20 overall: RW Jacob Perreault, Sarnia OHL (5.11, 182). Central Scouting via NHL.com: Strong skater with great balance. Hard, accurate shote that jumps off his stick. A dangerous shooter who can score from multiple areas of the ice. An intelligent player that puts himself in good positions to get scoring chances. Natural goal scorer. Brock Boeser listed as the comparable.
No. 64 overall: RC Jack Finley, Spokane WHL (6.06, 213). Central Scouting via NHL.com: Big body center who pays attention to details. Very good in the faceoff circle. Uses his reach and his range very well in both offensive and defensive situations. Brian Boyle listed as the comparable.
No. 82 overall: LD Anton Johannesson, HV 71 SuperElite (5.09, 144). Small puck mover is a wizard, could be a steal. His totals (20, 8-16-24) are exceptional, he is a dynamic player.
No. 144 overall: LW Yevgeni Oksentyuk, Flint OHL (5.08, 163). He turns 20 in February. Oksentyuk is a fine prospect, aggressive and speedy with a great shot.
No. 175 overall: G Sam Hlavaj, Sherbroke Phoenix QMJHL (6.04, 218). Boasts a .915 save percentage. Slovak goalie is an actual giant who (according to Red Line) is 'scrambly like Spiderman'.
No. 206 overall: LC Daniel Ljungman, Linkoping SuperElite. (6.01, 161) Emerged from nowhere at the Hlinka Gretzky. Great release. He's an April 2002.
PROSPECT NHLE'S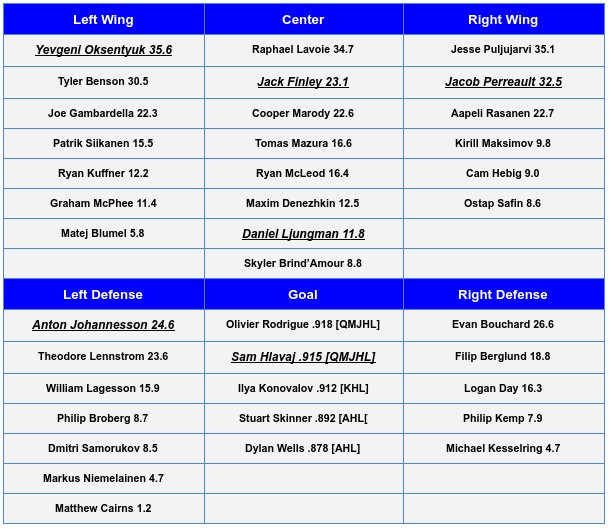 WINNING THE LOTTERY
I've seen a few 'the shame of it all' tweets and a surprising number of 'trade the pick!' tweets since last night's loss. Both are wrongheaded.
Edmonton wins the lottery, you celebrate. The Oilers draft Alexis Lafreniere and add another skill piece at a controlled cost for three years. No brainer. Guilt? Screw that noise.
Trade the pick? Also crazy. Lafreniere could be one of the faces of the franchise. We don't know what the future holds, but adding another elite piece who could be under control for as many as 11 years would appear to be the easiest decision since breathing.
ABOUT LAST NIGHT
I know Oilers fans are unhappy today. Understandable. It was frustrating to watch, the entire series was like a singer who begins in the wrong key and can't get back on track for the entire song. Edmonton took forever to adjust, the things that worked for Dave Tippett in the regular season would not rhyme against Chicago.
All I want to say here is that, bottom line, there is nothing to be gained by doing anything rash or bold after these four games. Breathe in, breathe out small sample size. Breathe in, breathe out the 'Hawks were a better team than their record implied. Breathe in, breathe out the too many men is going to live with you forever and that's something you're going to have to live with, friend.
Much was accomplished this season, it's important to remember the progress of January-March, and to keep in mind the random nature of the bubble playoffs.
I think Oilers fans should be happy that Ken Holland is in charge of the club this morning, as a measured approach after the Chicago series is best. And no, they shouldn't fire the coach.
Edmonton accomplished a lot in the 2019-20 season, led by the emergence of Ethan Bear, Kailer Yamamoto and Caleb Jones from the minors.
The club finished second in the Pacific Division, 37-25-9 with the top power play and the second best penalty kill. What's more the team's even-strength goal share was 48 percent, an improvement in what has been a difficult area.
Leon Draisaitl had a Hart Trophy season, Connor McDavid was brilliant despite the marathon run after a summer of rehab and Ryan Nugent-Hopkins had his best (in my opinion) all around season. Yamamoto gave the skill lines a fourth member, filling the Jordan Eberle role after his recall.
The Oilers were the better team last night. Doesn't matter. The club has flaws and they were on display in the series, plus losing your shutdown blue (Adam Larsson) is a big blow.
I'll write on this later today but this team made significant progress in 2019-20, solving problems with drafted players who came through the system. The one thing you can hold on to this morning: The needs are obvious, the way is clear, and the Oilers have veteran men in management and coaching.