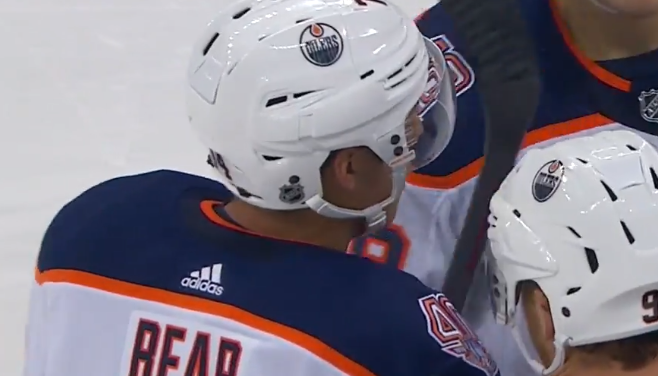 Do you remember yesterday, when we talked about getting three real NHL prospects from every draft? In 2015, Edmonton traded a bunch of picks but found a way with strong selections in the fourth (Caleb Jones) and fifth (Ethan Bear) rounds.
Assuming the Oilers draft quality in the first and third rounds in 2020, can we identify a player who won't go in the first three rounds who is a real NHL prospect?
THE ATHLETIC!
I'm proud to be writing for The Athletic, and pleased to be part of a great team with Daniel Nugent-Bowman and Jonathan Willis. Here is our recent work.
THE THIRD MAN
In 2015, Peter Chiarelli traded much of the draft but the club was gifted No. 1 overall (Connor McDavid, 351 games), Caleb Jones (60), Ethan Bear (89) and John Marino (56).
The 2016 draft isn't projecting as hoped, but Jesse Puljujarvi (139 games), Tyler Benson (7) and Filip Berglund are lurching toward ecstasy and I think there's a good chance at least one of them makes the grade.
The 2017 draft houses Kailer Yamamoto (53 games), Dmitri Samorukov and Phil Kemp, who Craig Button mentioned as a promising player this week. Kemp is a shutdown defender, difficult to assess from here, but I trust Button's assessment.
The 2018 draft boasts Evan Bouchard (7 games), Ryan McLeod and Olivier Rodrigue as the most promising NHL prospects, and all three are on a trajectory that should see them land in the NHL at least for a time.
The 2019 draft is looking strong so far, but a reminder it's 15 months since these young men were selected, that's not much track. Philip Broberg is spiking in real time over in the SHL, Raphael Lavoie is a unique shooter aggressively pushing for opportunity and Ilya Konovalov is enjoying a strong KHL season (his third) and is a free agent in the summer of 2021.
Oilers in 2020
Edmonton has picks at No. 14, 76, 138, 169 and 200. If we assume (and there's a reasonable chance) Tyler Wright and the scouting staff pick quality with the first two picks, then what should or could they be looking for at No. 138?
I would suggest the team try to grab an overage player, someone who has shown an ability to play at a high level already and who might not be far from pushing for an NHL job.
Artyom Galimov plays in the KHL for Ak Bars Kazan. He turned 21 on September 8. He went 55, 13-10-23 a year ago and this year (8 games) is 1-3-4. He is a center, 5.11, 180 and is 53.1 percent in the dot so far this season. I think he could slide right in at the AHL level now (KHL is a better league) in a feature role.
The Draft Analyst has more in their fantastic draft report: "Quick to the puck and delivering shifts packed with energy and enthusiasm, Galimov can play center or wing and is an excellent penalty killer. He also owns a plus-plus shot that he wires with confidence from the high slot or circles. Although Galimov is too old for junior tournaments, get used to seeing his name on rosters for the men's national teams, and if he goes undrafted for a final time, there's no doubt NHL teams will be lining up for his services as a free agent two or three years down the road."
TYLER WRIGHT
I was asked about Tyler Wright's track record yesterday, and have written about it before so am going to re-publish a quick review.
He had a solid draft with Columbus in 2012. Ryan Murray was the first rounder, injuries have derailed him. Joonas Korpisalo has emerged as a good goaltender and Josh Anderson is a substantial player when healthy. That was a good draft.
In 2013, no home runs but Oliver Bjorkstrand in the third round was quality. Alexander Wennberg was the first round pick, he should be better than he's shown but we're several years on now.
In 2014, he moved to Detroit and selected Dylan Larkin at No. 15 overall. That's his best pick, no question.
The 2015 draft looks like a miss, shocking because there was so much talent available. It's kind of incredible how bad the DRW draft was that season.
In 2016, when Edmonton was having a hard time, the DRW grabbed Filip Hronek in the second round (Dennis Cholowski in the first).
I really like the 2018 draft (Filip Zadina, Joe Veleno, Jonatan Berggren, Jared McIsaac, Alex Regula).
Too soon to know about the 2019 draft, Moritz Seider had a strong AHL season as a teenager.
As is always the case with scouting directors, too soon to know. I will tell you that in my soul I believe Ken Holland made the Broberg pick, I've suggested it before and been true on this point. We didn't hear Broberg's name until after Holland arrived. My point being that it's looking like a good pick at this point, and Lavoie plus Konovalov are tracking well. I like Denezhkin quite a bit. Maybe this could work out. I still think the club's scouting department was solid without the shuffle, but que sera sera.
CREDIT DUE
In yesterday's blog, I linked to a Bob Stauffer tweet about Jesse Puljujarvi possibly signing with the Oilers (sounding like it may happen). I tagged it with a Alex Chiasson-for-Anders Bjork trade rumour that has been online for some time.
A few hours later, one of the folks I met here on the blog sent me a tweet that credited me with the Puljujarvi and Bjork rumours. I want to be very clear here: I always credit the trade rumour to source (in this case, Bob) and if I can't you'll see me say "a rumour out in the ether" as I did yesterday. I don't publish rumours because that's not what I do. I am lucky enough to receive dozens of rumours a year but I don't publish them.
Why? Two reasons. I am not a day-to-day reporter of the team as a Frank Seravalli or Ryan Rishaug or Daniel Nugent-Bowman is, so my sources are extremely unlikely to be as credible as the men who are close to the ground. These men do hard work and some wingnut like me offering titillating rumours benefits no one and makes me an ass for pretending to be something I'm not nor do I have any desire to be. Being that guy has no appeal for me. Second, that's not what this blog or what I write is about, and I want to keep the prose on track for fear of losing my way.
My blog and my writing at The Athletic is designed to chronicle and analyze, to 'think along with the general manager' or 'figure out what the scouting director is thinking' as I'm trying to do now. So when you see "as per Lowetide" and it doesn't end "always buy Crown Royal and Ginger Ale before the weekend" you'll know it's not me. Thanks.
LOWDOWN WITH LOWETIDE
At 10 this morning, another full boat of guests on the Lowdown. Steve Lansky joins me at 10:20 from the Inside the Truck podcast to talk about the SC Final, Jays in the postseason and who takes Don Cherry's job. Frank Seravalli from TSN will chime in with the latest trade and draft stories as we get ready for the big two-week offseason where the NHL goes wild. Matt Iwanyk will pop in to talk Jamal Murray, NFL Week 3 and Techmo Bowl. Chris Meaney from FTN Network will preview NFL Week 3. 10-1260 text, @Lowetide on twitter. See you on the radio!