If I was forced to choose just one day in the NHL calendar over all others, it might be opening night of any regular season. Tonight is kind of like opening night, and in a way even more satisfying, if only because we can slip out of summer conversation and into a rink for a hockey game. That walk to the rink tonight, the anticipation mixed in with the chill of fall and the shuffling of thousands of feet in unison, signals the return of our beautiful game. The autumn leaves are falling, hockey is back in town. Music!
THE ATHLETIC!
The Athletic Edmonton features a fabulous cluster of stories (some linked below, some on the site). Great perspective from a ridiculous group of writers and analysts. Proud to be part of The Athletic, we are celebrating our 2-year anniversary this week. To mark the occasion, you can get 40% off subscriptions until Sept. 19 here.
CERTAIN OILERS (18)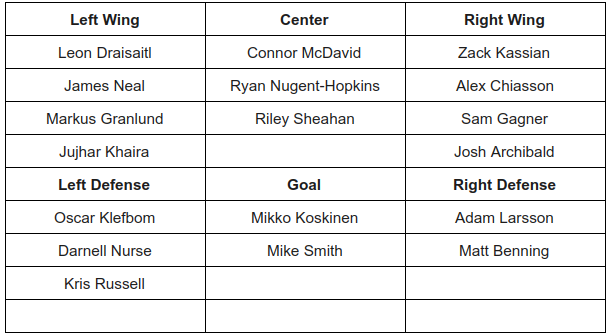 Unless there's an injury or trade we don't know about, I believe these men are locks to be on the opening night roster. McDavid, Smith and Russell won't play this week (likely) and that means opportunity for others. Players I'll be focusing on from this group: Benning, Larsson, Sheahan, Archibald.
UNCERTAIN OILERS (15)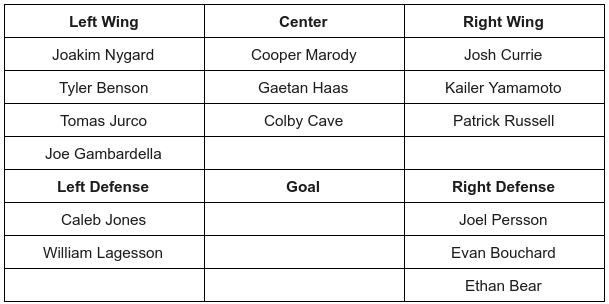 I think Evan Bouchard has probably served notice but there's miles to go and both Joel Persson and Ethan Bear have been in the news. One encouraging item: Both Gaetan Haas and Colby Cave got solid reviews from the coach. Center is an area of weakness. Joakim Nygard will be one to watch and it would be nice to have a goalie in this section.
DISTANT BELLS (15/19)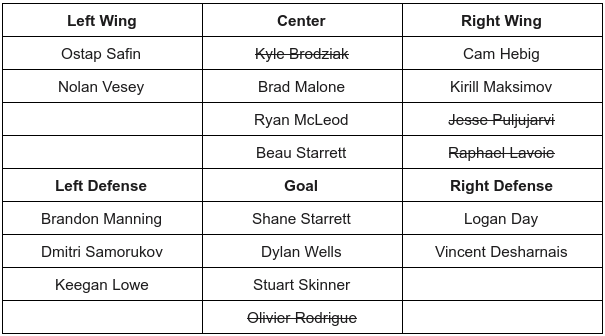 Two juniors, a gifted phenom and one brave soldier off the list as we head toward the first game of the preseason. Coach Tippett has spoken at length about seeing 10 or so guys a lot during these early games, not certain if any of those 10 is on this list. There's always a surprise of early camp and this year it was Cam Hebig. Love to see a prospect step forward as he has over the last week.
WHO ARE THE 10?
Tippett says there are '10 players' he's keeping an eye on in camp, and that's a fun list to guess. If we excluded the 'certain' list, my guesses are Nygard, Benson, Haas, Cave, Marody, Jones, Lagesson, Bouchard, Persson and Bear. That's 10.
Still makes me mad. The Oilers followed all the rules, crossed every T and dotted every I. And what did that get them? Jack Hoodley. The NHL is just awful at being fair.
This is a bit of overkill, you all no doubt read it anyway, but I wanted to draw attention to the importance of Bruce McCurdy's work this time of year. McCurdy brings it 365, but in this specific time he brings a combination of history, sense of the moment and clarity in equal parts. The Oilers may not know this, but Mr. McCurdy excites the masses with his verbal, renews the spirit and sends the locals into conversations about prospects barely known. He's a gem.
LOWDOWN WITH LOWETIDE
At 10 this morning, TSN1260, we slide into a Monday like an old man gets into a Corvette. Murat Ates from The Athletic Winnipeg gets us started with talk of an offseason that still lingers for Jets fans. Jason Gregor pops in with the Oilers side and more at 11, and we add Andy McNamara from TSN4Downs at 11:20 to talk NFL. 10-1260 text, @Lowetide on twitter. See you on the radio!
LINES (added)
Sam Gagner—Ryan Nugent-Hopkins—James Neal
Jujhar Khaira—Riley Sheahan—Josh Archibald
Joakim Nygard—Gaetan Haas—Alex Chiasson
Tyler Benson—Colby Cave—Patrick Russell
Oscar Klefbom—Joel Persson
Caleb Jones—Matt Benning
William Lagesson—Evan Bouchard
Stuart Skinner (Dylan Wells)