The Edmonton Oilers are 2-3-0 in preseason with two games to go before the end of the exhibition schedule. The club's overall goal differential (13-16) includes a five-on-five differential of -1 (10-11). The Oilers badly need to improve that ratio, and to grab secondary scoring from depth lines.
THE ATHLETIC!
The Athletic Edmonton features a fabulous cluster of stories (some linked below, some on the site). Great perspective from a ridiculous group of writers and analysts. Proud to be part of The Athletic, we are celebrating our 2-year anniversary this week. To mark the occasion, you can get 40% off subscriptions here.
LAST NIGHT'S GAME (5×5)
LINE 1 Leon Draisaitl-Connor McDavid-Zack Kassian. 11:25, 7-8 Corsi for, 6-4 shots, 0-1 goals, 1-2 HDSC.
Connor McDavid had a gigantic chance early, but nothing rhymed most of the night. Who cares? 10 fingers and toes and he remains the fastest train on record. I think he might get the Saturday game.
Leon Draisaitl had the roar and his partner in crime, but as the game wore along his attention to detail drifted. Still made some great plays. Saturday's lineup will be interesting.
Zack Kassian seemed the most engaged of the top trio, he got a nice chance in the first period off an errant pass.
LINE 2 Sam Gagner-RNH-James Neal. 10:22 together, 12-10 Corsi, 6-6 shots, 0-3 goals, 1-3 HDSC.
Sam Gagner is terrific with the puck on his stick, great passer and fabulous vision. He also made a nice defensive play. However, this needs to be an outscoring line and I'm not sure No. 2 LW is his sweet spot.
Ryan Nugent-Hopkins scored a shorty, his snapshot is even better this year. The goal against is a perfect example of why he needs better support. 93 lost a small struggle for puck possession in the neutral zone and Crouse had a nice lane to the net. Playing without the puck is a lot about positioning, and Nuge is going to be alone a lot this year.
James Neal had three shots and one HDSC (high danger scoring chance) but wasn't a factor in the game. He's a tricky fellow to mark, because in the middle of not doing anything he'll score. Didn't have a big night.
LINE 3 Jujhar Khaira-Riley Sheahan-Josh Archibald 8:26 together, 15-2 Corsi, 10-2 shots, 1-0 goals and 3-0 HDSC. Write this line in stone. My piece in The Athletic goes into a little more detail on Khaira, I believe in this player.
LINE 4 Patrick Russell-Colby Cave-Alex Chiasson were 6:45, 13-9 Corsi together, 10-6 shots, no goals and 2-2 HDSC. Cave had both HD chances, I like him but he's going to spoil 25 tap-ins. Russell has surely made the team and Chiasson must be wondering how he landed with this crew after a 22-goal season.
DEFENSE (5X5)
Darnell Nurse-Adam Larsson were 7-12 Corsi in 12:01, 5-6 shots, 0-1 goals and 1-1 HDSC. Nurse pinched when he would have been better to stay and the duo doesn't have a crisp outlet passer among them.
On the other hand, Oscar Klefbom-Adam Larsson were 12-4 in 6:10, 8-3 shots, 0-1 goals and 2-1 HDSC. The GA was a great pass to the wrong team, Larsson sending it for an Oilers forward who zigged when he should have zagged (is my guess). This pairing is damned good.
Oscar Klefbom-Joel Persson went 5-6 Corsi in 6:01 before Persson's injury. 4-5 shots, no goals, I thought Persson performed well with the puck and in puck pursuit. Needs to work on his board battles.
Kris Russell-Matt Benning went 7-2 Corsi in 6:30, 3-2 shots, 0-1 goals and 1-0 HDSC. Benning hammered the puck senseless and hit the post in the first, man he can unleash the hounds. Russell looked fine LH side on the first day back to work.
Darnell Nurse-Matt Benning were meh in 4:22, 3-4 Corsi, 1-3 shots and 1-2 HDSC.
I thought Mike Smith played well, Koskinen made some big stops too. Goalies weren't the culprit last night. All numbers via Natural Stat Trick.
CERTAIN OILERS [18]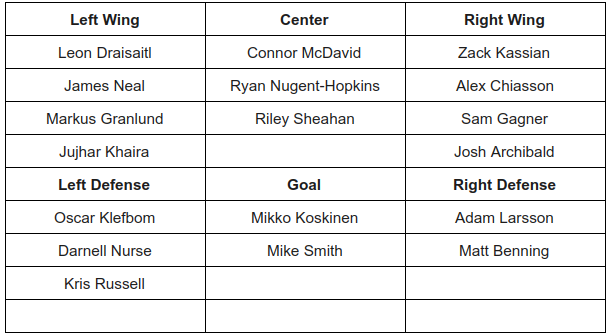 The 18 men we started out with remain, Granlund is apparently nicked up so he'll be on the opening night roster but possibly on IR. Neal moving to RW complicates things, but coach Tippett is moving Gagner et al as opposed to deploying bubble men.
UNCERTAIN OILERS [9]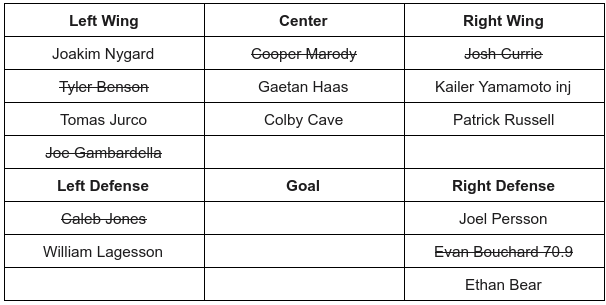 Evan Bouchard was sent down last night, that's what the Oilers should have done with Kailer Yamamoto and Jesse Puljujarvi. Bouchard is probably NHL-ready, but for an organization that has capsized so many prospects on this trip across the AHL to NHL waters, I'm fine with 20 games in California for this player. Persson's injury may help both Lagesson and Bear.
DISTANT BELLS [3]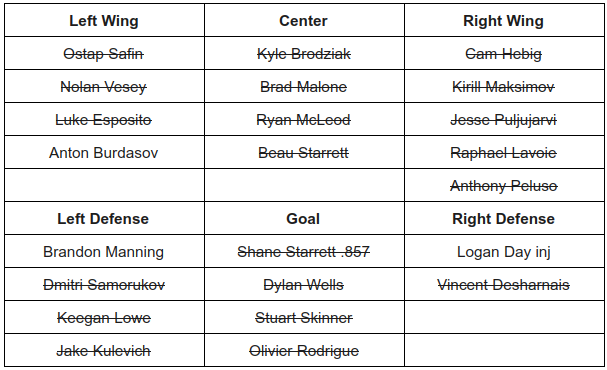 Shane Starrett also sent out, and with Logan Day requiring surgery and Burdasov arriving so late, we're down to Manning. My suspicion is that Lagesson wins the No. 7 job, but Manning is still in camp.
LOWDOWN WITH LOWETIDE
At 10 this morning, TSN1260, there's a lot going on. Bruce McCurdy from the Cult of Hockey at the Edmonton Journal will join me at 10:20, we'll chat about last night's game and the roster cuts. Kent Wilson will pop in at 10:40 from The Athletic to talk about the new Matt Tkachuk deal. Kris Abbott from OddsShark will chat football just after 11. 10-1260 text, @Lowetide on twitter. See you on the radio!