The only thing that I found galling during last night's game against the Blackhawks was the too many men penalty against Edmonton. Puck goes in, play ends, no? No. Apparently.
Look, I'm no different than you, losses are frustrating. However, the Oilers went 2-1-0 on a road trip I'd estimated at 1-1-1. I don't really see the point in getting worked up about that loss. They should have played better in the first 50 minutes and the correct team won. Edmonton has performed well, getting mad about that game runs out of time with the season we've all witnessed.
THE ATHLETIC!
The Athletic Edmonton features a fabulous cluster of stories (some linked below, some on the site). Great perspective from a ridiculous group of writers and analysts. Proud to be part of The Athletic, less than two coffees a month offer here.
OILERS AFTER 68 GAMES
Oilers in 2015-16: 26-35-7, 59 points; goal differential -30
Oilers in 2016-17: 35-24-9, 79 points; goal differential +10
Oilers in 2017-18: 30-34-4, 64 points; goal differential -35
Oilers in 2018-19: 30-31-7, 67 points; goal differential -21
Oilers in 2019-20: 36-24-8, 80 points; goal differential +6
Oilers missed an opportunity to extend the lead on Calgary, Vancouver and Arizona in the Pacific division. There's still some clearance Clarence but those two points would look good this morning added to the Edmonton record.
ON THE TENS
First 10 games: 7-2-1
Second 10 games: 5-4-1
Third 10 games: 5-4-1
Fourth 10 games: 3-6-1
Fifth 10 games: 6-2-2
Sixth 10 games: 6-3-1
Current 10 games: 4-3-1
OILERS IN MARCH
Oilers in March 2016: 2-1-0, four points; goal differential +2
Oilers in March 2017: 1-1-1, three points; goal differential -1
Oilers in March 2018: 1-2-0, two points; goal differential -2
Oilers in March 2019: 3-0-0, six points; goal differential +6
Oilers in March 2020: 2-1-0, four points; goal differential +5
WHAT TO EXPECT IN MARCH
On the road to: NAS, DAL, CHI (Expected 1-1-1) (Actual 2-1-0)
At home to: CBJ, WPG, VEG, NYI (Expected 2-2-0)
On the road to: PHI, WAS, OTT (Expected 1-1-1)
At home to: TBY, ANA, COL, SJS, ANA, VEG (Expected: 3-2-1)
Overall expected result: 7-6-3, 17 points in 16 games
Current results: 2-1-0, 4 points in three games
Edmonton's road trip was more successful than I projected and sets up the rest of the month well. The Oilers have to keep playing well, and show up before the third period, but all that hard work to get this far is no doubt great motivation. Being humbled by a subpar performance can be a motivator.
OILERS 2019-20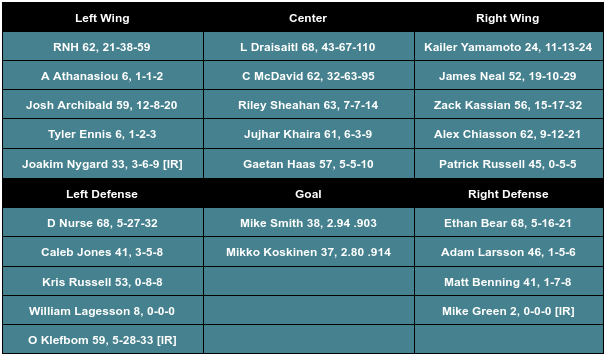 I imagine we'll see Klefbom back on Saturday and the search for McDavid's linemates hasn't progressed since the deadline. All numbers five on five and via NST.
LINE 1 Nuge-Leon Draisaitl-Kailer Yamamoto played 11:58, going 13-7 Corsi, 9-3 shots, 2-0 goals and 3-0 HDSC.
Ryan Nugent-Hopkins scored a nice goal on a give and go with Leon, four shots, two HDSC and a takeaway. Leon Draisaitl had two assists (basically the same play), one shot, three giveaways, won five of 10 in the dot. He didn't draw a penalty and should have drawn at least two by my eye. Kailer Yamamoto scored a nifty goal on a give and go with Leon, had three shots, one HDSC and a takeaway. Fine young player.
LINE 2 James Neal-Connor McDavid-Tyler Ennis played 6:06, going 3-10 Corsi, 1-7 shots and 0-2 goals, 0-5 HDSC.
LINE 2 Andreas Athanasiou-Connor McDavid-James Neal played 6:52, going 6-9 Corsi, 1-6 shots, no goals and 2-3 HDSC.
James Neal had two takeaways and a couple of hits. He had a dandy look on a dangerous rush with 97 but couldn't get the puck through (which led to jailbreak and goal). Connor McDavid had three shots, one HDSC, went 6 of 12 in the faceoff circle. He didn't have his usual flash but that may have something to do with the shuffling of wingers. I'm a little worried about him. Long season and he trained all off season. Even superheroes can hit a wall. Tyler Ennis had one look and worked hard but not much got done. It was his least effective game since arriving. Andreas Athanasiou had a HDSC and a wicked pass to Neal that almost cashed, plus rang the crossbar like it's 1976 and he's rocking the cowbell on "Don't Fear the Reaper" for a raggedy cover band at the Blackfalds Motor Inn. I thought he showed good speed.
LINE 3 Zack Kassian-Riley Sheahan-Josh Archibald played 8:22 going 8-8 Corsi, 6-4 shots, 1-1 goals and 3-1 HDSC.
Zack Kassian had a terrific assist after finding the puck just inside the Chicago blueline. Two shots, giveaway. Riley Sheahan had a shot, HDSC and won three of seven on the dot. He couldn't intercept the net front pass to Kane on the first goal. Josh Archibald scored, had three shots and two HDSC. He played well.
LINE 4 Andreas Athanasiou-Jujhar Khaira-Alex Chiasson played 4:28, going 3-3 Corsi, 1-1 shots no goals and 0-1 HDSC.
Jujhar Khaira had three shots, one HDSC, won four of nine faceoffs. He's coming out of his funk and I'm liking him in the middle. Alex Chiasson worked hard but didn't get a lot done. He wasn't along among the forwards.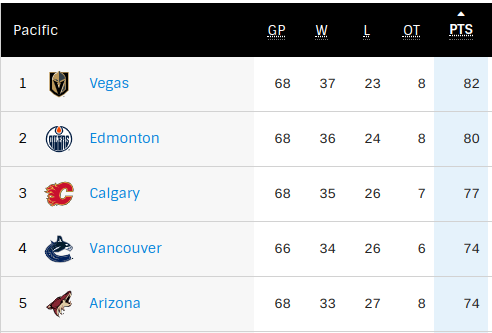 PAIRING ONE Darnell Nurse and Ethan Bear played 20:58, going 17-20 Corsi, 10-13 shots, 2-2 goals and 6-6 HDSC. Faced Patrick Kane 6:58, no goals either way.
Darnell Nurse had two assists, shot, HDSC and a giveaway. He made a nice play guiding the puck to safety on the Toews goal but the goalie was walkabout and there was no one left to defend the wraparound. Blocked Smith's view on second DeBrincat goal, to my eye the goalie needs to peer through but it was a factor. Ethan Bear had a giveaway, several effective passes and was targeted for hits several times. He's been noticed by opponents. That's a compliment. Bear lost a 50-50 puck battle in the seconds before the Toews goal.
PAIRING TWO Caleb Jones and Adam Larsson played 14:37, going 11-12 Corsi, 6-7 shots, 0-1 goals and 1-2 HDSC. Faced Kane 4:49, going 0-1 goals.
Caleb Jones had one shot and was part of the chaos leading up to the Patrick Kane goal (he was unable to corral the puck behind the net). Adam Larsson had one shot and was also part of the parade that Kane pulled to the left before parking the puck in the net, but was strong earlier in the sequence and is currently playing well overall.
PAIRING THREE Kris Russell and Matt Benning played 12:12, going 7-8 Corsi, 5-2 shots, 1-0 goals and 2-0 HDSC. Faced Kane 6:22, going 1-0 goals.
Kris Russell had a giveaway, played during the quiet times for the most part. Veteran will get good marks from the coach I suspect. Matt Benning had a giveaway and a takeaway and hit like a truck.
GOALIE Mike Smith was not sharp, stopping 17 of 21, .810. I didn't like his tracking on the Kane goal and he was badly out of position on the Toews goal. At least one of the DeBrincat goals should have been stopped as well. Smith has been quality since January 1, so there's zero reason to go crazy about his performance. Perhaps go with the other guy Saturday. Mikko Koskinen was sharp, stopping 10 of 10.
Benjamin Baumgartner is 5.09 and turns 20 in April. He is scoring well in the NLA (37, 7-20-27, NHLE of 28.1 points). Oilers drafted a Euro who was 20 (Ilya Konovalov) a year ago.
My Top 62 for the draft is here, will update around the middle of March.
It's kind of amazing to look into Oilers history and see the impact of deadline additions. I think both new hires may land high on the list of all time forwards acquired at the deadline by Edmonton.
LOWDOWN WITH LOWETIDE
At 10 this morning, we kick out the jams and declare this a weekend! TSN1260, scheduled to appear are Steve Lansky from Big Mouth Sports. We'll talk Oilers road trip and greatest anthem singers. Matt Iwanyk will also join us and we'll talk Brier and Oilers playoff hopes. 10-1260 text, @Lowetide on twitter. See you on the radio!