We're reaching a point in the season where we can begin to talk about playoff lines and pairings. Two impact scoring lines, a third "checking" line (although all lines check now, at least if they want to stay in the league) and then a fourth line that resembles my shed in summer (lawn mower, rake, paint, varsol, 400 gloves, beer bottles, random two by four, rabbit who has spent years with me and never paid a day's rent). Four defensemen who you can go to war with, a goalie you can count on and a goalie you can hotwire in a pinch. We're almost there.
THE ATHLETIC!
The Athletic Edmonton features a fabulous cluster of stories (some linked below, some on the site). Great perspective from a ridiculous group of writers and analysts. Proud to be part of The Athletic, less than two coffees a month offer here.
New Lowetide: Reasonable expectations for Andreas Athanasiou and Tyler Ennis over the next 15 games. (will link)
New Jonathan Willis: Ryan McLeod offers the Oilers size and speed. But will he score in the NHL?
New Jonathan Willis: Which players pose the biggest threat to Leon Draisaitl winning the Hart Trophy?
Lowetide: How the Oilers deadline deals might alter summer plans
Jonathan Willis: Splitting Connor McDavid and Leon Draisaitl saved the Oilers' season
Lowetide: Is the OHL still the Oilers' primary resource at the draft?
Lowetide: The Oilers' 2017 draft and the value of waiting five years
Jonathan Willis: Oilers' AHL factory has produced three NHL defencemen, with more on the way
Daniel Nugent-Bowman: Are Oilers poised for a long playoff run after Ken Holland's deadline moves?
Lowetide: Making sense of the Oilers forward depth chart for the summer
Daniel Nugent-Bowman: Stepping out and up, Leon Draisaitl puts himself in the Hart Trophy mix in Connor McDavid's absence
Lowetide: Making sense of the Oilers defensive depth chart for the stretch run and the summer
OILERS AFTER 68 GAMES
Oilers in 2015-16: 26-35-7, 59 points; goal differential -30
Oilers in 2016-17: 35-24-9, 79 points; goal differential +10
Oilers in 2017-18: 30-34-4, 64 points; goal differential -35
Oilers in 2018-19: 30-31-7, 67 points; goal differential -21
Oilers in 2019-20: 36-23-8, 80 points; goal differential +7
I don't believe this year's team will finish with 103 points (the final total of the 2016-17 team) but this has been an enjoyable ride since the new year. What a tremendous 9 1/2 weeks. I would not be shocked if Edmonton won the division, that's how strong January-March has been for this team. Not yet balanced, but wildly effective in specific game states and slivers of five on five.
ON THE TENS
First 10 games: 7-2-1
Second 10 games: 5-4-1
Third 10 games: 5-4-1
Fourth 10 games: 3-6-1
Fifth 10 games: 6-2-2
Sixth 10 games: 6-3-1
Current 10 games: 4-2-1
OILERS IN MARCH
Oilers in March 2016: 2-1-0, four points; goal differential +2
Oilers in March 2017: 1-1-1, three points; goal differential -1
Oilers in March 2018: 1-2-0, two points; goal differential -2
Oilers in March 2019: 3-0-0, six points; goal differential +6
Oilers in March 2020: 2-0-0, two points; goal differential +6
WHAT TO EXPECT IN MARCH
On the road to: NAS, DAL, CHI (Expected 1-1-1) (Actual 2-0-0)
At home to: CBJ, WPG, VEG, NYI (Expected 2-2-0)
On the road to: PHI, WAS, OTT (Expected 1-1-1)
At home to: TBY, ANA, COL, SJS, ANA, VEG (Expected: 3-2-1)
Overall expected result: 7-6-3, 17 points in 16 games
Current results: 2-0-0, 4 points in two games
Chicago has been pushing in recent days, the team is just 5-5-0 in its last 10 but have won three in a row. Edmonton will be at home for most of the rest of the season after tonight, playing 10 of the final 14 at home.
OILERS 2019-20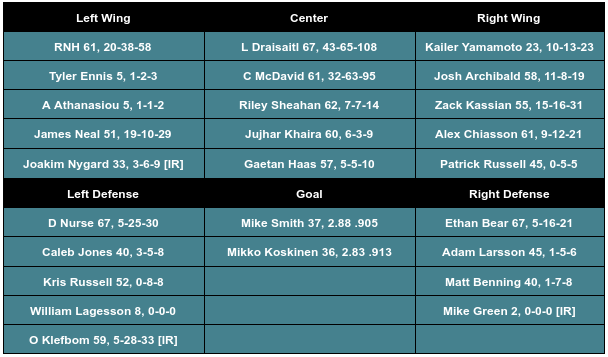 I'm hopeful coach Tippett shakes up the McDavid line, options include moving up Zack Kassian to replace Josh Archibald and my guess is James Neal will also be under consideration. Also hopeful Oscar Klefbom returns, I'd like to see Klefbom-Larsson, Nurse-Bear and Jones-Benning. Your mileage may vary.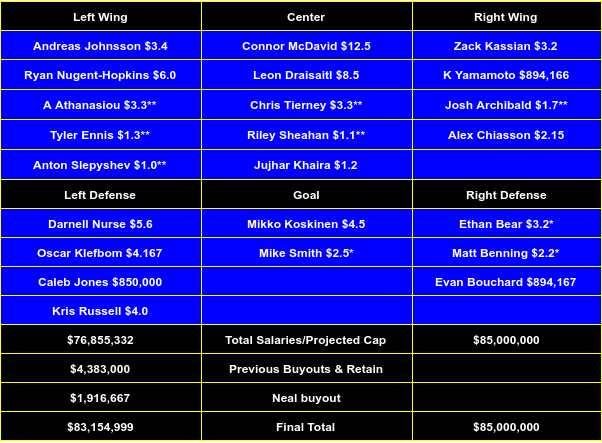 Lots of room to wheel if the cap goes to $85 million, Edmonton could sign Bear long term or sign goalie Robin Lehner as a free agent. Above, I traded Adam Larsson to Toronto, Jesse Puljujarvi, William Lagesson and two members of Mahogany Rush to Ottawa. I attempted to do what Ken Holland might try to accomplish as opposed to my own wishes (I wouldn't return Mike Smith or Kris Russell).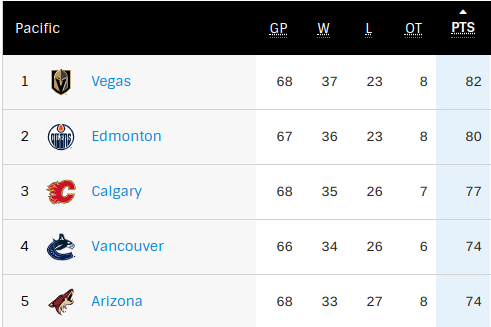 We should be headed for an Edmonton-Vancouver opening round series but the goalie woes on the left coast combined with a smart run by the Flames have this looking like a BOA (and no, not Black Oak Arkansas) spring.
The first playoff game between the two teams went down April 14, 1983 with the Oilers winning 6-3 on four Mark Messier goals. Boxscore is here.
LOWDOWN WITH LOWETIDE
The week is roaring to a conclusion, we get a head start at 10 this morning, TSN1260. We'll be joined by Michael Hurley from CBS Boston and will talk Brady leaving the Patriots, Bruins chances at Stanley, Red Sox 2020 and more. Frank Seravalli from TSN pops in a little after 11 to chat about cap, coronavirus and first-round playoff matchups. 10-1260 text, @Lowetide on twitter. Talk soon!