If you only knew. If you only knew. The Dallas Stars of 20 years ago were beauty and the beast, Mike Modano on a majestic rush combined with Derian Hatcher's maniacal play and Mike Keane's mouth and stickwork. If the NHL of the late 1990's were a western, the Dallas Stars were surely Frank Miller. There was more than a touch of Frank Miller in the play of the Stars last night, so watching the Oilers win had special value. This road trip is madness. The piano has been drinking. The spotlight looks like a prison break.
THE ATHLETIC!
The Athletic Edmonton features a fabulous cluster of stories (some linked below, some on the site). Great perspective from a ridiculous group of writers and analysts. Proud to be part of The Athletic, less than two coffees a month offer here.
OILERS AFTER 67 GAMES
Oilers in 2015-16: 25-35-7, 57 points; goal differential -31
Oilers in 2016-17: 35-23-9, 79 points; goal differential +11
Oilers in 2017-18: 29-34-4, 62 points; goal differential -37
Oilers in 2018-19: 30-30-7, 67 points; goal differential -20
Oilers in 2019-20: 36-23-8, 80 points; goal differential +7
Amazing. The current Oilers, who deploy a No. 3 center who went 0-for-15 in the faceoff circle last night, have 80 points and are on a mission from God to make the playoffs. This isn't a hockey team anymore. It's a movement.
ON THE TENS
First 10 games: 7-2-1
Second 10 games: 5-4-1
Third 10 games: 5-4-1
Fourth 10 games: 3-6-1
Fifth 10 games: 6-2-2
Sixth 10 games: 6-3-1
Current 10 games: 4-2-1
OILERS IN MARCH
Oilers in March 2016: 2-0-0, four points; goal differential +5
Oilers in March 2017: 1-1-0, two points; goal differential -1
Oilers in March 2018: 0-2-0, zero points; goal differential -3
Oilers in March 2019: 2-0-0, two points; goal differential +5
Oilers in March 2020: 2-0-0, two points; goal differential +6
WHAT TO EXPECT IN MARCH
On the road to: NAS, DAL, CHI (Expected 1-1-1) (Actual 2-0-0)
At home to: CBJ, WPG, VEG, NYI (Expected 2-2-0)
On the road to: PHI, WAS, OTT (Expected 1-1-1)
At home to: TBY, ANA, COL, SJS, ANA, VEG (Expected: 3-2-1)
Overall expected result: 7-6-3, 17 points in 16 games
Current results: 2-0-0, 4 points in two games
The early days of March have the team out in front of my predictions but you'll notice the schedule is not easy as we move toward the Ides of March. This is a fantastic start to the final month of the season.
OILERS 2019-20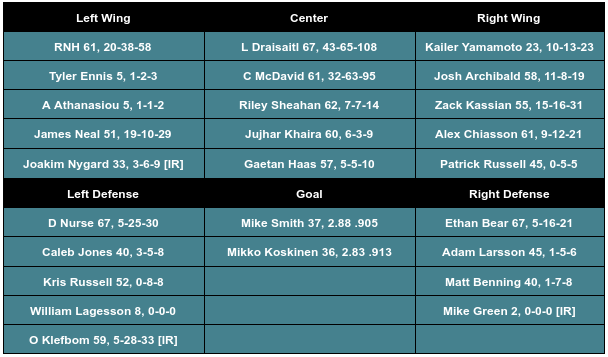 I don't think the McDavid line as it stands is going to last much longer (mentioned that yesterday) and with James Neal back in action maybe we see the band get back together (Kassian and Neal with 97). Khaira at center looked solid, Klefbom back soon is fabulous. Koskinen stole that game, people. All numbers five on five and via NST.
LINE 1 Nuge-Leon Draisaitl-Kailer Yamamoto played 9:57, going 5-15 Corsi, 4-9 shots, no goals and 0-4 HDSC. Played 9:48 against Heiskenan-Johns, getting outshot 10-4.
Nuge was the offensive star of the game, going 1-1-2 all on the man advantage. He didn't move the needle at all at five on five. No shots, no HDSC. It's a theme. Leon Draisaitl won nine of 15 in the faceoff circle, had a takeaway and a giveaway and three shots. Took a penalty, had an assist that came on the power play. Kailer Yamamoto had a giveaway, a big shot black and checked like a demon. Like every Oilers player, he got rocked by a physical Stars team several times.
LINE 2 Tyler Ennis-Connor McDavid-Josh Archibald played 7:43 and were positively caved by Dallas: 3-14 Corsi, 2-8 shots, no goals and 1-2 HDSC. Outshot 7-1 by Gurianov-Dickenson-Hintz.
Tyler Ennis had one shot, one HDSC and got lucky as his stick got high on Jamie Benn but the referees missed it. Connor McDavid's assist came on the power play, at five on five he had one shot, drew a penalty and won six of 14 on the dot. Josh Archibald worked hard but didn't get a lot done. I think we see a shuffle for the McDavid line soon. Archibald was solid on the PK.
LINE 3 Andreas Athanasiou-Riley Sheahan-Zack Kassian played 8:04, going 6-5 Corsi, 6-2 shots, no goals and 1-0 HDSC.
Andreas Athanasiou had three shots and a HDSC, one of only four forwards to get one at five on five. He also took a minor penalty twice and will need to iron that out of his game in a quick hurry. Still early days, want to see him have some scoring success. Riley Sheahan got the golden sombrero in the faceoff circle, had one shot, a giveaway and at least a couple of plays where he put his mates in more peril than he would have by just leaving well enough alone. He's struggling lately. Zack Kassian had a takeaway and played a physical game on a night where the Oilers were getting thrown about with abandon.
LINE 4 James Neal-Jujhar Khaira-Alex Chiasson played 6:46, going 6-5 Corsi, 2-3 shots, no goals and 0-1 HDSC.
James Neal had some jump in his first game back in ages. He had one shot, drew a penalty, turned over pucks (although he got no credit). Played well. Jujhar Khaira won three of seven in the dot, had a HDSC, two giveaways, hammered Dickenson at the Oilers bench. Sent a pass from his own corner to the slot that found Radulov. Incredibly poor decision. Alex Chiasson scored a huge goal, it was a beauty in overtime. Had one shot, HDSC, drew a penalty. Damn near scored in regulation, too. A good game for Chiasson.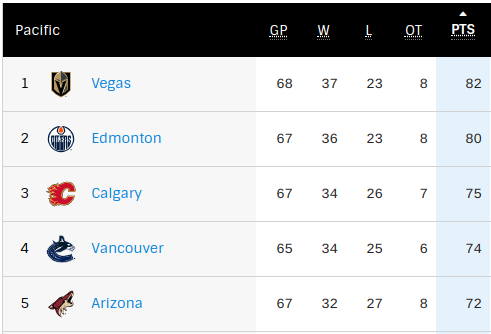 PAIRING ONE Darnell Nurse and Ethan Bear played 17:13, going 12-14 Corsi, 8-11 shots, no goals and 1-2 HDSC.
Darnell Nurse had one shot, one giveaway and three blocked shots. I thought he had a terrible first period. Ethan Bear had two shots and a takeaway, he was challenged by the fleet Stars forecheck but performed well to my eye. In photo on the Klingberg PP goal but what the hell are you supposed to do with that shot? Gurianov beat Bear clean early in the game, reminded us the quality rookie blue is still finding his way.
PAIRING TWO Caleb Jones-Adam Larsson played 13:01, getting fed 6-26 Corsi (!!), 6-14 shots, no goals and 1-5 HDSC. Spent much of the evening with the Draisaitl line and against the Heiskanen pairing, the Faksa line.
Caleb Jones had one shot on goal and used his mobility to get advantage, but it was a tough night. Adam Larsson had one shot and was a hammer on a night when the Oilers badly needed on. I thought his penalty was earned, Larsson's stick clearly got part of the facial area of his opponent.
PAIRING THREE Kris Russell and Matt Benning played 8:43, going 6-4 Corsi, 3-1 shots no goals and 2-1 HDSC.
Kris Russell had two shots, and looked far better than he did in his first games back after the layoff. Strong PK. Matt Benning had a clean slate, not much shaking at either end. That's a good thing for defensemen. A turnover or two exposed him but I thought he played well overall.
GOALIE Mikko Koskinen was the biggest factor in the game, full stop. Stopped 42 of 43, .977. He played only two games in January, six in February. He is 3-5-0 since January 1, with a save percentage of .917.
THE WHO BY NUMBERS
Edmonton's five on five Corsi is 48.06 (No. 26), the shot differential is 48.59 (No. 21) and the goal differential is 46.79 (No. 25). Save percentage .9103 (No. 27). Shooting percentage? 8.34 (No. 16).
What is keeping the Oilers afloat? Special teams. Great PP, Great PK.
In "all situations" the Oilers goal differential is 51.08 (No. 15) and the save percentage is .9044 (No. 15). Shooting percentage 10.65 (No. 2).
I can't see Arizona catching Edmonton now, they have 30 points in play (15 games) and trail by eight points. Let's say the Coyotes go on a heater and finish 10-5-0 in the home stretch. That would leave them with 92 points, meaning Edmonton would need to go 6-8-1 to finish with 93 points and land ahead of Arizona. The Bettman era means catching teams is like climbing Everest.
LINES
The lines won't work like this. Something has to be done. In 23:55 together Ennis-97-Archibald have been outshot 8-17 and have an expected goal percentage of 26.24. The fact the actual goal differential is 2-1 is interesting, and McDavid does this routinely but this line is not good.
Andreas Athanasiou-Riley Sheahan-Zack Kassian have played 19:01 together and have a shot share of 63.64 (14-8) despite being 0-1 goals. That's the one line (aside from the Nuge trio) that might have some sustain.
McDavid's trio needs a fix and right soon.
LOWDOWN WITH LOWETIDE
At 10 this morning, TSN1260, we hit the ground running with fresh mountain quality. Bruce McCurdy from the Cult of Hockey at the Edmonton Journal will review the two exceptional road games that (imo) signal a real change in this team's persona. Joe Osborne from OddsShark talks NHL, NBA and NCAA brackets for March madness. 10-1260 text, @Lowetide on twitter. See you on the radio!