I mentioned in the thread last night during the second intermission the game reminded me of an April 1975 game between the Buffalo Sabres and the Montreal Canadiens. The Oilers and Preds were scoring goals at a rapid clip through two, and you felt something special might be in the air. As it turned out, the Glimmer Twins put it all to bed in the third on a can you hear me knocking Monday night in music city.
Leon Draisaitl's new move works, so expect goals that look like it come off the production line in the days to come. He takes the puck on his backhand and then shoots it forehand with very little movement (a little hip shuffle, more Conway Twitty than Elvis Presley). Damndest thing. Goalie can't see the wrinkle, puck is by him in a heartbeat. Leon is having a year.
THE ATHLETIC!
The Athletic Edmonton features a fabulous cluster of stories (some linked below, some on the site). Great perspective from a ridiculous group of writers and analysts. Proud to be part of The Athletic, less than two coffees a month offer here.
OILERS AFTER 67 GAMES
Oilers in 2015-16: 25-35-7, 57 points; goal differential -31
Oilers in 2016-17: 35-23-9, 79 points; goal differential +11
Oilers in 2017-18: 29-34-4, 62 points; goal differential -37
Oilers in 2018-19: 30-30-7, 67 points; goal differential -20
Oilers in 2019-20: 35-23-8, 78 points; goal differential +6
A big win last night and once again this year's model gets within a hair of the 2016-17 team. What's more, the lopsided result gives the goal differential a nicer look. The three bad teams look stark in this light.
ON THE TENS
First 10 games: 7-2-1
Second 10 games: 5-4-1
Third 10 games: 5-4-1
Fourth 10 games: 3-6-1
Fifth 10 games: 6-2-2
Sixth 10 games: 6-3-1
Current 10 games: 3-2-1
OILERS IN MARCH
Oilers in March 2016: 2-0-0, four points; goal differential +5
Oilers in March 2017: 1-1-0, two points; goal differential -1
Oilers in March 2018: 0-2-0, zero points; goal differential -3
Oilers in March 2019: 2-0-0, two points; goal differential +5
Oilers in March 2020: 1-0-0, two points; goal differential +5
WHAT TO EXPECT IN MARCH
On the road to: NAS, DAL, CHI (Expected 1-1-1) (Actual 1-0-0)
At home to: CBJ, WPG, VEG, NYI (Expected 2-2-0)
On the road to: PHI, WAS, OTT (Expected 1-1-1)
At home to: TBY, ANA, COL, SJS, ANA, VEG (Expected: 3-2-1)
Overall expected result: 7-6-3, 17 points in 16 games
Current results: 1-0-0, 2 points in one game
Great start to the second last road trip of note this season and it sets up the rest of the trip very well. Dallas is a tough spot for the Oilers, although the club won in Texas in December.
OILERS 2019-20
Draisaitl and McDavid floored it last night and the morning boxcars are spectacular. Also impressive are Nuge's totals, and Nurse spiked last night too. Seven forwards with 10+ goals. All numbers five on five unless noted and via NST.
LINE 1 Nuge-Leon Draisaitl-Kailer Yamamoto played 12:49, going 14-12 Corsi, 8-5 shots, 3-0 goals and 6-0 HDSC. All three goals against Josi-Ellis.
Ryan Nugent-Hopkins had three assists, one HDSC and one shot, two takeaways. His pass on the Yamamoto goal was terrific. Leon Draisaitl went off, scoring 3-1-4 (plus a PP goal) with six shots, two HDSC, one takeaway and won three of 11 faceoffs. Kailer Yamamoto scored a goal, an assist, had two shots, three HDSC. His assist was pretty cheeky, but on a night where everything rhymed it fit like a glove.
LINE 2 Tyler Ellis-Connor McDavid-Josh Archibald played 12:39, going 6-15 Corsi, 4-7 shots, 2-1 goals and 2-3 HDSC. Played mostly against Ekholm-Tinordi, and Tinordi made 97 mad in the minutes before the goals started going in with greater frequency. Coincidence? I think not.
Tyler Ennis had an assist, two shots, HDSC and a penalty. Connor McDavid had an outstanding night going 1-3-4 plus a PP assist. Had a shot on goal, won six of nine. Josh Archibald scored an early goal, had an assist plus HDSC. I don't think this line will exist for a long time.
LINE 3 Andreas Athanasiou-Riley Sheahan-Zack Kassian played 10:57, going 9-12 Corsi, 8-6 shots, 0-1 goals and 4-2 HDSC.
Andreas Athanasiou had three shots, a HDSC, and a bad decision that led directly to the second Nashville goal. When AA reached the puck in the corner on that play, he was all alone. Needs to make quicker and better decisions. He also sent a lovely pass to Nurse for a sure goal but the rushing defenseman could not corral the puck. Riley Sheahan had two shots, two HDSC, giveaway, takeaway, and won six of 11 in the faceoff circle. Weak backhand attempt to get the puck back to Benning led to turnover that set the stage for the first goal against. Zack Kassian scored a goal, three shots, two HDSC, GV, TK.
LINE 4 Jujhar Khaira-Gaetan Haas-Alex Chiasson played 10:10, going 10-5 Corsi, 5-0 shots, no goals and 1-0 HDSC.
Jujhar Khaira had one shot, one HDSC, and drew a penalty. He seems to be coming out of this slump he's in. Gaetan Haas had one shot and won three of ten in the dot. Alex Chiasson had one shot. Although the line didn't get a lot done offensively, the puck was headed in a good direction.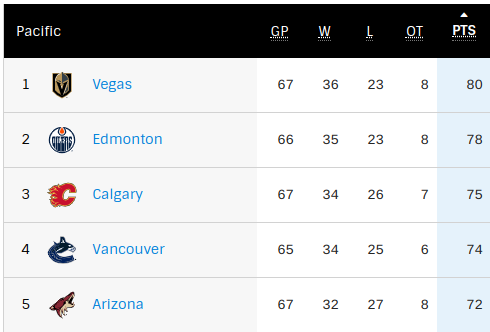 We're just a few days now from being able to include out Arizona. The Coyotes have 15 games left, trail Edmonton by six points (massive in the time of Bettman) and the Oilers have a game in hand. If the gap holds for another five games (meaning six points behind with 10 to play) hopes of catching the northern town will be dashed in the desert.
PAIRING ONE Caleb Jones and Adam Larsson played 20:22, going 23-14 Corsi, 13-9 shots, 2-0 goals and 8-2 HDSC. Pairing spent 9:37 with Draisaitl and 5:25 with McDavid, and it was good.
Caleb Jones played a strong game despite two giveaways. He's mobile, smart, a great passer and increasingly confident with his own decisions. He's an impressive rookie, third this year. Adam Larsson is enjoying a resurgence of late, played last night mostly against Turris and Johansen lines. Three shots, two giveaways, played mostly in clean air all night long. He's a hammer.
PAIRING TWO Darnell Nurse and Ethan Bear played 19:09, going 13-24 Corsi, 10-11 shots, 4-2 goals (!!!), 4-4 HDSC. It was a high event night for the duo.
Darnell Nurse had two assists, two shots, a giveaway, skated miles. I got into it a little online with a tweeter who thought Nurse was to blame for the second goal against, but unless he can read Athanasiou's mind that's on 28. Bonino was left alone on the third goal, but to my eye that was not Nurse's mark as much as his partner's man. Ethan Bear had an assist, shot and took a penalty. He is a wonderful player, looks like he's maybe hitting a wall recently. Long season.
PAIRING THREE Kris Russell and Matt Benning played 7:46, going 7-11 Corsi, 5-4 shots, 0-1 goals and 1-0 HDSC.
Kris Russell had two shots, along with a giveaway and a takeaway. The possession was markedly improved from Saturday, but Russell got nicked up later in the game and we'll have to see about tonight. Matt Benning had one shot on goal, moved the puck well and played his usual calm game.
GOALIE Mike Smith stopped 27 of 30, .900. I thought he was unready on the first goal but the other two were not his fault. Your mileage may vary.
LOWDOWN WITH LOWETIDE
A busy morning starts at 10, TSN1260. We'll review last night's game with Jonathan Willis from The Athletic at 10:20. Sean Shapiro from The Athletic Dallas will chime in on the Stars recent performances. Andrew Peard from the Oil Kings broadcasts will pop in to talk about a team streaking toward the playoffs with all pistons pumping. 10-1260 text, @Lowetide on twitter. Talk soon!