I think this might be the best of Ryan Nugent-Hopkins, here and now. He's productive across 200 feet, he has help and he's playing a feature role. I find it satisfying that he has been able to survive the strain over many years and emerge on the other side as a strong contributor. Those losing years can rob a player of the skills that brought him here, but Nuge is scoring more than ever while also checking like a demon. I hope he gets to hang around for the good times. To quote my favorite western, I guess we all died a little in that damned war. I'm thrilled to see his success.
THE ATHLETIC!
The Athletic Edmonton features a fabulous cluster of stories (some linked below, some on the site). Great perspective from a ridiculous group of writers and analysts. Proud to be part of The Athletic, less than two coffees a month offer here.
OILERS AFTER 69 GAMES
Oilers in 2015: 26-36-7, 59 points; goal differential -33
Oilers in 2016: 36-24-9, 81 points; goal differential +16
Oilers in 2017: 30-35-4, 64 points; goal differential -36
Oilers in 2018: 31-31-7, 69 points; goal differential -20
Oilers in 2019-20: 36-24-8, 80 points; goal differential +6
Edmonton probably needs 14 points in the final 13 games, and that total is a moving target. My pre-season prediction was 88 points, we might see Edmonton reach that mark on the home stand that begins this evening.
ON THE TENS
First 10 games: 7-2-1
Second 10 games: 5-4-1
Third 10 games: 5-4-1
Fourth 10 games: 3-6-1
Fifth 10 games: 6-2-2
Sixth 10 games: 6-3-1
Current 10 games: 4-3-1
OILERS IN MARCH
Oilers in March 2016: 3-1-0, six points; goal differential +3
Oilers in March 2017: 1-2-1, three points; goal differential -2
Oilers in March 2018: 2-2-0, four points; goal differential -2
Oilers in March 2019: 3-1-0, six points; goal differential +5
Oilers in March 2020: 2-1-0, four points; goal differential +5
WHAT TO EXPECT IN MARCH
On the road to: NAS, DAL, CHI (Expected 1-1-1) (Actual 2-1-0)
At home to: CBJ, WPG, VEG, NYI (Expected 2-2-0)
On the road to: PHI, WAS, OTT (Expected 1-1-1)
At home to: TBY, ANA, COL, SJS, ANA, VEG (Expected: 3-2-1)
Overall expected result: 7-6-3, 17 points in 16 games
Current results: 2-1-0, 4 points in three games
This four game home stand will be important, if the club can grab four points that places them at 84 points with 10 games to play. Columbus is hanging on to a wild card spot and have been getting points from the Bettman aisle (2-4-4 in the last 10) recently. Perhaps that predicts tonight's game.
OILERS 2019-20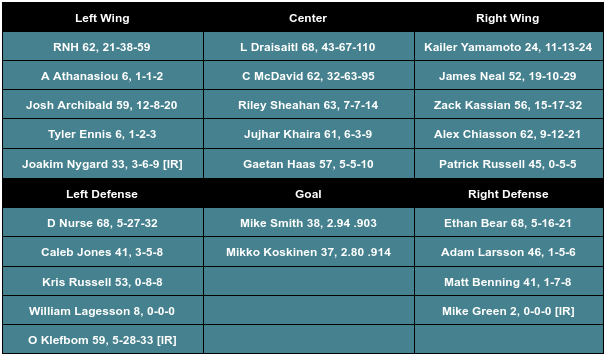 Who would you run with McDavid tonight? I vote Ennis and Kassian, but Dave Tippett has several options available. Oscar Klefbom's return gives us a chance to dream about deployment, I wrote about it for The Athletic this morning. He's had a fascinating year.
JOSH ARCHIBALD
In his first eight games for the Edmonton Oilers this season, Josh Archibald didn't impress. He didn't post a goal or an assist, and in the game against the Washington Capitals October 24, he was the penalty killer who failed to cover Alexander Ovechkin. Not good! He turned it around (last 40 gp: 12-8-20) and yesterday signed an extension with the club. He can score, he can skate, he can check and he can penalty kill like a demon. He was a good bet in the summer, and he's an Edmonton Oilers NHL player for the next two seasons.
OILERS SIGNED FOR NEXT SEASON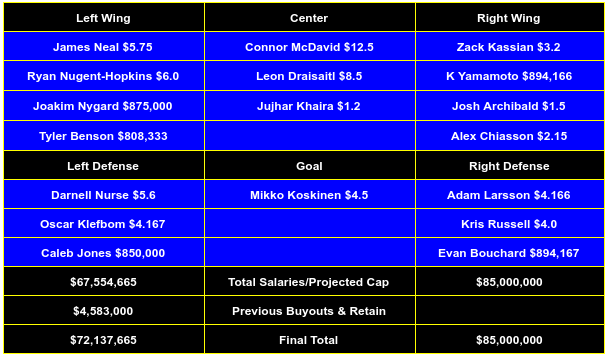 UFA: Gaetan Haas, Riley Sheahan, Tyler Ennis, Patrick Russell, Markus Granlund, Tomas Jurco, Mike Green, Brandon Manning, Keegan Lowe, Brad Malone, Josh Currie, Mike Smith, Shane Starrett.
RFA: Andreas Athanasiou, Ethan Bear, Matt Benning, William Lagesson, Ryan Mantha, Ryan Kuffner, Nolan Vesey, Cam Hebig, Colby Cave, Logan Day, Angus Redmond.
Among the UFA's, I would bring back Tyler Ennis and Riley Sheahan if he's affordable. I want to sign Gaetan Haas but you can't bring back everyone.
Among the RFA's, Ethan Bear is the priority, would also sign Matt Benning, William Lagesson, Andreas Athanasiou. The big question with Athanasiou is how much and how long?
50-MAN 2020-21 (39)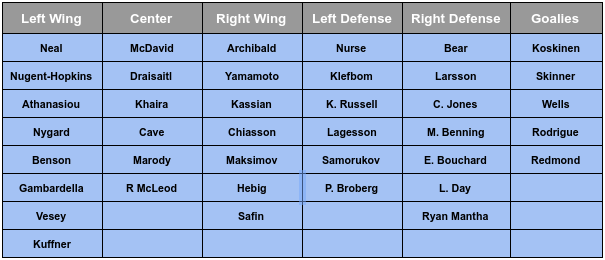 I could see as many as six RFa's being walked and Broberg could slide another year. Ken Holland is signing guys like he plans to take the summer off, but there's plenty of room to wheel on the 50-man.