There's a feeling you get as a sports fan, when the build begins. At its best, as it has been for me many times (I'm a lucky fan), memories from decades ago come flooding back. My Dad acknowledging Orr's greatness spring 1970, the pure pleasure of celebrating Stanley with my friend Lorne Starko in 1984, the chill I still feel from the morning of G7 1987, the melancholy of 2006. We don't know what tomorrow will bring, but for fans of the Edmonton Oilers, the agony and the ecstasy is about to return. Welcome back, friend.
THE ATHLETIC!
The Athletic Edmonton features a fabulous cluster of stories (some linked below, some on the site). Great perspective from a ridiculous group of writers and analysts. Proud to be part of The Athletic, less than two coffees a month offer here.
OILERS AFTER 70 GAMES
Oilers in 2015-16: 27-36-7, 61 points; goal differential -32
Oilers in 2016-17: 37-24-9, 83 points; goal differential +19
Oilers in 2017-18: 30-35-5, 65 points; goal differential -37
Oilers in 2018-19: 31-32-7, 69 points; goal differential -23
Oilers in 2019-20: 37-24-8, 82 points; goal differential +8
Last night's results on the out of town scoreboard give tonight's game at Rogers even more tension. It's all happening and this week's three games are going to be a big part of the story.
ON THE TENS
First 10 games: 7-2-1
Second 10 games: 5-4-1
Third 10 games: 5-4-1
Fourth 10 games: 3-6-1
Fifth 10 games: 6-2-2
Sixth 10 games: 6-3-1
Current 10 games: 5-3-1
OILERS IN MARCH
Oilers in March 2016: 3-2-0, six points; goal differential 0
Oilers in March 2017: 2-2-1, five points; goal differential +4
Oilers in March 2018: 3-2-0, four points; goal differential 0
Oilers in March 2019: 4-1-0, eight points; goal differential +6
Oilers in March 2020: 3-1-0, six points; goal differential +7
WHAT TO EXPECT IN MARCH
On the road to: NAS, DAL, CHI (Expected 1-1-1) (Actual 2-1-0)
At home to: CBJ, VEG, WPG, NYI (Expected 2-2-0) (Actual 1-0-0)
On the road to: PHI, WAS, OTT (Expected 1-1-1)
At home to: TBY, ANA, COL, SJS, ANA, VEG (Expected: 3-2-1)
Overall expected result: 7-6-3, 17 points in 16 games
Current results: 3-1-0, 6 points in 4 games
I don't know the tough games from the easy anymore, I had tonight as a loss and Winnipeg as a win, Islanders as a loss at the beginning of the month. Now the Islanders look like a lock the rest of the week not so much. Oh well, Oilers usually play up and down to their opponent.
OILERS 2019-20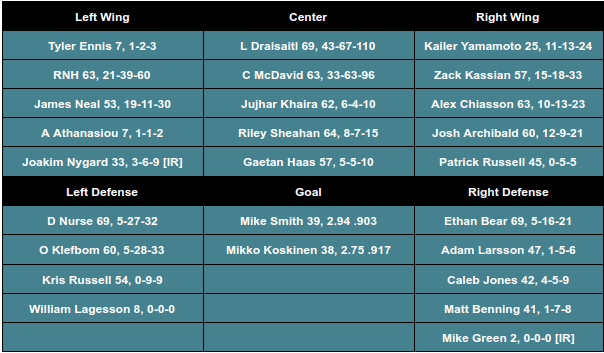 I'm not certain the Oilers will run with the same lines as Saturday, illness caught some of the players and that might have been a move made for cover. I didn't think the move helped either line in a big way. One of Athanasiou and Ennis needs to catch fire in the coming days, would solve a lot of problems.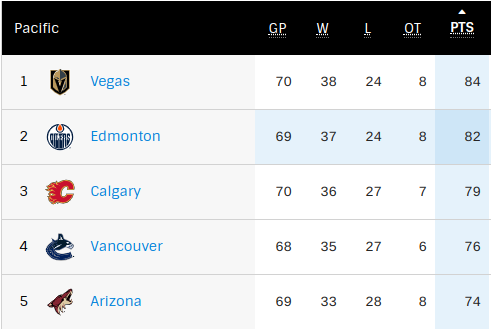 Damn near everything went right for the Oilers this weekend, with Arizona dangerously close to disappearing from the conversation. Vancouver's last 10 games (3-6-1) have crumbled a fine season by an upstart crew. Goaling. It's important. Calgary can still catch Edmonton for second but will need better goaltending. Question: Would you rather play Calgary/Vancouver or Minnesota/Nashville/Winnipeg?
LOWDOWN WITH LOWETIDE
At 10 this morning, TSN1260, we begin the week discussing the Oilers and the playoffs. Music! Jesse Granger from The Athletic Vegas will tell us the latest on the Golden Knights as they arrive in Edmonton. Jason Gregor from TSN will give us the Oilers pov and we'll no doubt get an update from practice about lines, pairings et cetera. 10-1260 text, @Lowetide on twitter. See you on the radio!