Mike Green's announcement that he is passing on the playoffs for personal family reasons is both understandable and commendable. No one should be asked to put himself or any loved one in grave danger during this pandemic.
It's left for the rest of the Oilers roster to pull together and make a good showing in the postseason. There are considerable talents remaining on the roster.
THE ATHLETIC!
Great perspective from a ridiculous group of writers and analysts. I am proud to be part of The Athletic. Here are the most recent Oilers stories.
LIKELY TRAINING CAMP ROSTER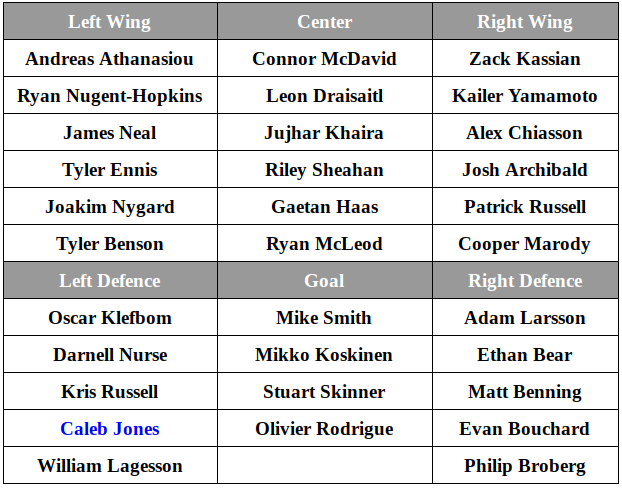 It's my understanding that all but Caleb Jones are in training camp. Edmonton needs that young man, especially now that Green is not available. All fans think their team has a shot during training camp and the Oilers have abundant blessings in many places. Make no mistake: Jones as the No. 7 defenseman is better than any of the names below him. It may be nothing but it could be a big damn deal as the days roll along.
LINEUP PREFERENCE
Everyone has a lineup they believe will work best, and for me the possibilities are so impressive when playing Andreas Athanasiou, Caleb Jones (if ready) and Mikko Koskinen in feature roles that I'd deploy them in lofty places.
Connor McDavid at center with Andreas Athanasiou and Zack Kassian gives the captain two big wingers with speed. AA also does have a reputation for having two-way ability (although it was buried on a terrible Detroit team) so perhaps he can deliver in an area that needs help on that top line.
Leon Draisaitl remains with Ryan Nugent-Hopkins and Kailer Yamamoto until they prove the magic has disappeared. The trio was so dominant down the stretch, the chemistry so strong, I do believe we should expect success.
Riley Sheahan and Josh Archibald together is a no-brainer, I'd choose Joakim Nygard to run alongside. He brings speed and some skill to the line and does have two-way ability. I like all three players and believe this trio can have success. Gaetan Haas earned a spot but I don't think he'll get one, at least to start.
Jujhar Khaira gets the nod for me at No. 4 center, with Tyler Ennis and Alex Chiasson on the wing. Ennis can slide up and down the roster, he has scoring ability and speed. Khaira struggled for much of the season, but settled in as a pivot late and impressed. He played center for the final five games of the year, his line outscoring opponents 3-0 and about even save the Vegas game where the trio got shellacked. Chiasson is a veteran and had some success with Khaira as well late in the year. No shot at James Neal, he could plug on to this line without skipping a beat. Ken Holland gave Dave Tippett real depth and that means some tough decisions.
Oscar Klefbom and Adam Larsson as the top pairing gives the team a veteran tandem with puck moving and defensive ability. Larsson played brilliant hockey down the stretch and Klefbom is the team's best overall defender.
Darnell Nurse and Ethan Bear were effective together in 2019-20, in fact these two formed the top pairing for much of the year. This will be a big playoff for both men and I think playing as a tandem gives both their best chance at success.
Caleb Jones and Matt Benning is my choice for third pairing. Jones was exceptional after recall and Benning has been on a pairing that outscores opponents since he arrived in Edmonton years ago. It would be a team strength if both are healthy. That isn't a rip on Kris Russell by the way, he's a veteran NHL defenseman and the Oilers are lucky to have him. Jones passed him, plain and simple.
Mikko Koskinen is my choice in net because he outplayed Mike Smith over the long season. It's a fairly easy decision in my mind.