The NHL moved up the draft a few days, it'll go October 6 and 7. This blog is ready for the NHL draft 365 days a year but there are some things we have yet to address. Like first-shot scorers, snipers, goal-scoring forwards who might be worth a reach pick. How many are they, who are they?
THE ATHLETIC!
Great perspective from a ridiculous group of writers and analysts. I am proud to be part of The Athletic. Here are the most recent Oilers stories.
TOP GOAL SCORERS VIA NHLE, 2020 DRAFT
RW Jack Quinn (22.2)
LC Quinton Byfield (18.8)
LC Marco Rossi (18.45)
RC Jacob Perreault (18.12)
LC Jan Mysak (18.1)
LC Connor Zary (16.5)
LC Cole Perfetti (16.1)
RC Tyson Foerster (15.4)
LW James Hardie (15.3)
RW Sam Colangelo (14.8)
L Alexis Lafreniere (14.3)
RC Mavrik Bourque (13.8)
RW Dawson Mercer (13.3)
RC Tristan Robins (13.2)
RW Alexander Holtz (12.6)
RC Zayde Wisdom (12.4)
LW Rory Kerins (12.4)
LW Lukas Reichel (12.2)
RC Colby Ambrosio (12.0)
LW Brendan Brisson (11.8)
My final list is here and I'm not suggesting a change in ranking. However, let's say Holland and Wright get to that third-round pick and Sam Colangelo is still on the list? Or Edmonton gets to the fifth round and Hardie is still there? I think you bite the bullet and make the pick.
RECALLS
As the Oilers appear to be drifting from a possible re-signing of Jesse Puljujarvi, it might be worth noting the most valuable recalls using NHLE: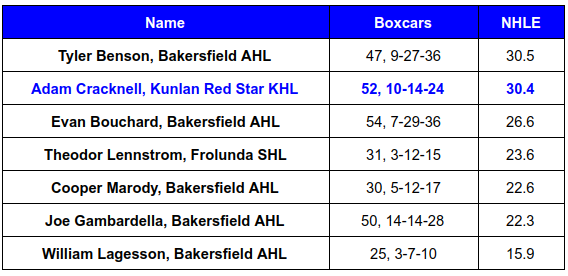 Cracknell's KHL numbers give him a strong NHLE and he is a center but I don't see him as a legit option. Edmonton will need to add some help if there is an NHL season with no AHL season. Strange but true.
LOWDOWN WITH LOWETIDE
A busy show gets underway at 10 this morning, TSN 1260. Bruce McCurdy from the Cult of Hockey at the Edmonton Journal will join me, we'll talk about trading Jesse Puljujarvi, his work on Lightning and Islanders rosters and how they compare to Oilers team building, and remembering Lou Brock. Joe Osborne from OddsShark will pop in to talk NFL. Hockey Helps The Homeless executive director Ryan Baillie. Covid-19 has been a game changer, but the needs at the Mustard Seed Edmonton and Jasper Place Wellness Centre are even greater than before. Find out what HHTH is doing and how you can help.
We'll also have the $20,000 Mystery Moment at 10:15, your chance to win cash with that gigantic sports brain of yours. We're at $1,000! THAT'S REAL WALKING AROUND MONEY! Text in at 10-1260 with the secret word, then we'll call you, play a clip from a famous sports moment and ask you for a detailed answer.