Sooner or later, the veterans are going to play a preseason game and at that point we'll be able to drill down on what opening night Oilers might look like. Until then, the checkers and the kids and the Euros will push for the support jobs, few though they be at this point.
While you're thinking about the opening night group, keep this in mind: Injuries have had an impact early and that could continue.
THE ATHLETIC!
The Athletic Edmonton features a fabulous cluster of stories (some linked below, some on the site). Great perspective from a ridiculous group of writers and analysts. Proud to be part of The Athletic, we are celebrating our 2-year anniversary this week. To mark the occasion, you can get 40% off subscriptions until Sept. 19 here.
CERTAIN OILERS [18]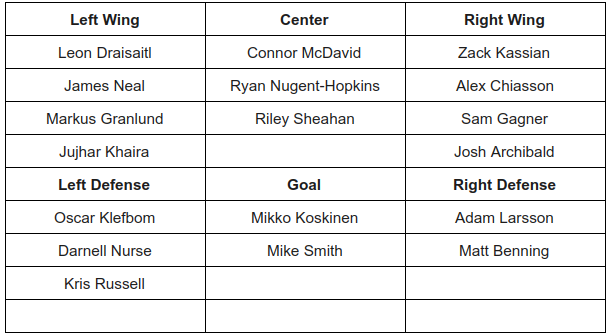 One thing that should be mentioned (and I noted in the 'reasonable expectations' series) is that we could see someone from this list traded before or during the season. The impressive showing by several young blue may force a deal, especially if the one of the young skill forwards doesn't step up.
UNCERTAIN OILERS [15]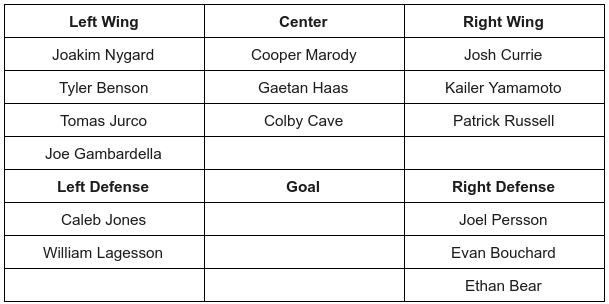 I'm not sure anyone on this list is out of the race, although Yamamoto's inactivity probably means he'll start in Bakersfield. Good early camps by these men has resulted in this training camp holding our interest more than in the past.
DISTANT BELLS [12]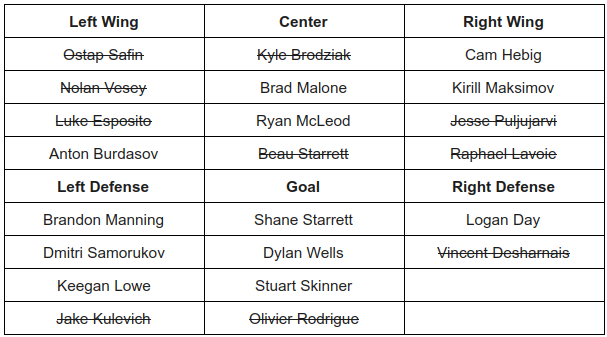 Burdasov just arrived, I don't believe he'll make the team (there's no time). McLeod, Manning and Samorukov are all doing well, Malone and Hebig are showing flashes. Interestin group this year, most have played well.
How many of these men do we see tonight? I'll suggest the Nuge and Haas lines, maybe the Sheahan line with a different right winger. The McDavid line? Talk to the doctors.
OILERS LEADING SCORERS
Tomas Jurco 1, 1-1-2
Cooper Marody 1, 0-2-2
Patrick Russell 2, 1-1-2
James Neal 1, 1-0-1
RNH 1, 1-0-1
TOI LEADERS (DEFENSE) (FIVE-ON-FIVE)
Oscar Klefbom 21:25
Darnell Nurse 20:06
Joel Persson 19:42
Evan Bouchard 18:52
Adam Larsson 18:46
William Lagesson 18:46
SAM GAGNER
Lots of talk about Sam Gagner and his spot on the roster, I think he's a lock but some are questioning the idea. For me, the Oilers as a group are painfully shy of proven NHL offense, and Gagner has been a productive player in this area. Mad holes without the puck, but even last year in Edmonton he delivered 1.74 points per 60 at five-on-five after coming over from the Canucks. The Oilers will replace him but the wise move is to wait until a suitable winger has proven himself worthy. Edmonton's wingers aren't a quality group, Gagner is the best offensive option past Leon Draisaitl and James Neal. In fact, Gagner was more productive in Edmonton than Neal a year ago. The Oilers will find someone more efficient but until then Gagner should get a regular shift. In my opinion.
LOWDOWN WITH LOWETIDE
At 10 this morning, TSN1260, we truly have a universal show today. Frank Seravalli from TSN will talk CBA, preseason, Jets are a mess and some Oilers nuggets. Paul Sir, basketball legend, will discuss the FIBA 3 x 3 WOMEN's event this weekend at West Edmonton Mall Ice Palace. Plus, and this is going to be fabulous, I'll be joined by Andre Costopoulos, Dean of Students at the U of A, and anthropologist. He will be doing a lecture called "The Evolution of the Baseball Fight". Costopoulos using evolutionary theory to discuss how and why the baseball fight has become a ritualized and formalized part of the sport. The lecture will take place on Sept. 21, 11:30 – 12:30. 10-1260 text, @Lowetide on twitter. Talk soon!