An NHL roster is 23 bets. Not every roster bet is equal. Connor McDavid is a rare gem, that's a wonderful bet. What about the No. 3 center? He's important, but you're really just trying to deploy one of the best 100 centers on the planet in the role. Right?
You're not asking as much from that third center. Score as much as the other guy, call it a day. But he has to be competitive compared to other NHL No. 3 centers.
Ken Holland bought inside (Riley Sheahan) and outside (Gaetan Haas) the NHL to address the pivot position. He has some information, maybe one chapter, on Haas. The road beckons. What should Dave Tippett do?
THE ATHLETIC!
The Athletic Edmonton features a fabulous cluster of stories (some linked below, some on the site). Great perspective from a ridiculous group of writers and analysts. Proud to be part of The Athletic, we are celebrating our 2-year anniversary this week. To mark the occasion, you can get 40% off subscriptions here.
OILERS AFTER TWO GAMES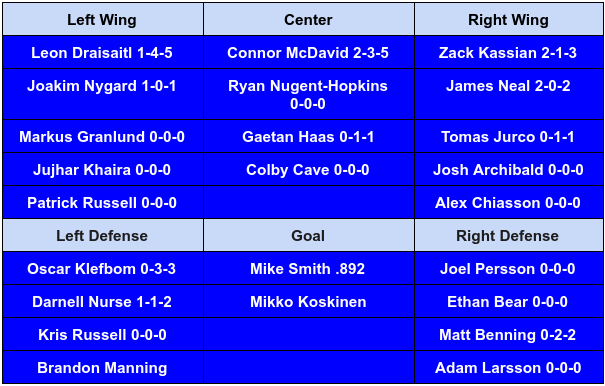 Through two games the top six forwards have delivered seven goals, bottom six one (I'm counting Nygard bottom six). All top-six forwards save Nuge and Chiasson have posted at least one goal. You'd like more goals from the bottom six, but one goal in two games works out to 41 over a season. Would you be pleased with 41 goals from a bottom six forward group? Last year, Edmonton's bottom six scored 28. Meaning, the Nygard goal puts this year's group a full game ahead of last year. Score again Tuesday and we'll call it an eruption!
CONDORS AFTER TWO GAMES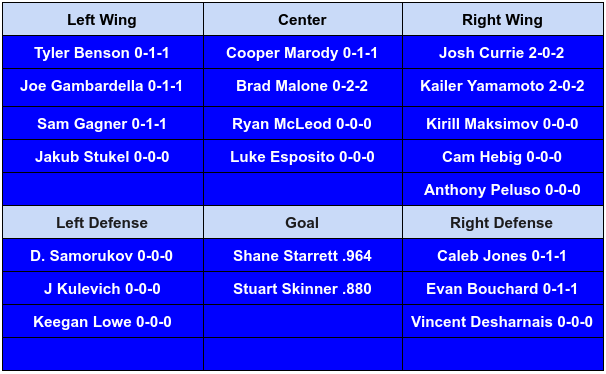 These lines and pairings are mostly a guess based on players on the ice when goals were scored. I watched the Friday night game, didn't see any of Saturday. I'll say this: Caleb Jones is a helluva player based on what I saw Friday. The Currie goal that night was impressive and involved pretty much every Condor on the ice. It started with Jones separating player from puck and getting an outlet pass to safety. Only two men have scored for Bakersfield. I don't think Ryan McLeod will get 30 points this season, but with those two linemates he could post a handsome number.
EARLY HAAS
Gaetan Haas is at 4.72 points-per-60 even strength (all number NTS). It's miles too early to discuss these numbers, let alone trust them. He has played 12 minutes five-on-five in the NHL.
I'm wondering today what Dave Tippett is planning. Can he run McDavid, Nuge, Haas and Riley Sheahan up the middle? Or, should he slide Leon Draisaitl back to the center position. Here's what that might look like:
Joakim Nygard-Connor McDavid-James Neal
Tomas Jurco-Leon Draisaitl-Zack Kassian
Markus Granlund-Nuge-Alex Chiasson
Jujhar Khaira-Riley Sheahan-Josh Archibald
Extras: Gaetan Haas, Colby Cave
This assumes that Patrick Russell is sent to Bakersfield (it might be Cave).
EXPECTED GOALS
This is the brilliant work of Sean Tierney and is something we would wise to follow all year long. McDavid's circle is just below Draisaitl's, and Haas is about equal with Lawson Crouse. I'm going to run these once a week during the season. Check out Tierney. He's smart.
LOWDOWN WITH LOWETIDE
At 10 this morning, TSN1260. We get rolling for a week that ends with turkey and I am SO excited! We'll also talk sports! At 10:20, Andy McNamara explains the NFL weekend, and I'm going to need some help figuring out how the Cowboys and Eagles are 3-2 this morning. Jason Gregor pops in to discuss Oilers and Eskimos at 11, with Gabe Lacques from USA Today talkin' baseball at 11:25. 10-1260 text, @Lowetide on twitter. Talk soon!