Oh, those Oilers. They might be on the verge of making a lot of people look foolish. One thing I love about the math people who spend time helping me with the hockey analytics: They're all smart enough to admit when things aren't clear. I think we're in that spot now, with the Edmonton Oilers. The PK looks solved, the PP is strong, Joel Persson and Ethan Bear look like real solutions, the experience on the depth lines is a major help, Mike Smith and Mikko Koskinen have been an effective tandem, James Neal is basically Ken Hodge 1969.
There isn't enough track to make claims, ladies and men. We know intuitively that some of the current bets won't work out, even though most look good to very good now. We don't know what we don't know. Those 10 points in the bank are going to make the Thanksgiving turkey taste even better.
THE ATHLETIC!
The Athletic Edmonton features a fabulous cluster of stories (some linked below, some on the site). Great perspective from a ridiculous group of writers and analysts. Proud to be part of The Athletic, there is a Puck Drop Special offer here.
OILERS IN OCTOBER
Oilers in October 2015: 1-4-0, goal differential -5
Oilers in October 2016: 4-1-0, goal differential +4
Oilers in October 2017: 1-4-0, goal differential -8
Oilers in October 2018: 3-2-0, goal differential -3
Oilers in October 2019: 5-0-0, goal differential +8
There isn't much to say here. Edmonton hasn't been 5-0 to start a season since before most of you were born. I think Dave Tippett is making a difference, and suggested he would before the season. I also suggested 88 points as the season point total. These Oilers could go 35-34-8 from here, and finish with 88 points on the season.
WHAT TO EXPECT IN OCTOBER
At home to: Vancouver, Los Angeles (Expected: 1-1-0) (Actual 2-0-0)
On the road to: NYI, NJD, NYR, CHI (Expected 2-1-1) Actual (3-0-0)
At home to: Philadelphia, Detroit (Expected 1-1-0)
On the road to: Winnipeg, Minnesota (Expected 1-1-0)
At home to: Washington, Florida (Expected 1-1-0)
On the road to: Detroit, Columbus (Expected 1-1-0)
Overall expected result: 7-6-1, 15 points in 14 games
Current results: 5-0-0, 10 points after 5 games
I promise you that real thought went into my October projection. At this point, I'm tempted to call Stephen Sondheim and have him ring up a few rhymes for farce. I'll suggest one fleeting thought: Maybe, like Al Arbour on the Island, this is one of those happy moments where chemistry creates greatness. This did not look like a 110-point team leaving the station, and no one could have predicted Neal, Bear, Persson filling roles with such aplomb. Is Tippett the next great Oilers coach? Is Holland about to be correct on all bets? Send in the clowns? All numbers below NST, and five-on-five unless noted.
LINE 1 Leon Draisiatl-Connor McDavid-Zack Kassian played 16:33 together, going 15-6 Corsi, 5-3 shots, 1-0 goals and 3-1 HDSC.
This line has played 65 minutes together now this season: 57 percent Corsi, 49 percent shots, 70 percent goal share, 61.9 percent expected goals, 69 percent high danger scoring chances. The scoring number for each man is below, what a start for Edmonton's best forwards.
LINE 2 Tomas Jurco-Ryan Nugent-Hopkins-James Neal played 9:45, going 11-5 Corsi, 5-4 shots, 1-0 goals, 2-1 HDSC.
This trio has played 31:24 together, Nuge finally getting some consistency. The numbers: 55 percent Corsi, 47 percent shots, 75 percent goal share, 55 percent expected goals and 50 percent high danger scoring chances. This could be a quality line, we need to see them for 20 games and Jurco needs to score goals.
LINE 3 Joakim Nygard-Markus Granlund-Alex Chiasson played 8:04, 6-2 Corsi, 3-1 shots, no goals, 1-1 HDSC.
A brand new line, I think we'll be seeing more of this group. Chiasson had the HD chance, Nygard was very involved and agitated the Rangers often. Granlund played his best game of the season, he was around the puck far more while playing center.
LINE 4 Jujhar Khaira-Riley Sheahan-Josh Archibald played 7:57, going 14-3 Corsi, 4-3 shots, 0-1 goals and 1-1 HDSC.
The line had a strong showing to my eye, they can certainly cycle well. Archibald got in hot water on this blog for the wide shot, and he needs to hit the damned net or pass to 97. That said, a few other things went wrong before the puck landed in the net, and he did have a dandy chance himself. Lots of quite negative comments about him in the game-day thread yesterday, he's two games in, boys. I'm not questioning your ability to evaluate hockey, but maybe give him 30 games. Jujhar Khaira had some looks but missed the net often. He needs to deliver some offense. Riley Sheahan spent much of the evening as the only center who could win a faceoff and was effective in getting the puck heading in a good direction.
OILERS 2019-20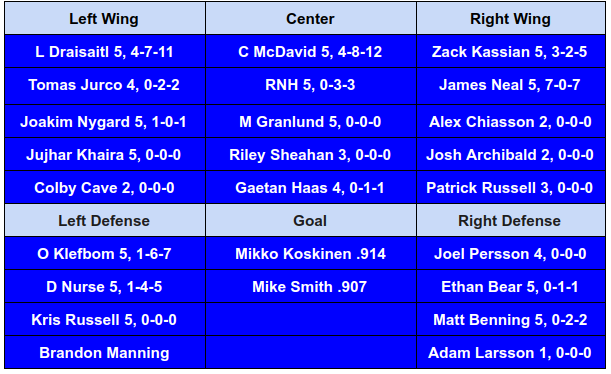 PAIRING ONE Darnell Nurse-Ethan Bear played 15:37, going 12-6 Corsi, 7-3 shots, 1-0 goals and 3-1 HDSC. Nurse-McDavid were on the ice for 12:49 together, 12:31 for Bear-McDavid. It came with an assignment though, this duo spent 12:35 against the deadly Zibanejad line.
Nurse and Bear have played 67:34 together and things are looking good. Currently at 50.6 percent Fenwick and 48.6 Corsi, 51.4 percent expected goals. I'm honestly not sure what happens when Larsson gets back, suspect this pairing stays together for a time.
PAIRING TWO Kris Russell and Matt Benning played 14:13 together, 7-5 Corsi, 2-3 shots, no goals and 1-2 HDSC. Spent 1:57 with McDavid, 1:17 against Zibanejad.
Russell and Benning have played 59:57 together as a duo, going 48.9 Corsi, 47.2 Fenwick and 45.6 in expected goals. I expect most Oilers fans believe this is an effective third pair, to my mind the most stable since the MacT years. Benning is playing so well right now that when he does make a mistake (a dreadful alley-oop out of the zone that went nowhere good) it's a wow moment. Russell is more effective on his left side.
PAIRING THREE Oscar Klefbom and Joel Persson played 13:25 together, 26-7 Corsi, 10-5 shots, 1-1 goals, 4-1 HDSC. Spent most of the time with the Nuge line and against the Strome line.
This duo has played 54:15 together this season, 56.2 Corsi, 57.7 Fenwick, 60.5 expected goals. These are spectacular numbers, and is reflected in Klefbom's ranking (No. 3) in points among defensemen in the NHL. Not a chance in hell this pairing breaks up any time soon.
GOALIE Mike Smith held serve, stopping 20 of 21, .952. His passing isn't noticeable (that's a good thing) but his brilliant saves (five of six stopped) on the high dangers made a big difference. Oilers shots against (28.8) per game is the fifth lowest in the league, goals against (2.60) is the eighth best. It's a team game, the goalies are playing well, the .910 save percentage ranks No. 13 in the NHL currently.