In the seventh game of the Edmonton Oilers NHL experience, the club entered Madison Square Garden and were flattened (10-2) by a veteran Rangers team. John Davidson stopped everyone but Al Hamilton and Stan Weir, while Eddie Mio and Dave Dryden were victims of Don Murdoch, Ulf Nilsson and Lucien Deblois (all twice). A week later, Deblois was sent to the Colorado Rockies (along with Pat Hickey, Mike McEwen, Bobby Sheehan and Dean Turner) for Barry Beck. The Rangers do not have a winning record against the Oilers (34-31-11 in 76 games favors Edmonton) but Manhattan can be a dangerous place for a hockey team. Plus, for some reason don't know why, afternoon games on weekends often turn into Saturday Splatterday or Sunday Bummed Day for Oilers fans. It's an early game. Don't forget!
THE ATHLETIC!
The Athletic Edmonton features a fabulous cluster of stories (some linked below, some on the site). Great perspective from a ridiculous group of writers and analysts. Proud to be part of The Athletic, there is a Puck Drop Special offer here.
OILERS IN OCTOBER
Oilers in October 2015: 1-4-0, goal differential -5
Oilers in October 2016: 4-1-0, goal differential +4
Oilers in October 2017: 1-4-0, goal differential -8
Oilers in October 2018: 3-2-0, goal differential -3
Oilers in October 2019: 4-0-0, goal differential +5
Edmonton has a chance to make this start a special one historically, but there were some cracks in New Jersey. Coach Tippett is going to make some moves up front based on yesterday's practice, with Alex Chiasson and Josh Archibald coming back into the lineup. That may mean a roster move, stay tuned for news before game time.
WHAT TO EXPECT IN OCTOBER
At home to: Vancouver, Los Angeles (Expected: 1-1-0) (Actual 2-0-0)
On the road to: NYI, NJD, NYR, CHI (Expected 2-1-1) Actual (2-0-0)
At home to: Philadelphia, Detroit (Expected 1-1-0)
On the road to: Winnipeg, Minnesota (Expected 1-1-0)
At home to: Washington, Florida (Expected 1-1-0)
On the road to: Detroit, Columbus (Expected 1-1-0)
Overall expected result: 7-6-1, 15 points in 14 games
Current results: 4-0-0, 8 points after 4 games
I think the Chicago game is an easier challenge but it's so early in the season. From what I've seen of the Rangers they're a far more substantial offensive team than we've seen in previous years. That damned senior citizen Artemi Panarin is on his way to owning Manhattan. Mika Zibanejad, long a favorite of this blog's author, is an absolute rocket through two games this season.
OILERS 2019-20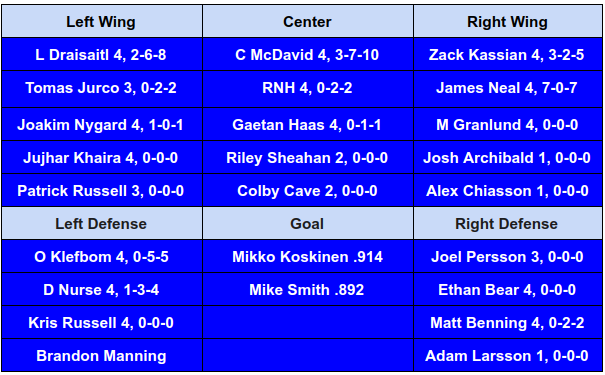 Oilers are getting some scoring outside the McDavid line, the 97 trio should be going on an outscoring spree soon. The even strength goals for/against splits (McDavid ON: 6-4; McDavid OFF: 5-6) are good in the early days. The James Neal story is an absolute monster, I know you're already sick of the hype but in real hockey terms Ken Holland traded a headache for a dream. I'm a Milan Lucic fan, wish him well. I predicted 18 goals for Neal, I'm no seer. Don't let a massive story pass you by just because the media is using a 10-pound hammer.
LAST NIGHT
I'll be doing an article on this tomorrow for The Athletic, but Raphael Lavoie (2-1-3) had a big night for Halifax and is now 9, 5-8-13 in 2019-20. In the same game, Olivier Rodrigue stopped 18 of 21 for the Moncton Wildcats, his SP so far is .914. The college season got underway last night and several Oilers prospects were in action. Mike Kesselring had five shots for Northeastern, while Aapeli Rasanen was 4-of-8 in the dot for Boston College (Graham McPhee won three of four).