There's a lot up in the air for the Oilers today, the roster is in a major state of flux. Connor McDavid's knee, James Neal's foot and goodness knows what else has the lineup status unknown as we speak. Given the choice between giving 97 an extra two days and turning this into a longer term issue, Oilers fans are all voting the same way. Make sure the captain is right. No exceptions.
THE ATHLETIC!
The Athletic Edmonton features a fabulous cluster of stories (some linked below, some on the site). Great perspective from a ridiculous group of writers and analysts. Proud to be part of The Athletic, less than two coffees a month offer here.
OILERS AFTER 56 GAMES
Oilers in 2015-16: 22-29-5, 49 points; goal differential -27
Oilers in 2016-17: 29-19-8, 66 points; goal differential +7
Oilers in 2017-18: 23-29-4, 50 points; goal differential -33
Oilers in 2018-19: 24-27-5, 53 points; goal differential -21
Oilers in 2019-20: 29-20-6, 64 points; goal differential +3
A win tonight and this year's model catches the 103-point playoff team in the standings. What's more, the goal differential between those two teams is in the range and we can say with authority the 2019-20 Oilers are a good hockey club. On pace for 95 points.
ON THE TENS
First 10 games: 7-2-1
Second 10 games: 5-4-1
Third 10 games: 5-4-1
Fourth 10 games: 3-6-1
Fifth 10 games: 6-2-2
Current 10 games: 3-2-0
It's a tight start to this segment and the road trip to come is rife with monsters and outlaws. A win tonight means this 10-game segment will deliver no worse than 10 points (probably).
OILERS IN FEBRUARY
Oilers in February 2016: 1-4-0, two points; goal differential -16
Oilers in February 2017: 2-3-0, four points; goal differential -4
Oilers in February 2018: 1-3-1, three points; goal differential 0
Oilers in February 2019: 1-2-2, four points; goal differential -7
Oilers in February 2020: 2-2-0, four points; goal differential +1
Crazy February runs all down the line, this year's team is the only one in plus numbers goal differential. A win tonight would be nice, and would mean the home stand got some real traction right at the end.
WHAT TO EXPECT IN FEBRUARY
On the road to: CAL, ARI (Expected 1-1-0) (Actual 1-1-0)
At home to: SJS, NAS, CHI (Expected 2-1-0) (Actual 1-1-0)
On the road to: TBY, FLA, CAR (Expected 1-1-1)
At home to: BOS, MIN (Expected 1-1-0)
On the road to: LAK, ANA, VEG (Expected 2-1-0)
At home to: WPG (Expected 1-0-0)
Overall expected result: 8-5-1, 17 points in 14 games
Current results: 2-2-0, four points in four games
I have the Oilers going 1-1-1 on the road trip, the team will face quality this week but that's usually when Edmonton is at its best.
OILERS 2019-20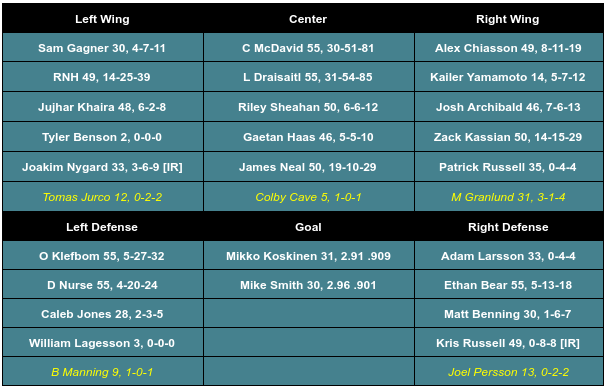 I spoke to Sam Gagner yesterday (here) about his multiple roles on the roster this season and he gave a great answer. Based on yesterday's lines without McDavid the line will run Gaetan Haas between Gagner and Alex Chiasson.
It's insincere to call it a big test with 97 not in the lineup. It's Everest. A very big game tonight, the word "eek" will be used one way or another tomorrow. Edmonton could eek out a win, or we could all be saying eek by the middle of the first period. Such is the way of injury when the best player on the planet has a Charley horse.
TRADE DEADLINE
I'm more convinced than ever that the Oilers will be active at the trade deadline, it's a matter of what's available and the prices. I don't think Holland will grab anyone too spendy, which means no Kreider and maybe no Pageau or Kovalchuk.
I think Holland's plan for the forwards will not be apparent until summer. I'll have an article up at The Athletic about it later today or tomorrow morning.
LOWDOWN WITH LOWETIDE
At 10 this morning we hit the ground running with a full boat, TSN1260. Jonathan Willis from The Athletic will talk Darnell Nurse's contract, Connor McDavid's injury and the week to come. Seth Rorabaugh from the Pittsburgh Tribune-Review will talk about the big Jason Zucker deal pulled off by the Penguins last night. Corey Graham and Andrew Peard update us on the Oil Kings at 11, while we are lining up a CFL guest for free agency at 11:20. 10-1260 text, @Lowetide on twitter. Talk soon!