Ken Holland is signing contracts at a rapid clip lately, getting Caleb Jones, Zack Kassian and now Darnell Nurse sewn up for the future. The details of the Nurse contract are unique in my opinion, I wrote about it for The Athletic this morning.
THE ATHLETIC!
The Athletic Edmonton features a fabulous cluster of stories (some linked below, some on the site). Great perspective from a ridiculous group of writers and analysts. Proud to be part of The Athletic, less than two coffees a month offer here.
PROJECTED 2020-21 ROSTER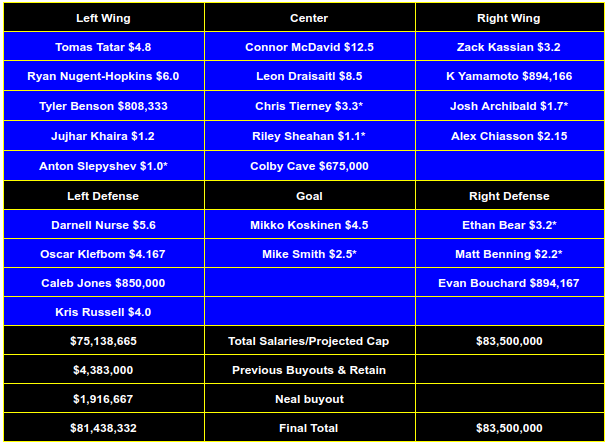 I've made a few moves, dealing Adam Larsson, Jesse Puljuarvi, buying out James Neal. Asterisks are estimated numbers for free agents and I've included the reported number for Nurse. Your mileage may vary on contracts (Bear's number could be wildly wrong) and I have the cap at $83.5 million.
Holes remain, the right side of the defense is very young and the goalies are very old. Part of the reason I chose Mike Smith was to enrage you. I like the top two lines and the No. 3 center, and the left side of the defense should be fine. I kept Kris Russell as a swing man and because I think Larsson has more trade value.
THE 2020 DRAFT
I am preparing the next installment of draft coverage, it'll be published next Tuesday (a week from tomorrow) as we enter into a busy period of games. It's been a month since the last list.
Since I'm well into the piece, and can't share it today (it is unready), thought I might share a few items. The top 10 has some changes but no new names have moved up, just a shuffle of the top group.
Tim Stuetzle and Jamie Drysdale were the big movers up the top 10, and there are three new members of the top 20 (Jack Quinn, Braden Schneider, Jake Sanderson).
The highest new addition (my list will grow from 32 to 62) is Seth Jarvis. Stay tuned!
THE EXTRA MONEY
In signing Nurse to this new deal, Ken Holland freed up (by my estimate) about $1 million in cap room this and next year. That's a significant amount. How will Ken Holland use it? I've given my opinion above, acquiring a winger with a year left isn't ideal but free agency is going to be spendy and a trade of assets (especially on defense) might be a better way. I'm looking forward to reading your ideas in the comments section.
LOWDOWN WITH LOWETIDE
At 10 this morning, we kickstart the week, TSN1260. Guests include Ben Gretch from CBS Sports who will give the latest on the Expos-Rays 'shared team' idea that appears to be closer to a reality. Jason Gregor will pop by with opinion on Darnell Nurse, the big Saturday win over Nashville. We're also casting about for an XFL guest, just in case you want some crazy. 10-1260 text, @Lowetide on twitter. Talk soon!