There are real roster uncertainties as I write this, transactions on Saturday to send Colby Cave and Evan Bouchard to Bakersfield Condors await the bookend maneuvre. Connor McDavid isn't always the lead story, while also always being the lead story. If he's playing tonight, the Oilers have improved enormously overnight. That's a fact.
THE ATHLETIC!
The Athletic Edmonton features a fabulous cluster of stories (some linked below, some on the site). Great perspective from a ridiculous group of writers and analysts. Proud to be part of The Athletic, less than two coffees a month offer here.
OILERS AFTER 62 GAMES
Oilers in 2015-16: 22-34-6, 50 points; goal differential -34
Oilers in 2016-17: 33-21-8, 74 points; goal differential +12
Oilers in 2017-18: 27-31-4, 58 points; goal differential -33
Oilers in 2018-19: 26-29-7, 59 points; goal differential -23
Oilers in 2019-20: 32-22-7, 71 points; goal differential +3
Terrific season in those numbers, and many youngsters have emerged in real time. I don't recall a season where more roster players enjoy career seasons or close, and in fact many players are enjoying impressive first full NHL seasons. Lots to applaud across the roster, coaching and management included.
ON THE TENS
First 10 games: 7-2-1
Second 10 games: 5-4-1
Third 10 games: 5-4-1
Fourth 10 games: 3-6-1
Fifth 10 games: 6-2-2
Sixth 10 games: 6-3-1
Current 10 games: 0-1-0
OILERS IN FEBRUARY
Oilers in February 2016: 2-9-0, four points; goal differential -21
Oilers in February 2017: 5-6-0, 10 points; goal differential -2
Oilers in February 2018: 3-7-1, seven points; goal differential -4
Oilers in February 2019: 3-5-3, nine points; goal differential -10
Oilers in February 2020: 5-4-1, 11 points; goal differential +1
One of the things we'll need to discuss in the offseason is the run by Edmonton starting January 1. I haven't gone back to look over the team's history this century, but this season (11-5-3), the 2016-17 campaign (13-8-2) and 2005-06 (8-6-4) all landed in a positive direction Jan. 1 through February 23.
WHAT TO EXPECT IN FEBRUARY
On the road to: CAL, ARI (Expected 1-1-0) (Actual 1-1-0)
At home to: SJS, NAS, CHI (Expected 2-1-0) (Actual 2-1-0)
On the road to: TBY, FLA, CAR (Expected 1-1-1) (Actual 2-1-0)
At home to: BOS, MIN (Expected 1-1-0) (Actual 0-1-1)
On the road to: LAK, ANA, VEG (Expected 2-1-0)
At home to: WPG (Expected 1-0-0)
Overall expected result: 8-5-1, 17 points in 14 games
Current results: 5-4-1, 11 points in 10 games
Oilers need this game tonight. It sets up the deadline in a positive way (Edmonton would slide back into second in the Pacific) and gives the team enough breathing room to consider trading valuable assets. Big game. LAK aren't an easy out, and that's when everyone is healthy.
OILERS 2019-20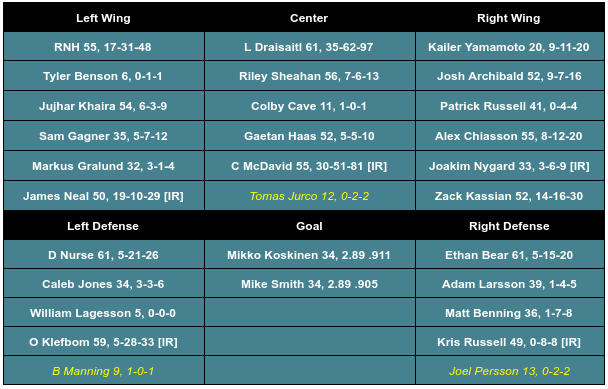 The article I wrote for The Athletic yesterday (the trade dilemma) drove home the fact Ken Holland needs to acquire a left winger for the McDavid line. You'd like Tomas Tatar but Tyler Ennis is a solid option.
Elliotte Friedman mentioned Edmonton's interest in Mike Green last night, Jonathan Willis wrote about him recently so I won't retrace his steps. I will post his Puck IQ numbers against elites, though, Green isn't your ordinary broken down blue.
Oscar Klefbom has played 33 percent of his five on five time against elites this season, that's the range for Green. Detroit is a terrible team, so Klefbom's goal differential against elites (14-13) is superior to Green's in Detroit (5-12) but that DFF percentage (48.20) for Green is quality. Ken Holland likes old people. This would be his first "I know a guy" deal since arriving, although he did sign Riley Sheahan as a free agent.
The big question for me is who is leaving to make room? Kris Russell has been mentioned but that's the cap issue, what about the RH side? Edmonton currently employs Bear, Larsson and Benning there, so if Green is coming in, one of those men must be leaving. Right? Fascinating. Larsson? Benning? It sure as hell isn't Bear.
TORONTO
Maple Leafs fans are hurting units this morning, that was a bad beat and it will be remembered. Exacerbating things is a long, long list of articles with titles like 'How long before Mcdavid wants out of Edmonton?' that have enraged Canadian outposts for decades. So there's no sympathy, not an ounce, across this great nation this morning. To the contrary. Ken Holland might want to make a call to Kyle Dubas this morning, asking if he needs a rugged forward or defenseman. Hey, it's a cruel business.