The Edmonton Oilers arrive at tonight's game having put themselves in a very good position. The team still needs some wins, but the pressure to go 10-2-0 belongs to the Arizona Coyotes.
Dave Tippett's media avail on Monday night detailed the "playing a disconnected game" we've seen over the last seven days (or so). Tippett's teams ordinarily correct after a practice but injuries and fatigue are also factors as we enter tonight's game. This is the good stuff. Straight ahead.
THE ATHLETIC!
The Athletic Edmonton features a fabulous cluster of stories (some linked below, some on the site). Great perspective from a ridiculous group of writers and analysts. Proud to be part of The Athletic, less than two coffees a month offer here.
OILERS AFTER 71 GAMES
Oilers in 2015-16: 27-37-7, 61 points; goal differential -36
Oilers in 2016-17: 38-24-9, 85 points; goal differential +21
Oilers in 2017-18: 31-35-5, 67 points; goal differential -36
Oilers in 2018-19: 32-32-7, 71 points; goal differential -22
Oilers in 2019-20: 37-24-9, 83 points; goal differential +7
One of the things we're going to have to spend time on this summer is the ability of this team to keep putting up points. I'm not one who thought it was obvious the team would make the playoffs after the fast start. In fact, I think the season could have gone sideways around Christmas. But through 70 games, Edmonton has always been able to shorten losing streaks and gather Bettmans while ye may. I give Tippett a lot of that credit, goalies too.
ON THE TENS
First 10 games: 7-2-1
Second 10 games: 5-4-1
Third 10 games: 5-4-1
Fourth 10 games: 3-6-1
Fifth 10 games: 6-2-2
Sixth 10 games: 6-3-1
Seventh 10 games: 5-3-2
Eighth 10 games: 0-0-0
OILERS IN MARCH
Oilers in March 2016: 4-2-0, seven points; goal differential +1
Oilers in March 2017: 3-2-1, seven points; goal differential +7
Oilers in March 2018: 3-3-0, four points; goal differential -1
Oilers in March 2019: 4-2-0, eight points; goal differential +3
Oilers in March 2020: 3-1-1, seven points; goal differential +6
WHAT TO EXPECT IN MARCH
On the road to: NAS, DAL, CHI (Expected 1-1-1) (Actual 2-1-0)
At home to: CBJ, VEG, WPG, NYI (Expected 2-2-0) (Actual 1-0-1)
On the road to: PHI, WAS, OTT (Expected 1-1-1)
At home to: TBY, ANA, COL, SJS, ANA, VEG (Expected: 3-2-1)
Overall expected result: 7-6-3, 17 points in 16 games
Current results: 3-1-1, 7 points in 5 games
I predicted the Oilers would be 2-2-1 entering tonight's game, so the club is two points ahead of the pace. I had the Jets as a win, Islanders as a loss, but the month has gone the other way and I made those predictions before March began. This game is going to be tougher than I thought it would be at the beginning of the month.
OILERS 2019-20
Connor McDavid and Kailer Yamamoto missed practice yesterday and at this time of year it's best to assume nothing. I think we'll see Caleb Jones draw in on the third pairing.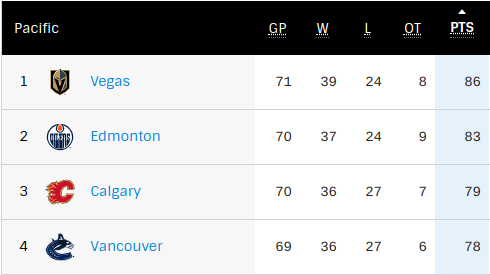 I've chopped Arizona off the map this morning, don't see a clear path to the playoffs for them. If Edmonton goes 6-6-0, the final record would be 43-30-9, 95 points. That would mean Arizona would need to grab 22 points in the final 12 games to pass the Oilers. Unrealistic.
Vancouver would need 18 points in its final 13 games, that's a tall order but possible (8-3-2). It could happen. Calgary would need 17 points in the final 12 games (8-3-1). Also a steep climb.
Edmonton isn't home and dry, but if the team can continue to bank points this team should be playoff bound soon. I'd say second place in the Pacific Division is a reasonable guess for final landing.
THE KHAIRA LINE
Early days but the line that runs James Neal-Jujhar Khaira-Alex Chiasson is 3-0 goals in just under 26 minutes. The trio is 10-15 shot share and 31 percent expected goals, so it may not last. That said, three goals in 26 minutes from a secondary line is going to get noticed and at least one more run together.
LOWDOWN WITH LOWETIDE
At 10 this morning, TSN1260, we kickstart a big sports day with some great verbal. Bruce McCurdy from the Cult of Hockey will join us to set up the game against the Winnipeg Jets at 10:20. Joe Osborne from OddsShark will talk NCAA brackets (selection Sunday just a few days away!) and some NHL trends that involve the Oilers. 10-1260 text, @Lowetide on twitter. See you on the radio!