It was a wonderful game on a weird night, and in the end the result probably doesn't matter. I don't know what to expect today in terms of the season, we could see it all washed away and incredibly that sounds like the right thing to do. It's going to be a difficult spring, most of us have no idea what tomorrow will bring. Be well, hold your loved ones tight, wash your hands. Don't panic, but be wise and help others if you can. This is one of those moments where we need to trust those who are trained and educated in these things. All the best.
THE ATHLETIC!
The Athletic Edmonton features a fabulous cluster of stories (some linked below, some on the site). Great perspective from a ridiculous group of writers and analysts. Proud to be part of The Athletic, less than two coffees a month offer here.
OILERS AFTER 71 GAMES
Oilers in 2015-16: 27-37-7, 61 points; goal differential -36
Oilers in 2016-17: 38-24-9, 85 points; goal differential +21
Oilers in 2017-18: 31-35-5, 67 points; goal differential -36
Oilers in 2018-19: 32-32-7, 71 points; goal differential -22
Oilers in 2019-20: 37-25-9, 83 points; goal differential +6
If this is the season's end, Oilers fans should be proud of this team. It is not balanced, but it is improved and there are more actual NHL players on the roster than a year ago. The two wingers who were acquired at the deadline played well. This was a loss, but a much better performance than we've seen in a week or so.
ON THE TENS
First 10 games: 7-2-1
Second 10 games: 5-4-1
Third 10 games: 5-4-1
Fourth 10 games: 3-6-1
Fifth 10 games: 6-2-2
Sixth 10 games: 6-3-1
Seventh 10 games: 5-3-2
Eighth 10 games: 0-1-0
OILERS IN MARCH
Oilers in March 2016: 4-2-0, seven points; goal differential +1
Oilers in March 2017: 3-2-1, seven points; goal differential +7
Oilers in March 2018: 3-3-0, four points; goal differential -1
Oilers in March 2019: 4-2-0, eight points; goal differential +3
Oilers in March 2020: 3-2-1, seven points; goal differential +5
WHAT TO EXPECT IN MARCH
On the road to: NAS, DAL, CHI (Expected 1-1-1) (Actual 2-1-0)
At home to: CBJ, VEG, WPG, NYI (Expected 2-2-0) (Actual 1-1-1)
On the road to: PHI, WAS, OTT (Expected 1-1-1)
At home to: TBY, ANA, COL, SJS, ANA, VEG (Expected: 3-2-1)
Overall expected result: 7-6-3, 17 points in 16 games
Current results: 3-2-1, 7 points in 5 games
I had the Oilers going 3-2-1 in the first six, with a win over the Islanders in the next game. So, the team is right on track with my predictions at this time.
OILERS 2019-20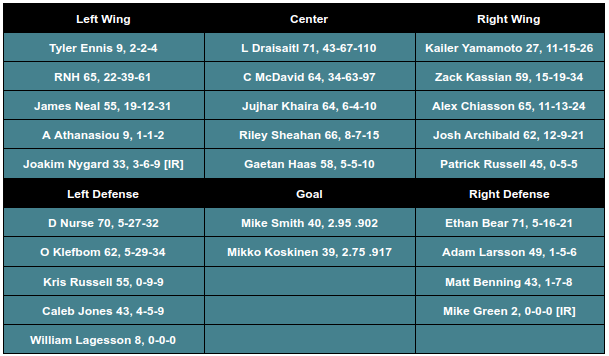 The Natural Stat Trick numbers didn't update for the entire game until this morning, so I'm starting this at 7:22. Let's see if I can get through iit all. It was a fun game, Edmonton had the edge in play and shot share but kept making boners that ended up in the back of Edmonton's net.
LINE 1 Tyler Ennis-Leon Draisaitl-Kailer Yamamoto played 15:04, going 18-14 Corsi, 14-9 shots, 1-2 goals and 9-2 HDSC. This line was fire for most of the night, with the wingers showing great chem. Faced the Schiefele line 11:55, going 1-1 goals.
Tyler Ennis scored a goal via some good work from he and Kailer Yamamoto, giving fans an intriguing discussion point for the offseason. Leon Draisaitl made a mistake as last man back on the winning goal and turned over the puck three times. He's a brilliant player, but single events can have enormous impact while also being single events. Kailer Yamamoto was brilliant, an assist, three shots and three HDSC, he forced the play consistently.
LINE 2 Nuge-Connor McDavid-Zack Kassian played 13:10, going 12-13 Corsi, 10-8 shots, no goals and 3-1 HDSC.
Ryan Nugent-Hopkins had two shots, one HDSC and was outstanding with three takeaways. One of his major positives is puck theft and interrupting opposition sorties. Connor McDavid's goal was fanfreakingtastic, and he seemed to have his legs again. Had three shots, one HDSC and a takeaway. Zack Kassian's little dish perfect for 97's rocket man drive to the net. He had an assist, three shots, two HDSC, and looked at home with the captain.
LINE 3 James Neal-Jujhar Khaira-Alex Chiasson played 8:21, going 2-6 Corsi, 1-3 shots, no goals and no high danger.
James Neal had a shot on goal and a takeaway, I thought he played well beyond an unfortunate own goal. Jujhar Khaira had a giveaway and didn't impact the game offensively. Alex Chiasson had a quiet game, but it should be mentioned the veteran has been playing effective hockey recently.
LINE 4 Andreas Athanasiou-Riley Sheahan-Josh Archibald played 6:42, going 8-1 Corsi, 6-0 shots, no goals and 1-0 HDSC.
Andreas Athanasiou played his best game so far to me eye, he was a bull in a china shop and around the puck many times. Had one shot on goal. Riley Sheahan two shots, on HDSC and played well. Josh Archibald played a gritty game including a shot block and much hard work on the wall.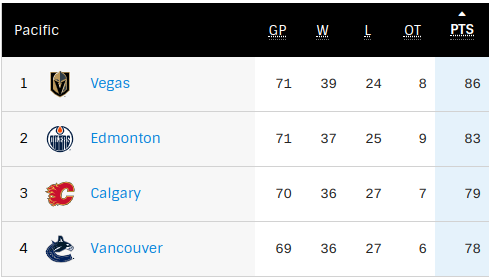 Last night's loss allows Calgary (and Vancouver) into the conversation but the Oilers remain in a good situation should the season continue at some point. Rachel Nichols quotes Mark Cuban (Dallas Mavericks owner) saying the NBA could play into August this year. I don't think the NHL will cancel the season right away, but could advance quickly to the playoffs (Michael Parkatti mentioned a 73-game season as an option last night).
PAIRING ONE Darnell Nurse and Ethan Bear played 23:18, going 13-20 Corsi, 9-11 shots, no goals and 3-0 HDSC. Played 12:54 with 97. Pairing faced the Schiefele line 5:21, 1-4 shots and no goals.
Darnell Nurse had an assist, three shots and played much of the game. Ethan Bear had a shot on goal, a giveaway and a takeaway. He was effective passing and engaged in the offensive zone (with some impact) a couple of times.
PAIRING TWO Oscar Klefbom and Adam Larsson played 16:31, going 12-15 Corsi, 9-8 shots, 2-2 goals and 5-4 HDSC. Pairing faced the Schiefele line 13:04 (making it the shutdown pairing), going 12-7 shots and 2-1 goals. An effective evening.
Oscar Klefbom had four shots, one giveaway and played a strong game without the puck. His skating has improved (injury impacted him) and current issues (upper body) he seems able to overcome. Adam Larsson had a shot, a giveaway but mostly played a solid positional game. The goal against while he was on the ice was goalie error.
PAIRING THREE Caleb Jones and Matt Benning played 9:55, going 14-4 Corsi, 10-3 shots, 0-1 goals and 5-1 HDSC.
Caleb Jones had a shot on goal and two giveaways, Matt Benning two shots and a HDSC. The third pairing gets squeezed for playing time in the big games.
GOALIE Mike Smith stopped 21 of 24, .875. The first goal went in off James Neal's stick, no fault there, and the winning goal was on a breakaway and that's going to happen to a goalie. The second goal was on Smith and his stickhandling ways, miscommunication with Adam Larsson who had no chance at all.
LOWDOWN WITH LOWETIDE
At 10 this morning, TSN1260, we'll chronicle a day that will likely have earth shattering news. At 10:20 we'll talk to Carlan Gay at DAZN about the NBA season suspended, and at 11 Frank Seravalli from TSN will talk about the latest NHL news. I'm sincere in saying I have no idea what that news will be at that time. The news is fluid today. 10-1260 text, @Lowetide on twitter. See you on the radio!