We're going to be waiting at this stop for some time, friends. We can waste as much time as we want on that big blue Alberta sky, find a girl to dance with, uncover the demon liquor Grandpa hides in the shop, fix the fence, take back the empties, play those damn sad songs that make us blue and fret about the worries for days. There's also a little time to talk hockey. Here we go.
THE ATHLETIC!
The Athletic Edmonton features a fabulous cluster of stories (some linked below, some on the site). Great perspective from a ridiculous group of writers and analysts. Proud to be part of The Athletic, less than two coffees a month offer here.
OILERS PROSPECT NHLE'S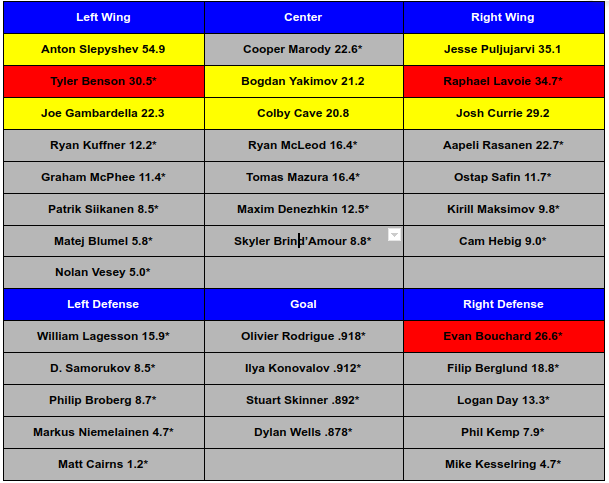 Players in yellow are outside entry deals and older players. Players in red are either in junior hockey or AHL, and their NHLE's suggest that they may bring enough offense to the NHL for that area of their game to be considered a strength. Evan Bouchard would certainly be at the top of that list. All of Bouchard, Benson and Lavoie should have feature roles in Edmonton or Bakersfield.
I would look for major spikes from Samorukov, McLeod, Maksimov and possibly Safin in Bakersfield 2020-21. The goalies are an interesting group, curious about where Rodrigue lands and what the team does with Konovalov summer 2021.
THE GRADUATING CLASS
As you know, I have been doing a summer and winter Top 20 prospects list since the early part of the century. From my summer 2019 list, several players have graduated: Kailer Yamamoto, Ethan Bear, Caleb Jones and John Marino all eclipsed 50 NHL games during the 2019-20 season.
That means we'll see the weakest Top 20 list in at least a decade coming up the day after the draft in 2020. Evan Bouchard, Philip Broberg, Tyler Benson, Dmitri Samorukov and Raphael Lavoie will be the top prospects in the system, along with the first-round selection in 2020. I do think we'll see Ken Holland add some picks on draft weekend.
THE 2020 DRAFT
I'll be able to give better updates on the 2020 draft with this extra time but Edmonton has only five selections at this time: No. 20, No. 82 (Neal trade unlikely to include a pick now), No. 144, No. 175, No. 206.
The No. 20 selection is extremely likely to be a scoring forward and I wouldn't be surprised if it is a center.
LOWDOWN WITH LOWETIDE
We hit the air at 10 this morning, TSN1260. Steve Lansky from BigMouthSports will talk about the media's handling of the early hours of leagues suspending play, and about how to produce major sporting events without an audience. Matt Iwanyk will pop in with a list of 10 things to do while we wait for normal. 10-1260 text, @Lowetide on twitter. Talk soon!