Do you remember the Oilers record at the time the season stopped? Do you know how many points Edmonton is behind Vegas? Ahead of Calgary? Is Oakland still in the league?
The mind is a strange thing. I can remember Bobby Orr's '70-71 boxcars (78, 37-102-139) but can't remember where I put the mail. Back to the Oilers. If the season resumes, the mad dash to the finish will be breathtaking.
THE ATHLETIC!
The Athletic Edmonton features a fabulous cluster of stories (some linked below, some on the site). Great perspective from a ridiculous group of writers and analysts. Proud to be part of The Athletic, check it out here.
STANDINGS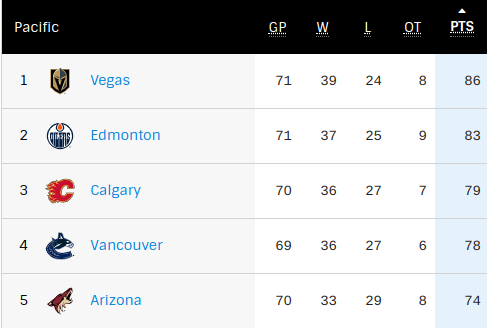 The Oilers lost the last game before lights out, and Calgary did Edmonton a favor by losing as well. Vancouver won their last game and have two games in hand on Edmonton (while being five points behind). All things being equal, you'd rather be the Oilers but nothing has been decided at this point. Here are some questions from the final night's performance.
Question One: How well did Nuge-Draisaitl-Yamamoto play on the final night before the season crashed?
They didn't, Nuge played on the second line, Ennis moving up. Tyler Ennis-Leon Draisaitl-Kailer Yamamoto played 15:04, 1-2 goals and 9-2 HDSC. This line was fire for most of the night, with the wingers showing great chem. Faced the Schiefele line 11:55, going 1-1 goals.
Tyler Ennis scored a goal via some good work from he and Kailer Yamamoto, giving fans an intriguing discussion point for the offseason. Leon Draisaitl made a mistake as last man back on the winning goal and turned over the puck three times. He's a brilliant player, but single events can have enormous impact while also being single events. Kailer Yamamoto was brilliant, an assist, three shots and three HDSC, he forced the play consistently.
Question Two: How did the McDavid line perform?
Nuge-Connor McDavid-Zack Kassian played 13:10, going 10-8 shots, no goals and 3-1 HDSC. Lower event line than you'd like but at least the trio won the shot differential.
Ryan Nugent-Hopkins had two shots, one HDSC and was outstanding with three takeaways. One of his major positives is puck theft and interrupting opposition sorties. Connor McDavid's goal was fanfreakingtastic, and he seemed to have his legs again. Had three shots, one HDSC and a takeaway. Zack Kassian's little dish perfect for 97's rocket man drive to the net. He had an assist, three shots, two HDSC, and looked at home with the captain.
Question Three: How did Jujhar Khaira look in the middle?
LINE 3 James Neal-Jujhar Khaira-Alex Chiasson played 8:21, going 2-6 Corsi, 1-3 shots, no goals and no high danger. James Neal had a shot on goal and a takeaway, I thought he played well beyond an unfortunate own goal. Jujhar Khaira had a giveaway and didn't impact the game offensively, won two of four five on five faceoffs, Tippett gave this line two offensive and no defensive faceoffs. Alex Chiasson had a quiet game, but it should be mentioned the veteran has been playing effective hockey recently.
Question Four: How is Athanasiou doing?
LINE 4 Andreas Athanasiou-Riley Sheahan-Josh Archibald played 6:42, going 8-1 Corsi, 6-0 shots, no goals and 1-0 HDSC. Andreas Athanasiou played his best game so far to my eye, he was a bull in a china shop and around the puck many times. Had one shot on goal. Riley Sheahan two shots, on HDSC and played well. Josh Archibald played a gritty game including a shot block and much hard work on the wall.
Question Five: Did Nurse-Bear deliver as top pair?
PAIRING ONE Darnell Nurse and Ethan Bear played big minutes, 23:18, going 13-20 Corsi, 9-11 shots, no goals and 3-0 HDSC. Played 12:54 with 97. Pairing faced the Schiefele line 5:21, 1-4 shots and no goals. Darnell Nurse had an assist, three shots and played much of the game. Ethan Bear had a shot on goal, a giveaway and a takeaway. He was effective passing and engaged in the offensive zone (with some impact) a couple of times.
Question Six: Were Klefbom-Larsson the actual top pairing based on matchup?
PAIRING TWO Oscar Klefbom and Adam Larsson played just 16:31, going 12-15 Corsi, 9-8 shots, 2-2 goals and 5-4 HDSC. Pairing faced the Schiefele line 13:04 (making it the shutdown pairing), going 12-7 shots and 2-1 goals. An effective evening. Oscar Klefbom had four shots, one giveaway and played a strong game without the puck. His skating has improved (injury impacted him) and current issues (upper body) he seems able to overcome. Adam Larsson had a shot, a giveaway but mostly played a solid positional game. The goal against while he was on the ice was goalie error.
Question Seven: Jones and Benning are a possible third pair for next season. How did they look?
PAIRING THREE Caleb Jones and Matt Benning played 9:55, going 14-4 Corsi, 10-3 shots, 0-1 goals and 5-1 HDSC. Caleb Jones had a shot on goal and two giveaways, Matt Benning two shots and a HDSC. The third pairing gets squeezed for playing time in the big games.
Question Eight: Did Smith have any wobble?
GOALIE Mike Smith stopped 21 of 24, .875. The first goal went in off James Neal's stick, no fault there, and the winning goal was on a breakaway and that's going to happen to a goalie. The second goal was on Smith and his stickhandling ways, miscommunication with Adam Larsson who had no chance at all.
Question Nine: How much did Nuge-Draisaitl-Yamamoto play together?
Not much, the game summary has Leon and Nuge on the ice together for 54 uneventful seconds.
Game summary via Natural Stat Trick is here.
LOWDOWN WITH LOWETIDE
A busy and fun day because there is much to discuss. We get started at 10, TSN1260. James Mirtle from The Athletic will join us to talk about an explosive story he wrote this week about the implications of not completing the 2019-20 season. The numbers are mind boggling and the impact unprecedented. At 11, Joe Osborne from OddsShark will talk NFL draft prop bets (will Roger Goodell get booed by the mailman?). 10-1260 text, @Lowetide on twitter. 90 minutes until the show!