The jobs are there, more than in most years. I'd guess there are two or three spots up front and a couple on defense that are available. There's a window of opportunity here, before Evan Bouchard and Philip Broberg arrive, for some really good prospects to establish themselves in the NHL.
THE ATHLETIC!
The Athletic Edmonton features a fabulous cluster of stories (some linked below, some on the site). Great perspective from a ridiculous group of writers and analysts. Proud to be part of The Athletic, we are celebrating our 2-year anniversary this week. To mark the occasion, you can get 40% off subscriptions until Sept. 19 here.
New Lowetide: Can Mikko Koskinen and Mike Smith stop enough pucks for the Oilers?
Lowetide: Shutdown success by Darnell Nurse and Adam Larsson is a key for the Oilers in 2019-20.
Daniel Nugent-Bowman: Even if he's unsure about his return, Oilers' Connor McDavid looks and sounds like his old self
Lowetide: RE 19-20: How can the Oilers' bottom six close the gap in goal differential?
Daniel Nugent-Bowman: Kailer Yamamoto and Tyler Benson address respective highs and lows as Oilers rookie camp begins
Jonathan Willis: Riley Sheahan is a prudent signing by the Oilers in more ways than one
Jonathan Willis: Did Milan Lucic take a shot at Connor McDavid's leadership?
Jonathan Willis: Oilers' defensive hopes will rest on the new shutdown pair of Darnell Nurse and Adam Larsson
Daniel Nugent-Bowman: With Evan Bouchard as the headliner, here are the players to watch at Oilers rookie camp
Lowetide: Ryan Nugent-Hopkins and the configuration of the Oilers second line
Lowetide: Connor McDavid's 2019-20: Pushing for 50 goals while Dave Tippett loads up the Oilers' top line
Lowetide: Estimating reasonable expectations for the 2019-20 Edmonton Oilers: A difficult journey
Jonathan Willis: How much money will Darnell Nurse make on his next NHL contract?
Lowetide: Ken Holland's measured summer leaves Oilers outside playoffs.
Corey Pronman: Oilers No. 9 farm system.
Lowetide: Is Riley Sheahan an ideal fit for the Oilers as their No. 3 centre?
Lowetide: Oilers coach Dave Tippett might have to take drastic action in order to find a second outscoring line in 2019-20
Daniel Nugent-Bowman: What the 2021-22 Oilers might look like after their steady build toward contender status
Daniel Nugent-Bowman: Ken Holland puts his stamp on the Oilers with first big move in Lucic-Neal trade
Lowetide: Oilers top 20 prospects summer 2019.
WE'RE UNDERWAY
There are prospects playing already and it's probably time we wrote down what's going on.
Ilya Konovalov (KHL) 2, 5.34 .859. MacT's KHL career is off to a slow start but this is a quality goalie prospect. Expect a recovery from some ugly early stats.
Philip Broberg (Champions League) 4, 0-0-0. He played well, finished -1 but the scouting reports were good. He's a sublime skater, big curio now is offense.
Maxim Denezhkin (MHL) 2, 1-0-1. Plays for the MHL Yaroslavl Lokomotiv, same team as Konovalov but at a lower level. Pronman ranked him, a nice writeup is here.
Patrik Siikanen (Intl Jr) 7, 0-1-1. Siikanen hasn't played any Sm-Liiga games but has gotten into some international competition.
Jesse Puljujarvi (Champions League) 4, 2-2-4. Impressive showing in the pre-season tournament, he's clearly quality.
Filip Berglund (Champions League) 4, 0-2-2. He showed well in the tournament, and faces a vital season as an Oilers prospect. If he has a good season in the SHL, he could get a contract.
CERTAIN OILERS (18)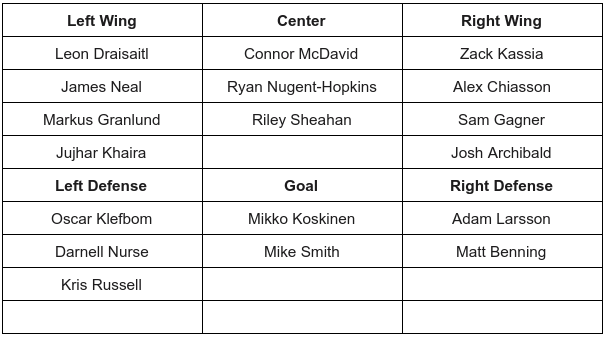 I think the forwards are mostly complete, there are two openings and those probably land with Haas and Nygard, with Benson, Jurco, Currie and Gambardella lurking.
Lots of talk about Neal playing RW and Benson getting the No. 2 LW job, I'd love to see it but let's see how this plays out. There's just so much we don't know, and perhaps someone rarely discussed (Jurco?) surprises. There's always such a rush to form an opinion and take credit that I believe much is missed about how the sausage is made. Let it come to you. It's better.
There are also two spots open on defense and that's probably where most of the conversation will land in preseason. There are some nice prospects pushing, based on media reports Jones and Lagesson may have the inside edge. Here's the thing about defensemen: You never know.
UNCERTAIN OILERS (15)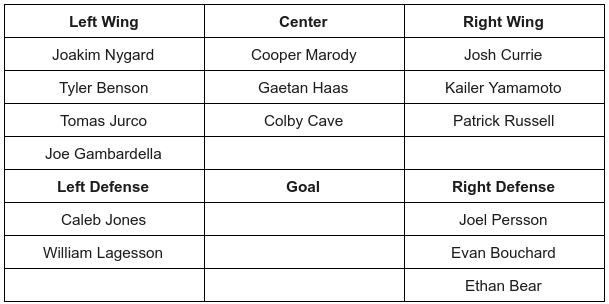 My five additions to the list above are Caleb Jones, Joel Persson, Gaetan Haas, Joakim Nygard and Colby Cave. For the record, I suspect all of these names will play in the NHL this coming season. I expect Evan Bouchard will start the season in Bakersfield but once he's recalled there won't be a return trip. He's bona fide.
DISTANT BELLS (19)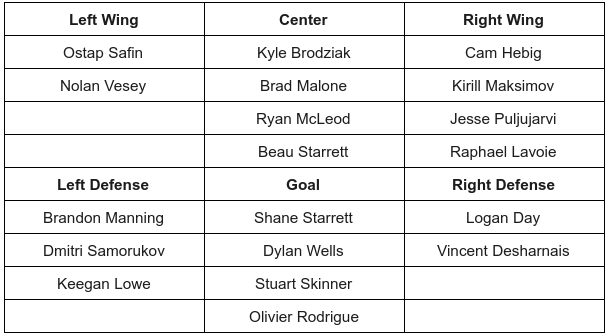 Among the distant bells, I'll count Samorukov, Manning, Starrett, Malone, McLeod and Puljujarvi as distant possibles. I'm going to be watching these goalies closely in 2019-20, Edmonton needs at least one to emerge.
ALEX VOLKOV
Rumored ask for JP (along with a pick coming to Edmonton) via Elliotte Friedman's latest podcast. He has good speed and a range of skills, would be a plug-and-play or close. Corey Pronman likes him here.
NHLE at 17: 5.2 (MHL)
NHLE at 18: 9.5 (MHL)
NHLE at 19: 10.1 (MHL)
NHLE at 20: 23.0 (AHL)
NHLE at 21: 24.9 (AHL)
Tyler Benson's NHL at 20 (37.3) is superior, Kailer Yamamoto's at 20 (25.6) is in the range. I think he's more 'middle six' than 'top six' based on the math.
LOWDOWN WITH LOWETIDE
A busy morning on the Lowdown, we start at 10 TSN1260. Jonathan Willis from The Athletic will pop by to talk about Oilers training camp and some of the big roster battles. Andrew Peard will touch base on Oil Kings preseason battles and the season ahead. Jeff Krushell will join us to talk about Dave Dombrowski and these pennant races in mlb. 10-1260 text, @Lowetide on twitter. See you on the radio!