The mind floods with memories, with only an 'Oilers at Islanders' verbal prompt. A lot of Edmonton's NHL hockey history played out on the ice the current team will negotiate tonight.
The first game played at Nassau Country Coliseum by the Oilers finished 3-3, on goals from Bill Flett, Blair MacDonald and Peter Driscoll. Boxscore is here. The most memorable: 34 saves on 34 shots by Grant Fuhr, Oilers 1-0 winners May 10, 1984. Boxscore here. You talk about tense. It was mid-summer before the collective Oilersnation sphincters completely relaxed. Those two teams, Islanders and Oilers from 1975 to 1992, are among the best who have ever played this beautiful game. That old arena may not be much today, but if walls could talk.
THE ATHLETIC!
The Athletic Edmonton features a fabulous cluster of stories (some linked below, some on the site). Great perspective from a ridiculous group of writers and analysts. Proud to be part of The Athletic, there is a Puck Drop Special offer here.
OILERS IN OCTOBER
Oilers in October 2015: 0-3-0, goal differential -6
Oilers in October 2016: 2-1-0, goal differential +1
Oilers in October 2017: 1-2-0, goal differential -1
Oilers in October 2018: 1-2-0, goal differential -5
Oilers in October 2019: 2-0-0, goal differential +2
The Oilers have a chance to break through and create a new dawn by winning tonight. In spite of having the world's best player, Edmonton hasn't started a season 3-0-0 during the McDavid years. It could happen tonight.
WHAT TO EXPECT FROM OCTOBER
At home to: Vancouver, Los Angeles (Expected: 1-1-0) (Actual 2-0-0)
On the road to: NYI, NJD, NYR, CHI (Expected 2-1-1)
At home to: Philadelphia, Detroit (Expected 1-1-0)
On the road to: Winnipeg, Minnesota (Expected 1-1-0)
At home to: Washington, Florida (Expected 1-1-0)
On the road to: Detroit, Columbus (Expected 1-1-0)
Overall expected result: 7-6-1, 15 points in 14 games
Current results: 2-0-0, 4 points after 2 games
Edmonton's four game road trip is a one week run through New York and Chicago. The Oilers have been blown out a time or two in New York, but they mostly happen on early weekend games. That would be Saturday in Manhattan.
OILERS ROSTER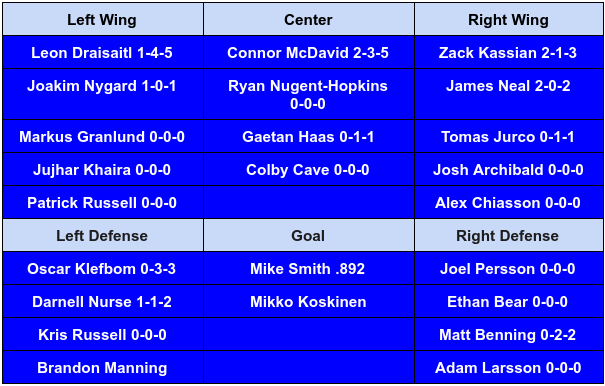 The Oilers may activate Riley Sheahan before tonight's game, meaning someone has to move off the roster. Someone could go on IR, with Haas, Persson and Bear eligible for option without a waiver worry. They could also do non-roster waivers, or send down Brandon Manning today (I believe he cleared waivers October 1, so is still under that waiver umbrella). That's risky, because any injury during the day to a defenseman would leave the team short on blue.
OILERS PENALTY KILL
Early season numbers for five-on-five are unreliable, so you can imagine how shakey the PK numbers are this time of year. However, I think time on ice is always a good place to start. Here are the forwards, this is sorted by total ice time over two games, with TOI per game (in brackets):
Leon Draisaitl 5:33 (2:46)
Jujhar Khaira 4:25 (2:12)
Nuge 4:10 (2:05)
Markus Granlund 3:36 (1:48)
Colby Cave 2:36 (1:18)
Josh Archibald 2:33 (2:33)
Patrick Russell 1:40 (1:40)
Archibald and Russell played one game, the other five played two. The only GA allowed by the PK was the broken stick Doughty goal, forwards were Khaira and Nuge. Archibald's contribution in this area was large in game one. We can see the importance of getting Riley Sheahan back in the lineup, that Draisaitl total is significant. Here's the blue:
Oscar Klefbom 8:37 (4:18)
Kris Russell 7:52 (3:56)
Darnell Nurse 4:49 (2:25)
Adam Larsson 3:31 (3:31)
Ethan Bear 0:57 (0:57)
Nurse and Klefbom were on the ice for the Doughty goal, Nurse being a better door than window (he also redeemed himself by scoring the tying goal minutes later). Larsson's absence is a big damned deal, interesting the team moved Bear into the rotation over Matt Benning.
ILYA KONOVALOV
The man has been up and down this year. He had a big game on the weekend, stopping 31 of 32 against Avangard Sunday. In his strong games, Konovalov has SP's of 100, 100, 92.3 and 96.9. In his poor outings? 85.7, 86.2, 78.6 and 81.8. He is now at .899 and appears to be digging out from the very difficult start.
LOWDOWN WITH LOWETIDE
We roll into the studio with our Beatle wigs and leather jackets at 10 this morning, TSN1260. Jonathan Willis from The Athletic will guide us through the Oilers-Islanders preview and Andrew Peard will update the Oil Kings road trip. Plenty of football and baseball talk, too. 10-1260 text, @Lowetide on twitter. See you on the radio!