Alright, everyone calm the hell down! It's three games! It's a very small sample size. Still, maybe you could celebrate a little. Nothing crazy. A six-inch sub or a ceramic elephant. Do not make a big deal out of it. Understated. Subtle. LIKE A FOUR GOAL GAME FROM YOUR OFFSEASON ACQUISITION AMIRITE??!?!?
There. That's an example of what not to do. Let's solemnly move on, without even cracking a smile. Well, maybe just a little one. But then right back to hearts of stone, immediately it not sooner. Be British. Dammit.
THE ATHLETIC!
The Athletic Edmonton features a fabulous cluster of stories (some linked below, some on the site). Great perspective from a ridiculous group of writers and analysts. Proud to be part of The Athletic, there is a Puck Drop Special offer here.
OILERS IN OCTOBER
Oilers in October 2015: 0-3-0, goal differential -6
Oilers in October 2016: 2-1-0, goal differential +1
Oilers in October 2017: 1-2-0, goal differential -1
Oilers in October 2018: 1-2-0, goal differential -5
Oilers in October 2019: 3-0-0, goal differential +5
At five-on-five through three games, Edmonton is 9-7 goal differential overall, 5-3 with McDavid and 4-4 without him. That's a lot of progress but it's very early days. Let's talk when the Oilers are 20 games into the season.
WHAT TO EXPECT IN OCTOBER
At home to: Vancouver, Los Angeles (Expected: 1-1-0) (Actual 2-0-0)
On the road to: NYI, NJD, NYR, CHI (Expected 2-1-1) Actual (1-0-0)
At home to: Philadelphia, Detroit (Expected 1-1-0)
On the road to: Winnipeg, Minnesota (Expected 1-1-0)
At home to: Washington, Florida (Expected 1-1-0)
On the road to: Detroit, Columbus (Expected 1-1-0)
Overall expected result: 7-6-1, 15 points in 14 games
Current results: 3-0-0, 6 points after 3 games
Edmonton's underlying numbers do not match the team's record. At five-on-five, shot differential is 44.2 and goal differential is 9-7. Expected goals? 49.02 percent, the most encouraging number. Hell they're 3-0, party on. Everything we discuss below comes from NST.
LINE 1 Leon Draisaitl-Connor McDavid-Zack Kassian played 11:24, going 11-9 Corsi, 6-6 shots, 1-0 goals and 3-1 HDSC.
Leon Draisaitl had another quality game, two assists, sublime passing, five shot attempts. Played 21:52. He got caught stone alone coming out of his zone on the PP, and turned the puck over, but sometimes you have to give the other man his due. Connor McDavid had three assists and is now 3, 2-6-8 on the season. His skating is insane, but the man's passing is also from another world. Zack Kassian scored another goal and is now 3-1-4. Add in Leon (1-6-7) and the trio has 19 points over the three games.
LINE 2 Tomas Jurco-Ryan Nugent-Hopkins-James Neal played 10:07, 14-13 Corsi (all numbers five-on-five), 6-7 shots, 2-0 goals and 1-0 HDSC.
Tomas Jurco played well at both ends, the play doesn't die on his stick often. He's the one newcomer who has significant NHL experience, he appears to be a real find. Ryan Nugent-Hopkins played well, damn unfair he didn't get an assist on the first Neal goal. James Neal is THE story today. His four goals propelled the club to a three-game winning streak and he now has six goals in three games. He looks exactly like the player Calgary thought they were getting.
LINE 3 Jujhar Khaira-Riley Sheahan-Patrick Russell played 10:07, 8-10 Corsi, 2-6 shots, no goals and 0-1 HDSC.
Jujhar Khaira had a good night forechecking, he needs to have the puck and shoot more. Riley Sheahan had a good return, successful in the faceoff circle and his line is much better with him. Patrick Russell played a lot on the PK and had a couple of good looks.
LINE 4 Joakim Nygard-Gaetan Haas-Markus Granlund played 7:49, 4-6 Corsi, 2-4 shots, 0-1 goals and 1-1 HDSC.
Joakim Nygard is impressive. Excellent speed gets him chances and allows him to recover defensively. He's physical. And smart. Gaetan Haas is doing more things, he's kind of a Swiss (I'm sorry) Army (I can't stop it) Knife. Markus Granlund is in the Rip Van Winkle phase of his career.
PAIRING 1 Darnell Nurse-Ethan Bear played 14:34, were 19-17 Corsi, 9-9 shots, 0-1 goals and 3-1 HDSC.
Darnell Nurse played 4:10 (Klefbom 7:25) with McDavid, and 6:30 (Klefbom 5:12) against Barzal. He had an assist (now 3, 1-2-3) and flattened Leo Komarov. Ethan Bear doesn't have any points but passed well and finished over 50 percent Corsi.
PAIRING 2 Oscar Klefbom-Joel Persson played 13:52 together, 6-15 Corsi, 2-7 shots, 2-0 goals and 2-1 HDSC.
Oscar Klefbom is playing big, heavy minutes consistently well. His assist gave him four in three games. Joel Persson struggled early on, not just with the pace but with the physical side. Passing had some wobble but he settled down and the pairing had a positive result overall despite possession totals.
PAIRING 3 Kris Russell-Matt Benning played 12:01 together, 12-10 Corsi, 5-5 shots, 1-0 goals and 1-0 HDSC.
Kris Russell had five shot attempts, defended well and had a nifty scoring chance, plus a takeaway. Matt Benning played well, kept the puck going in a good direction and stood up oncoming traffic. This is a good third pairing.
GOALTENDER Mikko Koskinen was quality on the night, both goals were 10-bell. He stopped 24 of 25 (.960) at five-on-five, that included three of four stops on high danger chances. Overall, he stopped 25 of 27 (.926) and four of six HDSC's. He was big and calm, and his glove wasn't exposed. A solid debut.
OILERS 2019-20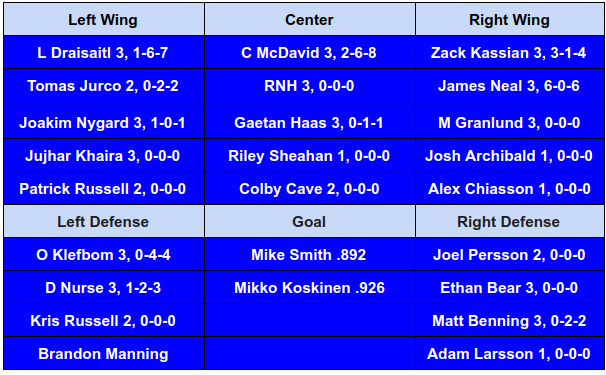 LOWDOWN WITH LOWETIDE
At 10 this morning, TSN1260. Tom Gazzola from TSN joins us at 10:20 to tell us everything we don't know about James Neal. Also, how high can these Oilers fly? Kris Abbott from OddsShark will pop in to talk mlb playoff odds (Astros down? Yankees up?), NHL (Oilers chances of making the playoffs has to be up) and NFL after a crazy weekend of upsets and close calls. 10-1260 text, @Lowetide on twitter. Talk soon!