The big win against the Washington Capitals behind them, the Edmonton Oilers are on to slay another dragon: The traditional tepid Sunday afternoon outing. Many of this team's poorest games have come on Sundays, I have no explanation but will swear on a stack of bibles it's true. Maybe Tabernac Sunday is the real enemy?
THE ATHLETIC!
The Athletic Edmonton features a fabulous cluster of stories (some linked below, some on the site). Great perspective from a ridiculous group of writers and analysts. Proud to be part of The Athletic, there is a Puck Drop Special offer here.
OILERS IN OCTOBER
Oilers in October 2015: 4-8-0, eight points; goal differential -7
Oilers in October 2016: 8-3-1, 17 points; goal differential +7
Oilers in October 2017: 4-7-1, nine points; goal differential -9
Oilers in October 2018: 7-4-1, 15 points; goal differential +2
Oilers in October 2019: 8-2-1, 17 points, goal differential +8
The Oilers delivered a strong start, had a slight downbeat and recovered with the Capitals win. What's next? The sooner this team gets to 20 points, then 25, the more we can project them as a strong playoff contender. Every game is a big one, a win tonight keeps this year's team ahead of the 2016 playoff edition.
WHAT TO EXPECT FROM OCTOBER
At home to: Vancouver, Los Angeles (Expected: 1-1-0) (Actual 2-0-0)
On the road to: NYI, NJD, NYR, CHI (Expected 2-1-1) Actual (3-1-0)
At home to: Philadelphia, Detroit (Expected 1-1-0) (Actual 2-0-0)
On the road to: Winnipeg, Minnesota (Expected 1-1-0) (Actual 0-1-1)
At home to: Washington, Florida (Expected 1-1-0)(Actual 1-0-0)
On the road to: Detroit, Columbus (Expected 1-1-0)
Overall expected result: 7-6-1, 15 points in 14 games
Current results: 8-2-1, 17 points after 11 games
Oilers have surpassed my prediction with three games left. Could the Oilers win two of its last three to finish October 10-3-1? That would represent a stunning start to the season.
OILERS 2019-20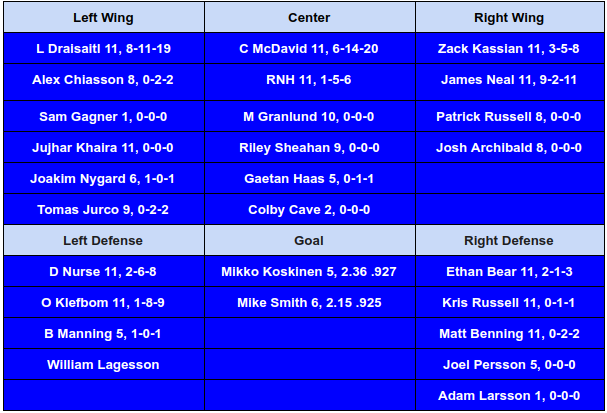 Oilers have 17 goals from the No. 1 line, 10 goals from the No. 2 line, one goal total from the third and fourth lines and six goals from the defense. Something usually gives in the days after an issue (depth scoring) is identified, but the Oilers recall of Gaetan Haas is a subtle move. I do think Haas has value but if the team sent him out then something was lacking. Did he get that element in two Bakersfield games? Seems a stretch. Joel Persson is skating with the group and getting closer.
Ottawa Senators play today and then take the rest of the week off before a Saturday game against the Bruins. The trade above reduces the team's 50-man roster to 48 and Sens general manager Pierre Dorion is said to be searching for more help up front.
A possible Jesse Puljuajarvi landing spot? I still think it'll be St. Louis or Carolina for young JP. However, Ottawa has some nice pieces the Oilers could be interested in (Jean-Gabriel Pageau, Connor Brown, Chris Tierney). Who would be heading to Ottawa? It would all come down to cap considerations I'm sure. One player I expect could be available, although not specifically for the names above? Jujhar Khaira. No idea what that gets you.
Honestly. It's insane how much work went into this and that it's public and available for free. I don't think there's a Nobel Prize for hockey analytics, but there should be and WG, G, Sean Solbak and Zsolt Munoz all deserve our sincere thanks. I'm sure the hockey Gods will reward you somehow.
CONDORS 2019-20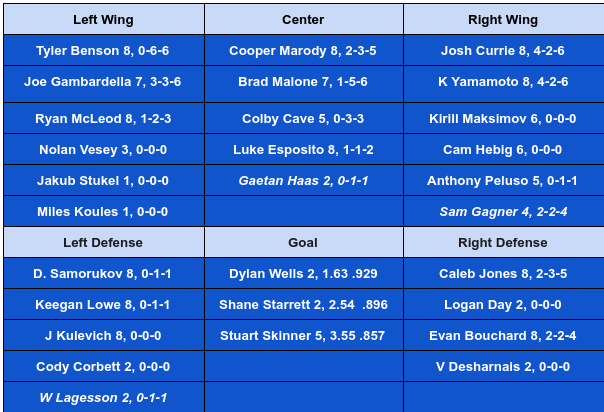 No need to panic, the prospects are fine. I'll be writing over at The Athletic today about the boxcars for Condors forwards and what they mean, for me there are five reasonable recall options and all are doing fine. There is just one recall option on defense and that's part of the team's problem. Save percentage also an issue. They'll be fine.