The old Yankees manager Casey Stengel used to say there were 50 games a season where skill, luck and circumstance guaranteed a win, and 50 games where the same elements guaranteed a loss. Stengel would say that it was the other 50 games that would win the pennant or get you fired. The Anaheim game was one of those wins for Edmonton, they were going to win and it was established early. Last night in San Jose the other side of the coin appeared. Shiza happens, folks. That's the way of the world.
THE ATHLETIC!
The Athletic Edmonton features a fabulous cluster of stories (some linked below, some on the site). Great perspective from a ridiculous group of writers and analysts. Proud to be part of The Athletic, less than two coffees a month offer here.
OILERS AFTER 20
Oilers in 2015: 7-12-1, 15 points; goal differential -8
Oilers in 2016: 11-8-1, 23 points; goal differential +7
Oilers in 2017: 7-11-2, 16 points; goal differential -13
Oilers in 2018: 9-10-1, 19 points; goal differential -9
Oilers in 2019: 12-6-2, 26 points; goal differential +9
We're back to having a direct comparable (2016) but the 2019 Oilers have been able to avoid losing streaks of any length and that bodes well. Edmonton had a bad game. It'll happen again. Just make sure "again" isn't tomorrow night.
OILERS IN NOVEMBER
Oilers in November 2015: 2-4-0, four points; goal differential -4
Oilers in November 2016: 2-3-1, five points; goal differential -4
Oilers in November 2017: 3-3-0, six points; goal differential -2
Oilers in November 2018: 2-4-0, four points; goal differential -6
Oilers in November 2019: 3-2-1, seven points; goal differential +4
2019 November remains the best result through six games and the goal differential remains solid. A winning streak wouldn't go amiss.
WHAT TO EXPECT IN NOVEMBER
On the road to: PIT (Expected 0-1-0) (Actual 1-0-0)
At home to: ARI, STL, NJD (Expected 2-1-0) (Actual 1-1-1)
On the road to: ANA, SJS (Expected 1-0-1) (Actual 1-1-0)
At home to: COL, DAL (Expected 1-1-0)
On the road to: SJS, LAK, VEG, ARI, COL (Expected 2-3-0)
At home to: VAN (Expected 1-0-0)
Overall expected result: 7-6-1, 15 points in 14 games
Current results: 3-2-1, 7 points after six games
Oilers are on pace for my predicted point total at the end of the month, actually just a hair ahead. The two games that remain this week are important, don't believe it's reasonable to expect two wins against Denver and Dallas.
OILERS 2019-20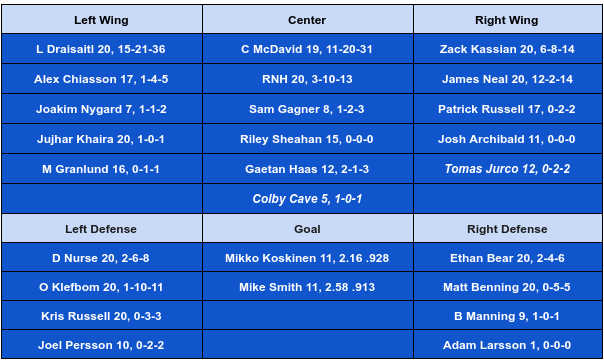 I'm not going to write much about the game. NST has the details. Dave Tippett said postgame "it shows a little of the immaturity of the group to sustain things. It wasn't a good effort by our group right through" and that's a succinct summary. I do have a few notes:
Zack Kassian is on his way to a career season and he's going to get a substantial contract. Can the Oilers afford him? You can roll your eyes, but a physical, agitating winger who scores 20+ goals and 50+ points has real value. Kassian had three HDSC at five-on-five last night and he fed Hertl a little after his hit on 97.
Ethan Bear does something most every night to impress and even on a night when he made some miscues his defending on a two-on-one was quality.
Call me blood thirsty but I'm ten times fine with Brandon Manning's reaction to the Hertl hit on McDavid. NHL players react to every hit by going over the top but when the franchise takes a shot like that one then it should be answered imo. In a game long lost, Manning taking on a Sharks player is fine by me.
Mike Smith stopped 19 of 25 and to my eye several were 10-bell or late tips. I don't think he was the culprit and that's unusual because many nights Smith is hero or goat. In the summer, when he signed, I asked Catherine Silverman (who knows goalies) about Smith. Silverman: "Sometimes, he's the goaltender who can face record-breaking shot volumes and shut the opposition down, but other times he's the goaltender who allowed four goals on just 23 shots." Last night he was neither and that's worth noting.
PATRICK RUSSELL
For a guy with no goals, he sure has a lot of chances. NST's individual high-danger scoring chances per 60 shines a light on Russell and what he's been doing in the offensive zone during 2019-20. Here are the leaders in the category:
Connor McDavid 5.29
Zack Kassian 4.95
Alex Chiasson 4.28
Patrick Russell 4.21
Leon Draisaitl 3.98
Now. We can argue about the NST measurement of HDSC's and we can certainly agree that Edmonton needs more skill wingers. However, Patrick Russell is getting those chances on a depth line and to my eye he has been getting them consistently. I don't really have a point to make beyond it, and do recognize Russell isn't a high skill player likely to cash 20 percent of these chances. I guess my point is this: If he keeps playing in the NHL and sustains this chance/60 number, some of these pucks are going to start going in.
LOWDOWN WITH LOWETIDE
At 10 this morning, TSN1260, we'll hit the ground running in our work boots tearing down last night's game and looking forward to the rest of the week. Bruce McCurdy from the Cult of Hockey will give his opinion on the loss in San Jose last night. We'll also chat about what happens when Adam Larsson returns. Kris Abbott from OddsShark will pop in to chat CFL playoffs, NFL weekend and NCAA playoff slotting. 10-1260 text, @Lowetide on twitter. See you on the radio!