There are two times in the first half of the year you should worry over this team: November and the period around Christmas. Since Connor McDavid arrived in 2015, Edmonton's November records have gone like this: 4-7-2; 5-6-3; 5-8-1; 6-7-1. Since 2015, the team hasn't delivered a positive goal differential; in fact, by season the GD was -9, 0, -6 and -8. If October is the Lido Shuffle, then November is Breakdown Dead Ahead. December is Lowdown. January? Loan me a dime. None of that means one damn thing if this version of the Oilers can keep winning more hockey games than they lose. So far, even in November, so good.
THE ATHLETIC!
The Athletic Edmonton features a fabulous cluster of stories (some linked below, some on the site). Great perspective from a ridiculous group of writers and analysts. Proud to be part of The Athletic, less than two coffees a month offer here.
OILERS AFTER 21
Oilers in 2015: 7-13-1, 15 points; goal differential -9
Oilers in 2016: 12-8-1, 25 points; goal differential +10
Oilers in 2017: 7-12-2, 16 points; goal differential -18
Oilers in 2018: 10-10-1, 21 points; goal differential -8
Oilers in 2019: 12-6-2, 26 points; goal differential +9
I believe we're at a point where the 2019 team is a close match with 2016 and has a cousin in 2018. Fair? The 2018 team went 25-28-8 from here, if this year's model matches the final tally would be 38-34-10, 88 points. That was my prediction at the beginning of the season. The fantasy finish is 2016, that team went 35-18-8 from here. If the Oilers keep that pace, it'll be 47-24-11. That would be 105 points, beyond anyone's outer marker.
OILERS IN NOVEMBER
Oilers in November 2015: 2-4-1, five points; goal differential -5
Oilers in November 2016: 2-4-1, five points; goal differential -6
Oilers in November 2017: 3-3-1, seven points; goal differential -2
Oilers in November 2018: 3-4-0, six points; goal differential -2
Oilers in November 2019: 3-2-1, seven points; goal differential +4
Including tonight's game, the Oilers have eight games left in the month. If they average a point per game, the club would finish with 15 points in 14 games. That would exceed previous McDavid Novembers, in fact the best 97 November was 13 points.
WHAT TO EXPECT IN NOVEMBER
On the road to: PIT (Expected 0-1-0) (Actual 1-0-0)
At home to: ARI, STL, NJD (Expected 2-1-0) (Actual 1-1-1)
On the road to: ANA, SJS (Expected 1-0-1) (Actual 1-1-0)
At home to: COL, DAL (Expected 1-1-0)
On the road to: SJS, LAK, VEG, ARI, COL (Expected 2-3-0)
At home to: VAN (Expected 1-0-0)
Overall expected result: 7-6-1, 15 points in 14 games
Current results: 3-2-1, 7 points after six games
I predicted a 3-2-1 start and that's where the team landed after six games. I have tonight as a loss, a win Saturday against Dallas (they weren't 8-1-1 in their last 10 when I predicted it though) and wins in Los Angeles and Phoenix during a tough road trip next week.
OILERS 2019-20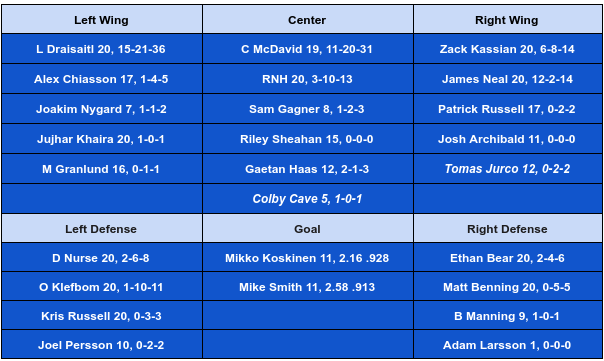 There are 26 men who have played so far this season, I wrote earlier about expecting a new record in terms of players making appearances this season.
YEAR OVER YEAR AFTER 20
Both numbers sets are after 20 games via Natural Stat Trick, this year's number followed by last year's in brackets. All applicable numbers five-on-five.
Record: 12-6-2 [9-10-1]
Corsi: 48.56 [50.17]
Fenwick: 48.84 [51.15]
Shots: 48.95 [50.92]
Goals: 52.00 [45.83]
Shooting Percentage: 8.80 [6.60]
Save Percentage: 92.21 [91.91]
PDO: 101 [98.5]
Power Play: 16-4 [14-2]
Penalty Kill: 0-9 [3-17]
Things that make you go hmmm: Although the possession numbers are down, some of that will be score effects. I didn't list high danger chances but it's a good bet Tippett's Oilers are improved there as well. Goal share is up massively, that's an area where regression could impact the team. Shooting and save percentage are also up, luck and Leon probably to blame for the shooting. PDO isn't crazy, the team's special teams are +3 this year and were -2 one year ago.
LOWDOWN WITH LOWETIDE
At 10 this morning, we roll out an all-star cast of guests on TSN1260. Daniel Nugent-Bowman from The Athletic talks about his first quarter Oilers report card, followed by Reid Fowler from Draft Kings to talk NFL. Frank Seravalli from TSN pops in to give us the latest on Sidney Crosby, emoji's and Don Cherry. Gabe Lacques from USA Today rounds out the guest list to talk Astros and stealing signs. 10-1260 text, @Lowetide twitter. Talk soon!