The Edmonton Oilers didn't put their work boots on until they were down 2-0, but the support players got them back to even before the end of regulation. Overtime is a crapshoot, so there's not much to bitch about there. What can the discerning Oilers fan complain about this morning? How about those small, niggling details like clearing the zone, not making blind passes and that classic oldie back checking? Lots to work on today.
THE ATHLETIC!
The Athletic Edmonton features a fabulous cluster of stories (some linked below, some on the site). Great perspective from a ridiculous group of writers and analysts. Proud to be part of The Athletic, less than two coffees a month offer here.
OILERS AFTER 32 GAMES
Oilers in 2015: 14-16-2, 30 points; goal differential -9
Oilers in 2016: 15-12-5, 35 points; goal differential +4
Oilers in 2017: 13-17-2, 28 points; goal differential -10
Oilers in 2018: 17-12-3, 37 points; goal differential +1
Oilers in 2019: 18-10-4, 40 points; goal differential +5
Edmonton is in a first place tie with the Arizona Coyotes today, the Oilers technically in first place due to more regulation wins. This year's team has delivered more than the 2016 club based on goal differential, but that number has been going south for some time. Five on five totals are especially concerning.
OILERS IN DECEMBER
Oilers in December 2015: 4-0-0, eight points; goal differential +4
Oilers in December 2016: 2-0-2, six points; goal differential +2
Oilers in December 2017: 2-2-0, four points; goal differential +3
Oilers in December 2018: 3-1-0, six points; goal differential +4
Oilers in December 2019: 2-1-1, five points; goal differential -2
Edmonton's record is better than the goal differential, but these things tend to even out over time. I don't think the Oilers are going to get five points from the next four games if they're two goals in the ditch again. Coach Dave Tippett sounded displeased in the postgame. Good.
WHAT TO EXPECT FROM DECEMBER
On the road to: VAN (Expected 1-0-0) (Actual 1-0-0)
At home to: OTT, LAK, BUF, CAR (Expected 2-1-1) (Actual 1-1-1)
On the road to: MIN (Expected 1-0-0)
At home to: TOR (Expected 0-1-0)
On the road to: DAL, STL (Expected 0-2-0)
At home to: PIT, MTL (Expected 1-1-0)
On the road to: VAN (Expected 0-0-1)
At home to: CAL, NYR (Expected 1-1-0)
Overall expected result: 6-6-2, 14 points in 14 games
Current results: 2-1-1, 5 points in 4 games
The schedule this week is most unkind. The next "easy" opponent is several miles in the distance. On the other hand, Edmonton tends to play up to their competition. Maybe this is a good thing?
OILERS 2019-20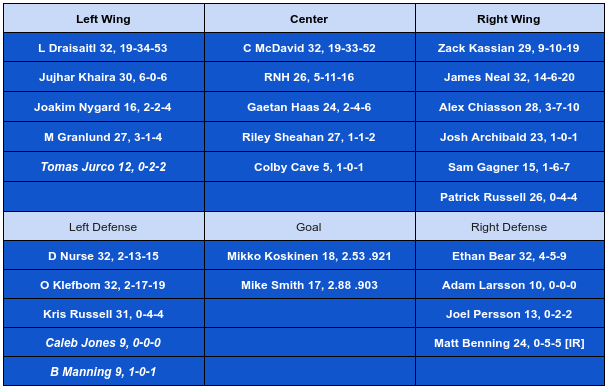 It was a weird game on a weird night in an increasingly weird month. All numbers are five on five unless mentioned and NST is the source.
LINE 1 Leon Draisaitl-Connor McDavid-Zack Kassian played 15:46, going 11-23 Corsi, 6-11 shots, 0-1 goals and 3-5 HDSC. Line had SEVEN giveaways five on five, more in other game states. The video of this line on the second Buffalo goal (wind it all the way back) wasn't good.
Leon Draisaitl almost scored in the game's opening minutes but his overall performance was not at his usual level. He didn't get much done on the PP, he turned the puck over twice in overtime, it was the least Leon game I've seen in a long time. Connor McDavid had about four moments in the game where he was threatening to the opposition and the rest of the time things wouldn't rhyme. I would like to ask him (and Leon) about the ice. Damn puck jumped all night. Zack Kassian stormed the goalie, but three giveaways. First game back, he'll get back to par. I feel ridiculous being critical of this line. It's like yelling at Superman. But they have coverage issues. Calling Marian Hossa.
LINE 2 Markus Granlund-Riley Sheahan-Josh Archibald played 9:09, 7-8 Corsi, 4-2 shots, 0-1 goals and 1-2 HDSC.
Markus Granlund sure takes a lot of penalties. Riley Sheahan scored a fabulous goal, and a big one in the scheme of things. Of course his backhand to nowhere pass in the first period was the start of the sequence that ended in Buffalo's first goal. Josh Archibald also had a great chance and worked three effective minutes on the PK.
LINE 3 Jujhar Khaira-Nuge-James Neal played 8:33, going 6-4 Corsi, 5-3 shots, no goals and 1-4 HDSC.
Jujhar Khaira had a dynamite chance and drew a penalty, Nuge also drew a penalty (and an Oscar nomination), won six of nine and led several sorties (that resulted in no goals). James Neal also had a good look, been some time since he cashed five on five.
LINE 4 Joakim Nygard-Gaetan Haas-Alex Chiasson played 6:45, going 1-6 Corsi, 1-1 shots, 1-0 HDSC.
Joakim Nygard had easily his best game, posting a first assist and a PP goal. Hopefully that gets him more playing time. Gaetan Haas posted a PP assist, won seven of eight faceoffs, had an interesting body check (he was one of the those time release ones that takes awhile). Alex Chiasson had a couple of looks but nothing that hit the scoreboard.
PAIRING ONE Darnell Nurse and Ethan Bear played 16:55, going 11-19 Corsi, 4-9 shots, 3-3 HDSC and 3-4 offensive-defensive faceoffs.
Darnell Nurse had an assist plus one on the power play, tackled a man at the goal line, had two giveaways. Ethan Bear had several of those dandy passes that change field position in a heartbeat, very effective. He is so good at settling things, passing to a good spot and getting the train headed in a good direction.
PAIRING TWO Oscar Klefbom and Joel Persson played 13:27, going 10-8 Corsi, 7-3 shots, 0-1 goals and 2-2 HDSC, 3-5 offensive-defensive faceoffs.
Oscar Klefbom had two shots and a takeaway, his PK time has been cut out completely so his playing time per game is way down. Joel Persson had a couple of 'oh no' moments that mostly involved awareness and dealing with speed. It's a process. You could see his penalty coming from a mile away beginning with his awkward work behind the net. Had a takeaway. I'm glad the organization is being patient with him. He was 'also in photo' quite a bit.
PAIRING THREE Kris Russell and Adam Larsson were 13:04 and 4-14 Corsi, 3-5 shots, 0-1 goals, 2-5 HDSC and 4-6 offensive-defensive faceoffs.
Kris Russell had one shot, two takeaways and a giveaway. Played a lot on the PK. Adam Larsson had two shots, one HDSC, two takeaways. He's skating better now.
GOALIE Mike Smith stopped 19 of 22, .864. Oilers are losing ground for several reasons but Smith is eroding and the trend is not a good one. I think the Oilers may have to make a move at some point this season if Smith's play doesn't recover.
A REQUEST
Everything you have read above was written before my head hit the pillow last night. Ordinarily I would have time to tack on a few things at the end here, and then promote the show. However, I had to spend some time this morning deleting posts that were over the line (and their responses). This is happening a lot lately. I don't want to delete posts, time people out, or ban you. However, I'm going to starting now. Time outs for vulgar, insane or vicious political posts will be one year in length. Thanks.
OILERS FIVE ON FIVE GOAL DIFFERENTIAL, OCTOBER C'S
Connor McDavid 17-7 (+10)
Nuge 8-4 (+4)
Riley Sheahan 0-8 (-8)
Gaetan Haas 1-3 (-2)
Colby Cave 1-2 (-1)
October was a strong month for the Oilers (9-4-1) and the two big centers were +14 during that time. Remember, this would be against elite competition. Riley Sheahan, also facing some tough competition, was getting fed badly.
OILERS FIVE ON FIVE GOAL DIFFERENTIAL, NOVEMBER C'S
Colby Cave 1-0 (+1)
Connor McDavid 16-16 (0)
Gaetan Haas 4-4 (0)
Riley Sheahan 4-5 (-1)
Nuge 4-6 (-2)
A change in the weather for sure, the top two centers no longer have those handsome differentials at five on five. Some recovery from the bottom-six centers helps.
OILERS FIVE ON FIVE GOAL DIFFERENTIAL, DECEMBER C'S
Nuge 0-0 (0)
Gaetan Haas 0-0 (0)
Riley Sheahan 1-2 (-1)
Connor McDavid 1-3 (-2)
Early in the month but the trend isn't a good one.
LOWDOWN WITH LOWETIDE
At 10 this morning, TSN 1260. We have a rocking show for you, starting with Derek Van Diest from Postmedia (Sun, Journal). We'll talk last night's game, Krueger comments and Tippett's scrums. Jason Gregor pops in at 11 to talk Oilers weekend and the games to come, plus the football weekend/Eskimos coach. Zig Fracassi from SiriusXM NFL will talk about the Monday nighter at 11:25. 10-1260 text, @Lowetide on twitter. Thanks!