The midway point of the NHL season lands tonight for the Edmonton Oilers. The team begins the day in the playoffs and a win tonight, against Pacific Division rivals Calgary Flames, would calm the frayed nerves of Oilers nation.
Edmonton enters the game having gone 3-6-1 (seven points) in the last 10, while the Flames are 6-3-1 (13 points) in their last 10 games. There's an ebb and flow to each season, Oilers have been in an ebb so long the team is a stranger on the shore. Need this one.
THE ATHLETIC!
The Athletic Edmonton features a fabulous cluster of stories (some linked below, some on the site). Great perspective from a ridiculous group of writers and analysts. Proud to be part of The Athletic, less than two coffees a month offer here.
OILERS AFTER 41 GAMES
Oilers in 2015: 17-22-3, 37 points; goal differential -22
Oilers in 2016: 21-14-7, 49 points; goal differential +5
Oilers in 2017: 18-21-3, 39 points; goal differential -21
Oilers in 2018: 19-19-3, 41 points; goal differential -10
Oilers in 2019: 20-16-4, 44 points; goal differential -4
The 2019-20 campaign is running second best among Connor McDavid's Oilers teams, but a loss tonight puts this year's model five points shy of the playoff club. That's a gap. The overall goal differential is also a concern, current Oilers closer to last year than the playoff team.
OILERS IN DECEMBER
Oilers in December 2015: 6-5-2, 14 points; goal differential -10
Oilers in December 2016: 7-2-4, 18 points; goal differential +2
Oilers in December 2017: 7-5-1, 15 points; goal differential +3
Oilers in December 2018: 6-6-1, 13 points; goal differential -1
Oilers in December 2019: 4-7-1, 9 points; goal differential -10
The Oilers in December 2019 is hockey's "you take the van, I'll take the dog." One thing the free agents on this club have to know: If Edmonton doesn't make the playoffs, there's a good chance they'll be in a new town this time next season.
WHAT TO EXPECT IN DECEMBER
On the road to: VAN (Expected 1-0-0) (Actual 1-0-0)
At home to: OTT, LAK, BUF, CAR (Expected 2-1-1) (Actual 1-2-1)
On the road to: MIN (Expected 1-0-0) (Actual 0-1-0)
At home to: TOR (Expected 0-1-0) (Actual 0-1-0)
On the road to: DAL, STL (Expected 0-2-0) (Actual 1-1-0)
At home to: PIT, MTL (Expected 1-1-0) (Actual 1-1-0)
On the road to: VAN (Expected 0-0-1) (Actual 0-1-0)
At home to: CAL, NYR (Expected 1-1-0)
Overall expected result: 6-6-2, 14 points in 14 games
Current results: 4-7-1, 9 points in 12 games
I have tonight as a loss, with the win coming against New York next week. If Edmonton wins both, the club would finish just one point shy of my projection for December. What a strange month.
WORLD JUNIOR CHAMPIONSHIPS
Matej Blumel: One goal, two shots, 16:02 for Czech; Philip Broberg: Two shots, 17:50, -1, solid play defensively in the third period and OT for Sweden. He played a lot, and RH side, in big situations. Raphael Lavoie: Assist, 12:06, +2, two shots for Canada. I liked his game, he lacks urgency without the puck although I didn't see any mistakes. Needs to learn to look busy! Olivier Rodrigue: DNP for Canada.
OILERS 2019-20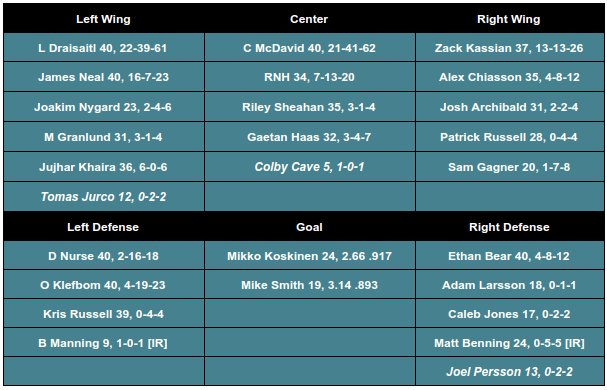 The glimmer twins are off and gone in scoring, Edmonton has two rookies on blue every night doing everything from surviving to thriving, Koskinen has a solid season going and James Neal has 16 goals. Zack Kassian is having a career year and the team has 44 points entering Game 41. It has been a year of careening but there's a playoff spot in play for the Oilers. Will Ken Holland add? Where will he add?
PUCK IQ DEFENSIVE NUMBERS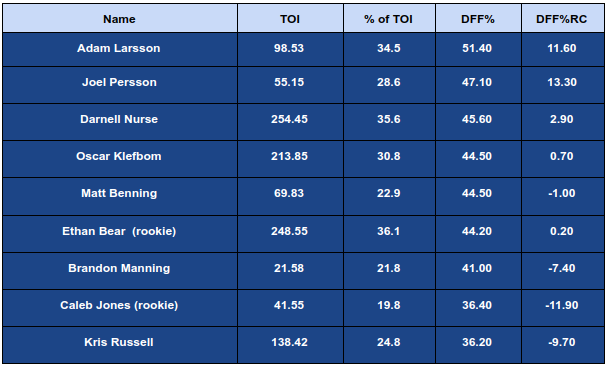 Okay, these are versus elites. TOI is obvious, TOI is percentage of elite time by player compared to overall minutes. Bear leads the way in percentage (36.1), Nurse leads in total time (254) against elites. DFF% is Dangerous Fenwick for and against as a percentage, and Dangerous Fenwick is a weighted shot metric using shot distance location and type of shot to give each shot a "danger" value. It's Corsi all grown up and smart. DFF%RC is the rel number, I find it valuable to compare players against each other. For instance, it tells us Adam Larsson is on a helluva run, that Nurse, Bear and Klefbom are performing well enough to stay in their current roles. I think DFF percentage is the most valuable new tool we've seen in a decade. Puck IQ now has WOWY numbers and I'm sifting through them and will begin writing about these outstanding glimpses when I feel ready.
LOWDOWN WITH LOWETIDE
We're back on the radio at 10 this morning, TSN1260. Steve Lansky will talk Christmas food and World Juniors, and Ryan Pike from Flames Nation and The Sporting News will give us the story from the Calgary side. 10-1260 text, @Lowetide on twitter. Talk soon!