We're past the halfway pole and the Edmonton Oilers remain valiantly in the playoff race. I remain at the ready with my heartbreak country songs ("the money ran out and the engine blew") and Armageddon movie references ("When the Wind Blows"). I'm beginning to think we're not going to need them.
At the same time, let's not get ahead of ourselves. The four games before us, all at home before the end of January, offer another challenge. I think Pierre Lebrun's usage of the word IF yesterday ("I believe Edmonton, if the Oilers stay in the race, have Pageau on their target list") places the Oilers chances in perspective. That's about right.
THE ATHLETIC!
The Athletic Edmonton features a fabulous cluster of stories (some linked below, some on the site). Great perspective from a ridiculous group of writers and analysts. Proud to be part of The Athletic, less than two coffees a month offer here.
OILERS AFTER 48
Oilers in 2015-16: 19-24-5, 43 points; goal differential -23
Oilers in 2016-17: 25-15-8, 58 points; goal differential +7
Oilers in 2017-18: 21-24-3, 45 points; goal differential -29
Oilers in 2018-19: 23-22-3, 49 points; goal differential -10
Oilers in 2019-20: 24-18-5, 53 points; goal differential -3
Edmonton is now losing touch with the 2016-17 team, but we expected that to happen sooner. A win tonight would have the Oilers on a 94-point trajectory and that's the playoffs.
ON THE TENS
First 10 games: 7-2-1
Second 10 games: 5-4-1
Third 10 games: 5-4-1
Fourth 10 games: 3-6-1
Current 10 games: 4-2-1.
OILERS IN JANUARY
Oilers in January 2016: 2-2-2, six points; goal differential -2
Oilers in January 2017: 3-3-0, six points; goal differential -2
Oilers in January 2018: 2-4-0, four points; goal differential -11
Oilers in January 2019: 3-3-0, six points; goal differential -5
Oilers in January 2020: 3-1-1, seven points; goal differential +3
This remains the best January of the McDavid era, no matter what happens tonight. A fabulous road trip, one we'll remember for many reasons, has us here. Edmonton needs the homestand to shine just as bright.
WHAT TO EXPECT IN JANUARY
On the road to: BUF, BOS, TOR, MTL, CAL (Expected 2-2-1) (Actual 3-1-1)
At home to: NAS, ARI, CAL, STL (Expected 1-2-1)
Overall expected result: 3-4-2, eight points in nine games
Current results: 3-1-1, seven points in five games
Before the month began, I predicted just three points from the home stand. That's kind of tragic, but the Oilers weren't playing too well and there are good teams on the schedule before the end of the month.
OILERS FIVE PER 60 SCORING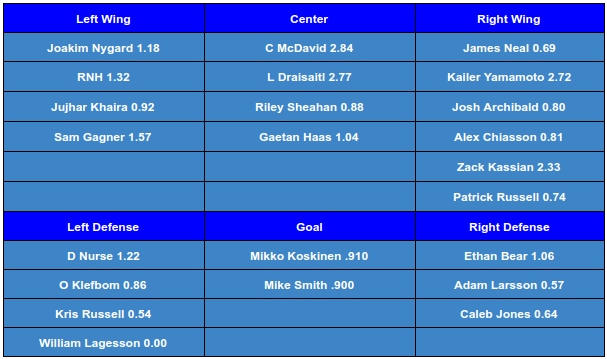 The Oilers have a problem tonight, but it's also an opportunity. I expect the team will keep the No. 2 line together, as that trio is gaining some real traction. McDavid-Neal also likely stays together, and one imagines Dave Tippett will ponder Archibald, Chiasson, Gagner and Nygard as possible options on McDavid's other wing. I picked Nygard because of the speed, but also because of the success of the duo (in 52:37 five on five, it's 6-2 goals, 51.9 Corsi).
LOWDOWN WITH LOWETIDE
At 10 this morning, a busy day ahead and we get things started, TSN1260. Jonathan Willis from The Athletic will join us and talk about the recent road trip and the home stand to come. Andrew Peard will talk Oil Kings and trade deadline results and your comments are welcome. 10-1260 text, @Lowetide on twitter. Talk soon!