Ryan Nugent-Hopkins had perhaps his best game of the season, delivering across all 200-feet of NHL canvas in a thrilling display of two-way hockey. He won't get the attention he deserves, but here, at this blog, we want to take a moment to acknowledge greatness on a Saturday night in February. Nuge was outstanding.
THE ATHLETIC!
The Athletic Edmonton features a fabulous cluster of stories (some linked below, some on the site). Great perspective from a ridiculous group of writers and analysts. Proud to be part of The Athletic, less than two coffees a month offer here.
OILERS AFTER 55 GAMES
Oilers in 2015-16: 21-29-5, 47 points; goal differential -29
Oilers in 2016-17: 29-18-8, 66 points; goal differential +11
Oilers in 2017-18: 23-28-4, 50 points; goal differential -30
Oilers in 2018-19: 24-26-5, 53 points; goal differential -20
Oilers in 2019-20: 29-20-6, 64 points; goal differential +3
Last night was a terrific effort by the Oilers, in all honesty I thought the club was done 38 minutes into the game. Hockey is such a strange game, absolute random luck cut the deficit in half and gave the home team life. It was a mausoleum before the Chiasson goal, a raucous joint after the goal. Big win.
ON THE TENS
First 10 games: 7-2-1
Second 10 games: 5-4-1
Third 10 games: 5-4-1
Fourth 10 games: 3-6-1
Fifth 10 games: 6-2-2
Current 10 games: 3-2-0
Oilers have had one poor 10-game segment so far, and this 10-game set feels like a tight one.
OILERS IN FEBRUARY
Oilers in February 2016: 1-3-0, two points; goal differential -15
Oilers in February 2017: 1-3-0, two points; goal differential -7
Oilers in February 2018: 1-2-1, three points; goal differential +1
Oilers in February 2019: 1-1-2, four points; goal differential -4
Oilers in February 2020: 2-2-0, four points; goal differential +1
February is a damned tough month based on these four-game runs to begin the proceedings over five years. Man, there's no joy in these numbers. This year's team is the only one to have two wins after four games.
WHAT TO EXPECT IN FEBRUARY
On the road to: CAL, ARI (Expected 1-1-0) (Actual 1-1-0)
At home to: SJS, NAS, CHI (Expected 2-1-0) (Actual 1-1-0)
On the road to: TBY, FLA, CAR (Expected 1-1-1)
At home to: BOS, MIN (Expected 1-1-0)
On the road to: LAK, ANA, VEG (Expected 2-1-0)
At home to: WPG (Expected 1-0-0)
Overall expected result: 8-5-1, 17 points in 14 games
Current results: 2-2-0, four points in four games
The Oilers have a busy schedule this month, so it's a combination of quality of opponent and how many games are btb or third in four nights. After the massive run coming out of the AS break (two against Calgary with a game against St. Louis in between) this week represented a struggle. The win Saturday stops a two-game losing streak and sets up the road trip in a more positive light.
OILERS 2019-20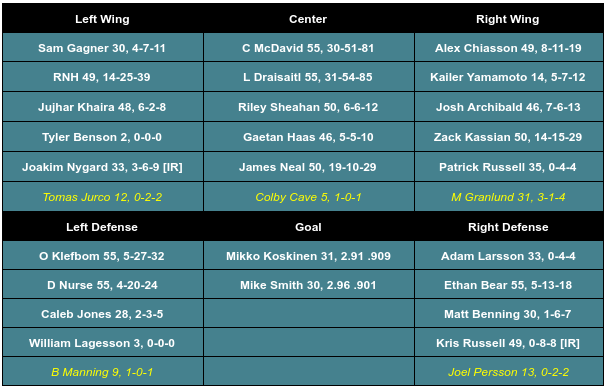 Dave Tippett coached his ass off last night, catch the time on ice for some of these lines. Alex Chiasson had a brilliant early chance and then later scored the biggest goal of the game. All numbers five on five and via NST.
LINE 1 Nuge-Leon Draisaitl-Kailer Yamamoto played 13:13, going 20-8 Corsi, 12-3 shots, 1-0 goals and 5-2 HDSC.
Ryan Nugent-Hopkins had a splendid evening, including a grand back check that squashed what could have been the winning goal, and two passes to Draisaitl that led to goals. Finished 0-1-1 five on five, with two shots and two HDSC, three giveaways and two takeaways. His stellar back check on Arvidsson was all-world and won't get the attention it deserves. Outstanding work. Leon Draisaitl received much of the attention post-game and with good reason. He scored a goal, had four shots, three HDSC, drew a penalty and won 10 of 18 in the dot. His second goal was the winner. Kailer Yamamoto continued to be a catalyst for this trio, although it was a slow start for the line. He finished with an assist, three shots, one HDSC and a takeaway.
LINE 2 Jujhar Khaira-Riley Sheahan-Josh Archibald played 9:25, going 8-8 Corsi, 5-6 shots, no goals and 0-1 HDSC.
Jujhar Khaira played a physical game, helping to set the tone early with a hit against Nick Bonino. He had one shot, which stood as Edmonton's best scoring chance for some time. Had a takeaway. Riley Sheahan had a shot, a takeaway and won seven of nine (nice). He was effective in four PK minutes. Josh Archibald had three shots, hit like a truck and transported well. I like what he brings.
LINE 3 Sam Gagner-Connor McDavid-Alex Chiasson played 8:55, going 7-15 Corsi, 2-7 shots, 0-1 goals and 0-7 HDSC. That might be the worst line from a line that contains 97 in his NHL career.
Sam Gagner had two shots, took a penalty and had two giveaways. I understand why Tippett moved him up, but suspect one of the reasons Samwise was succeeding on a depth line had to do with quality of opponent. Connor McDavid had a wild night: Power-play assist, two penalties, two giveaways, won four of eight in the dot. He hurt his knee on an innocent looking play and that became central to the game story (as it should). Postgame Tippett said it was not expected to be a serious issue. McDavid was creating chances for Chiasson and (later) Leon. Alex Chiasson missed a yawning cage early in the game, and was credited with the goal that got things going late in the second period. He didn't have any crooked numbers of note at five on five. This line should end.
LINE 4 Tyler Benson-Gaetan Haas-Zack Kassian played 4:28, going 3-0 Corsi, 2-0 shots.
Tyler Benson had an early giveaway, which is like running a stop sign for a player in his second game. Limited minutes after. Gaetan Haas won four of seven in the dot. Zack Kassian was not a factor. It's easy to bury these guys but the bottom line is Tippett coached to win, to end the losing streak, to find two points on a night when the team had a chance to get closer to the light up above. I don't blame him. Tippett said post-game he got caught chasing the win and that Kassian will get more minutes next game.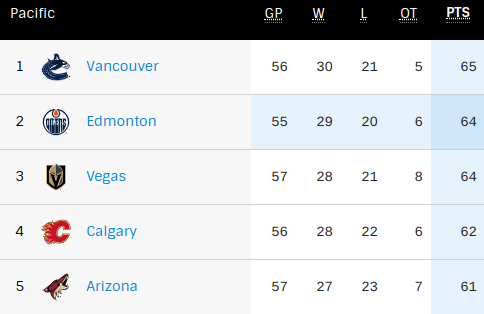 PAIRING ONE Darnell Nurse and Ethan Bear played 16:51, going 19-24 Corsi, 11-10 shots, 1-0 goals and 3-7 HDSC.
Darnell Nurse had three shots, a giveaway, takeaway, penalty and four blocked shots. The penalty came when he got beaten by Matt Duchene. Ethan Bear had one shot, four giveaways and two takeaways. The young man passed the puck well, one of the parts of his game Edmonton needs badly. He is so calm, and can move that puck so well, it gives the team a completely different look when he's on the ice.
PAIRING TWO Oscar Klefbom and Adam Larsson played 13:51, going 14-11 Corsi, 8-6 shots, no goals and 5-1 HDSC. This was a solid showing by the pair, owing much to the nine minutes spent with the Draisaitl line.
Oscar Klefbom had five shots, one HDSC and showed good speed in recovery. He is such a valuable player. Adam Larsson played a physical game and was solid in 3:40 on the PK.
PAIRING THREE Caleb Jones and Matt Benning played 9:04, going 9-5 Corsi, 6-3 shots, no goals and 0-2 HDSC.
Caleb Jones had two giveaways and got boxed out on the Smith goal, but that was more an effective pick than a rookie mistake. He's learning the NHL game and I believe he'll have a quality career. His passing is coming along, the game is starting to slow down for him. Leave him in the lineup! Matt Benning had three shots, created a rebound on one of them. He was there for Bonino's goal but couldn't interrupt the tip.
GOALIE Mike Smith stopped 27 of 29, .931. He delivered on all easy and mid-range shots, allowing two of nine HDSC to get by him. I thought he was excellent, highlighted by a sequence in the middle of the second period where Duchene and then Josi had 10-bell chances. Tippett said after the game that Smith is 'dialed in' and that's a good description.
CONNOR MCDAVID
McDavid was injured last night on a play that landed him in the end boards. Ryan Rishaug from TSN asked him about it in the post-game avail and Tippett said it was "not his hurt knee" and that he had a "little bump on his knee" so we'll wait for more information. He was brilliant as always during game action.